Newsletters
Subscribe now to be added to our mailing list. You will receive our newsletter, containing the latest news and offers from Signatur Handknits.
To subscribe (or unsubscribe if you are already subscribed), visit the Contact Us page.


---
All Newsletters
| | | |
| --- | --- | --- |
| | Mon, 19 Jun 2017 | Signatur July 2017 Newsletter 79 |
| | Tue, 23 May 2017 | Signatur June 2017 Newsletter 78 |
| | Thu, 4 May 2017 | Signatur May 2017 Newsletter 77 |
| | Sat, 1 Apr 2017 | Signatur April 2017 Newsletter 76 |
| | Thu, 16 Mar 2017 | Designers on Show March 24-26 2017 |
| | Sun, 12 Mar 2017 | Signatur March 2017 Newsletter 74 |
| | Fri, 20 Jan 2017 | Signatur Feb 2017 Newsletter 73 |
| | Mon, 5 Dec 2016 | Signatur December 2016 Newsletter 72 |
| | Sat, 5 Nov 2016 | Signatur November 2016 Newsletter 71 |
| | Thu, 25 Aug 2016 | Signatur August 2016 Newsletter 70 |
---
Signatur July 2017 Newsletter 79
Texture takes on the Classics
Australian Pure New Wool is renowned for preserving design integrity thanks to its strength and memory. These traits make it the perfect yarn to display stitch definition and elevate a design's presence by creating contrast through texture.

I have always loved combining colour and texture, but with wool's love of shape and definition sometimes a two-tone or single colour garment with a variety of textures will jump off your shoulders with a perfect blend of excitement and elegance.

Zig Zag, Byron and Windsor are but a few of 9 Garments you'll see below and at upcoming shows that youll love 'simply for the love of knitting and texture.
In Style, Fibre Day, Quilt Fairs & Handmade
show there's no excuse not to knit
There's plenty of chances to see new designs plus texture and colour classic at the many shows I'll be at from July to September. Here they are:

June 22-26 Art, Craft & Quilt Fair Darling Harbour Sydney
July 2nd In Style Market Turramurra Sydney
July 9th Fibre Day Bus Market Depot Canberra
July 27-30 Art, Craft & Quilt Fair Convention Centre Melbourne
Aug 10-11 Knits in the Mist Moss Vale (Thu-Fri) Southern Highlands
Sep 16 -17 Handmade Market EPIC Canberra
Patterns: Millar A line, Manhatten & Split Texture Jackets
Kits for new designs: Byron A-line & Cabled Chaffey
'Re Styling' Winter 2017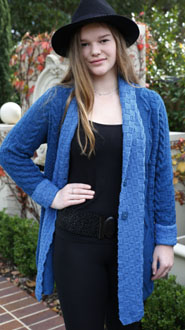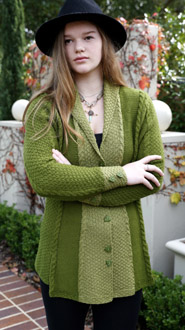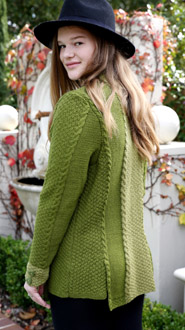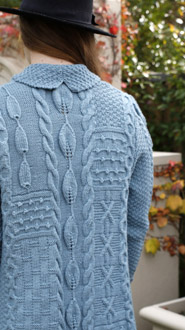 Zig Zag Swagger Left above, left and centre below: Zig Zag Swagger below centre in Truly Ruby and in Aegean and Ocean Blue: a new two colour option for the Zig Zag Swagger.
In Winter 2016 I designed the Windsor Jacket above in light Olive and Sequoia, a huge hit with two-tone colouring. The Windsor Jacket, being a fitted style, doesn't suit everybody whilst the Zig Zag Swagger has A-line shaping and extra length, and now the option of two-tone or single colour. (Windsor can also be knitted in a single colour too).

Left: Back detail on the new Byron A line Coat.

Knitting Kits and Patterns: New designs are only sold as knitting kits with pattern, yarn and hand-made buttons. After 2 years the Pattern is then availble to purchase by itself. Designs featured in this newsletter now sold as pattern only are Zig Zag Swagger, Manhatten Jacket, Split Texture Jacket. If only a kit price is shown on the design then the pattern is only sold within the knitting kit. To order pattern-only you still need to select a colour or a colourway - I know! strange website!
Designs A - Z on top navigation bar displays ALL designs on the site and shows if a pattern-only available.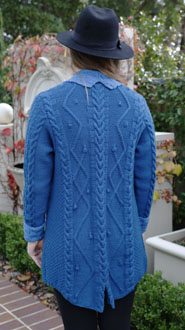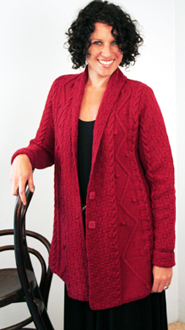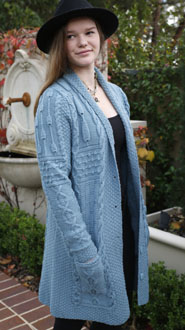 Winter 2017 Byron A line Coat is shown right in new colour Filigree. I know many of you love to knit texture, so I have taken some of my favourite stitch patterns into the Byron A line Coat, shown in the longer length above. The shorter length in the Byron is the same length as the Miller A line coat shown below left in Sequoia. The panels of texture in the Byron has provided the perfect opportunity for nice deep pockets too!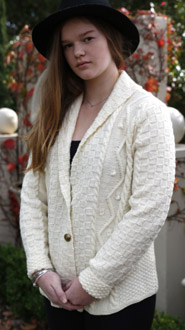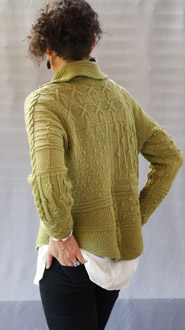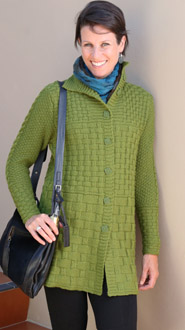 Above right: The Split Texture Jacket is knitted with all over textures, short length with front and back short row shaping dipping the hemline.
Below & above centre: Manhatten Jacket. Designed at the same time as the Zig Zag Swagger, you'll see the pattern also includes a vest in the instructions, shown in black. The Swagger also makes a great vest, which is also included in the pattern.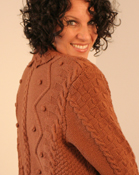 Manhatten Jacket.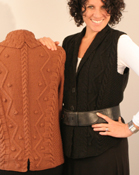 I am pretty sure this is the first short jacket I designed and incorporated short row shaping into the hemline.
You can see in the photos below how the Zig Zag panel increases in width from hem to shoulder. Increases are worked each side of the centre cable and at the same time a decrease is worked at the cable adjacent to the side seam Double Moss.
The back is commenced like 2 pieces, with a cable per piece centre-back. When the two halves come together the Crab Claw cable is created.
In 2015 I created a very simple piece (well, as simple
as I create) the Chaffey Jacket (below right).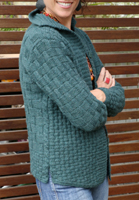 New Winter 2017 Cable Chaffey Jacket.
I just love cables, keeping the short, punchy styling of the Chaffey Jacket, adding texture with cables and traveling stitches. Back and fronts are Asymetric with a Diamond pattern and Zig Zag pattern as shown left, either side of the centre cable and each cable is different!
You can see the buttonholes in the shots below, the kit will include hand-made buttons - I just had the chance to photograph this piece but without buttons! So, front buttons obviously, one button centre back and a button on each side seam where the front band overlaps the back band.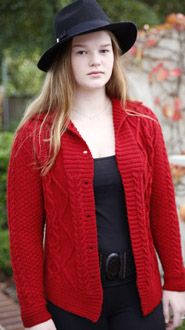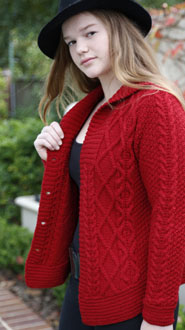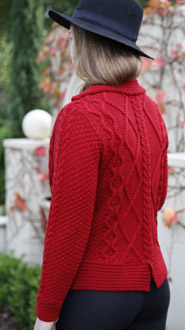 Sydney Art Craft & Quilt Fair 22 - 26 June Darling Harbour

In Style Market Turramurra Sunday 2nd July 10am to 3pm

Old Bus Depot Market Canberra 'Fibre Day' Sunday 9th July

Melbourne Quilt & Craft Fair Thursday 27th to Sunday 30th July
Come and be inspired - 2 days of craft, classes and plenty of colourful surprises!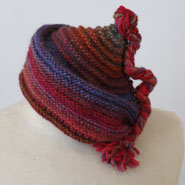 If you'd like to discuss anything in this newsletter - or anything at all, please
email Jane
.
Thanks for your support - Laura, Petra, Philippa, and I look forward to seeing you in the knitting circle!