Subscribe now to be added to our mailing list. You will receive our newsletter, containing the latest news and offers from Signatur Handknits.
Crafty Cruisers visit Signatur Studio
for a yarn before setting sail!

Crafty Cruises commences their latest fun and craft-inspired cruise from Sydney, but before they hoist the anchor, the travellers are having an afternoon with me at my Signatur Handknits, Killarney Heights, Studio. Once again, I'm looking forward to a great afternoon of Lamingtons and Yoyo's, anticipation of the their holiday, and plenty of knitting!
Just take me to the specials, Jane! All kits and yarn, new hats, 10% off - Ozeyarn or Signatur:
that sort of thing...
...then it's a studio makeover...
Once the desiccated coconut has been hoovered up, I'll be closing Signatur studios for a couple of weeks for a well overdue 'make-over', and for a short break. Apologies if I am a bit tardy in my email and phone responses over this time but I will reply. Over the makeover period Laura will be chipping in with her wonderful knitting skills and witty repartee, should either be required.
Last two NSW events for 2018:
complete with sale rails!
The always fantastic Coal Loaders

Market on Sydney's lower Northshore (with one of Sydney's most spectacular yet little known harbour views) is on 10am-3pm Sunday, November 25.

Saturday 8th December will be my first time at Bowral's Public School Market. You'll find the cream of creators from Designers On Show and Handmade Market at Bowral on the second Saturday of every month (except January).
Winter ends (downunder) so the offers begin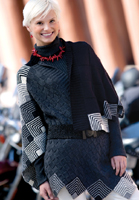 Mitres were a huge hit in August for my first show in Newcastle!
Above shows Mitre Vee Vest, discontinued as a ready-made garment but still available as a kit! Showing left from my Swing, Swagger, Drape book is the Mitre Vee Capelet: a great piece to play with for knitting Mitres.

Knitting kits - I do like to make a sigknit.com and ozeyarn.com offer at the end of winter, across all my designs.
Ozeyarn has Paypal and charges when you order.
On sigknit.com you are charged when the kit is dispatched so the 10% discount will be deducted when your payment is processed (i.e. your order will not show discount)
10% off full range of knitting kit designs
including 3 new hat styles below
Instructions in 3 sizes, knitted circular, or with straight needles with a seam.
New hat designs below are on www.ozeyarn.com - click om image below.
New Hat Designs left to right: Oliver, Wicked & Muffin top.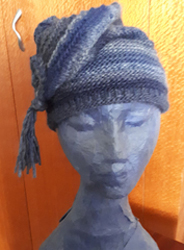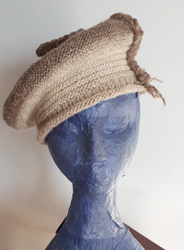 All Signatur Knitting kits include pattern, yarn and handmade buttons (if applicable). NOTE when choosing a single colour garment you still have to pick a colour before you purchase the pattern. One of those website quirks I hope you can navigate.
The top Navigation bar Designs A-Z shows all designs and is an easy way to browse.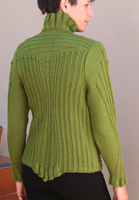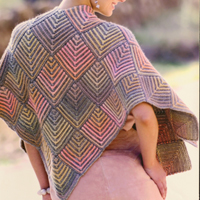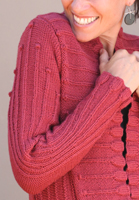 Above: Buckingham Vest & Jacket are discontinued as ready-made and the pattern, which includes both Jacket and vest options, and knitting kit are 10% off. Right: The Coco Capelet from Swing, Swagger, Drape the book. A sample garment is on sale if you're too busy to knit it!
The Lady Diana Picture garment era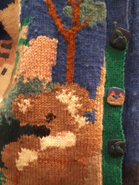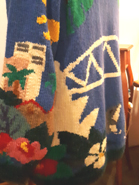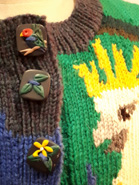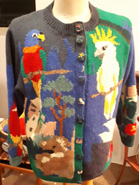 Sydney Cardigans from the 1980's weren't just a Koala up a tree!!!
The '80's were all about Lady Diana, and of course the honeymoon stop in Sydney, and the Koala up a tree, a Jenny Kee design. I was selling to a wonderful store called Bonz, and owner Bonny asked me to knit some Australiana - of course I had to add more details, Parrots, plus the Sydney Harbour Bridge featured on the back of the Sydney cardigan plus Dolphins under the Harbour bridge, Cockatoo and the Opera House, warehouses and flora and fauna of the botantical gardens! Not to mention the buttons!
What's on the needles for 2019?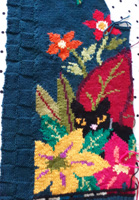 My knitters loved knitting the Australiana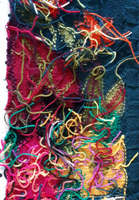 designs of the eighties, it's like a great novel on your needles! Knitting texture, colours and pattern, whichever you love, is a story that unfolds as you knit.

So, my knitters are very exicted to see picture knitting back on the design board.

Left, the right side of the front after the ends have been sewn in, and right the wrong side before the ends are sewn in!

KNIT TALKS for 2019

Short rows
A line Shaping Mitres
Instaria
Mitre Knitting

Youtube Mitres - on home page
Short rows have so many uses, from simple wraps and scarves, shown below, through to garment shaping and styling. See the full range on www.ozeyarn.com 10% off until end of December.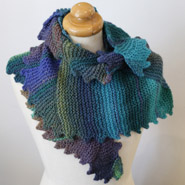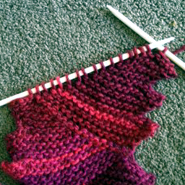 If you'd like to discuss anything in this newsletter - or anything at all, please
email Jane
.
Thanks for your support - Laura, Petra, Philippa, Helen and I look forward to seeing you in the knitting circle!