Newsletters
Subscribe now to be added to our mailing list. You will receive our newsletter, containing the latest news and offers from Signatur Handknits.
To subscribe (or unsubscribe if you are already subscribed), visit the Contact Us page.


---
All Newsletters
| | | |
| --- | --- | --- |
| | Sat, 1 Apr 2017 | Signatur April 2017 Newsletter 76 |
| | Thu, 16 Mar 2017 | Designers on Show March 24-26 2017 |
| | Sun, 12 Mar 2017 | Signatur March 2017 Newsletter 74 |
| | Fri, 20 Jan 2017 | Signatur Feb 2017 Newsletter 73 |
| | Mon, 5 Dec 2016 | Signatur December 2016 Newsletter 72 |
| | Sat, 5 Nov 2016 | Signatur November 2016 Newsletter 71 |
| | Thu, 25 Aug 2016 | Signatur August 2016 Newsletter 70 |
| | Wed, 20 Jul 2016 | Signatur July 2016 Newsletter 69 |
| | Thu, 9 Jun 2016 | Signatur June 2016 Newsletter 68 |
| | Fri, 20 May 2016 | Signatur May 2016 Newsletter 67 |
---
Newsletter #76 April 1st, 2017
Designers On Show: what a fabulous way to
start winter 2017 downunder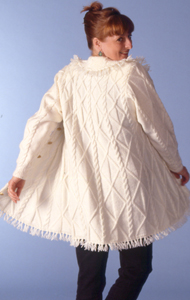 Naturally, I always look forward to the start of the winter season here in Australia. Actually 2017 celebrates 30 years for my Signatur Handknits label - only 20 years for Signatur Knitting Kits!
From my beginning at Sydney's Paddington Bazaar I have always sold directly to my customers.

Designers On Show last weekend was my first of 2017, my first chance to get your feedback, new colours Truly Ruby, Filigree and Buttermilk all got the thumbs up and the Pandora Jacket is an instant hit too; Pandora comes in eight chest sizes with a fitted waist and length options.

I have a couple of shots on the dressmakers dummy below, with photos of Amanda coming soon. Not having images means it's not loaded onto www.sigknit.com - but in the meantime let me know if I can send you a shade card and yarn sample.
Please email your postal address for the shade card
to: jane@sigknit.com

My next show is
In Style Market Turramurra
In Style Market Turramurra is located in Turramurra Masonic Hall: it's indoors, air

conditioned and is a great venue.

InStyle is on Sunday April 2nd and Sunday May 7th from 10am to 3pm

That's first Sunday of the month when you'll see a wonderful array of of Australian designed clothing and homewares.

Collars, Cuffs and Buttons, oh yes and of course colour!
Come and see for yourself
Sunday 2nd April "In Style Market Turramurra"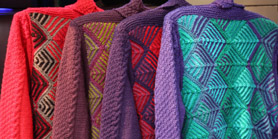 Above Left & right: Stitched Up Jacket. Centre: Colourways in the Mitre Tally Ho Jacket.
Below: Split Texture Jacket, Windsor Jacket, Stitched Up front and back.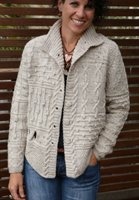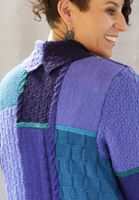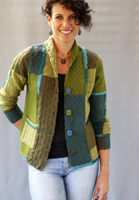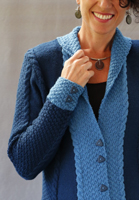 I love to play with buttons, unusual trims and hemlines.

Wearable and knitable play are pretty important of course.
Pockets - if they're not hidden then they should be a design feature.
Hidden pockets should slide into side seams, and can be hidden by a cable trim. 2016 Stitched Up design celebrated the 'patch pocket'.
Shown top left and right/ above right 2 shots.

Above: Mitred Shona Jacket.
Below: Stitched Up, Chaffey Jacket, Windsor Jacket, Billy Drape.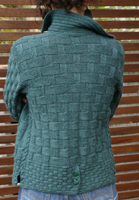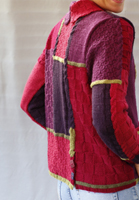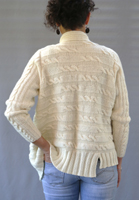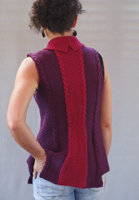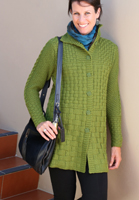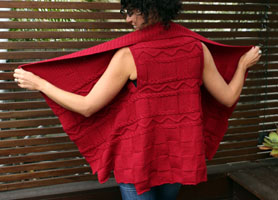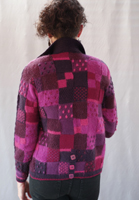 Above: Millar A Line coat, Zig Zag Drape and Blocks Jacket.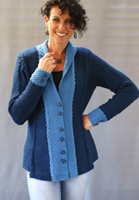 Above: Windsor Jacket in new colour ways - please ask for a free colour card.
Left to right: Midnight and Jade Green; new colour Ruby with Wine; Steel with Ocean Blue and Sequoia and Light Olive.

Below left: Buckingham Jacket 2014 design. Fronts are knitted sideways from centre back neck to hem to achieve the bells into the cast on edge of the collar. This looks so good on Amanda.

Below right: Pandora Jacket is a similar shape to Windsor (above) fitted into the waist. The hemline features Bells worked with short rows slanting to the centre front, back and also into the cuff. Each Bell decreases to leave one stitch, this carries up into the body and is trimmed with bells and bobble textures. Once photographed on Amanda it will be put on sigknit.com. Meantime email me your Postal address and we'll send a free shade card and yarn sample.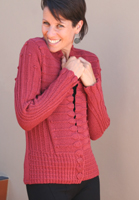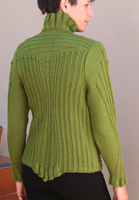 Below: Cowls and scarves as knitting kits.
Wave Cowl in Cinque 8ply, Wave Wrap in Azteca Autumn Harvest, Circular Cowl in Cinque 8ply
Right above and below centre and right: Circular Cowl - one pattern with 3 options and 3 yarn choices too. Knitted circular in Corrugated Garter = knit 2 rounds/ purl 2 rounds. Above is 8ply knitted on large needles. Increases are worked to take the Cowl over the shoulder. Below right Azteca which is a 12ply knitted circular top down, so a deep section is knitted before increases to create the look of a collar. Azteca comes in 100g balls so this only takes 1 ball, whilst centre is the same piece using 2 balls of Azteca. Note the added plait trim - I hate knitting circular, so I knit it on straight needles to save a little yarn and work a plait as a trim to cover the seam!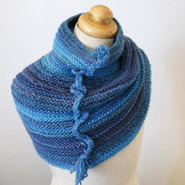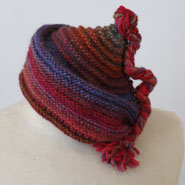 De stressing - I have many conversations about knitting, indeed there are many articles and papers written on the merits of hand crafts for active brain function. When I was a student in the UK, knitting kept my hands busy: during lectures, on trains and buses, it also allows my brain to process and do my mental filing! My zen explanation is that whilst I am knitting, 'I find answers to the questions I haven't yet asked".
Many of my knitters joined my team while caring for a love one, when bedside vigils and doctors waiting rooms became hard to endure for an otherwise active person. Last year I found myself knitting sample wraps and cowls - comfort knitting - producing a known result - ie a start and finish. When complete I wouldn't be wondering if I could have designed it differently. Of course with knitting the reward is a wearable piece with a purpose and a perfect gift as well!
2017 Winter shows
In Style Market Turramurra - Australian designed
Turramurra Masonic Hall corner Pacific hwy and Turramurra Ave
Sunday 2nd April & Sunday 7th May

Old Bus Depot Market - Wool Week - best news is this will be 2 days , so Saturday and Sunday instead of just Sunday!! That's the power of wool.
Sat 20th & Sun 21st May in Canberra!

Sydney Coal Loaders Artisan Market Sunday 28th May - tba
Great Australian made goodies and the perfect time to start accumulating gifts for Christmas!!!!
If you'd like to discuss anything in this newsletter - or anything at all, please email Jane. Thanks for your support - Laura, Petra, Philippa, and I look forward t

o seeing you in the knitting circle!