Subscribe now to be added to our mailing list. You will receive our newsletter, containing the latest news and offers from Signatur Handknits.
Intarsia & Mitre: puzzle knitting with jigsaw reveals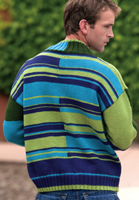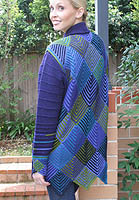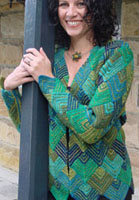 As you knit, so you reap
It's what I love about Intarsia and Mitre knitting: the more you knit the more you unlock the puzzle, completing visual elements like a jigsaw. It's deeply satsifying in itself, so if you also add the fact you're knitting a styled and shaped garment for yourself or someone else you love, then the joy and satisfaction knows no bounds.
Cambridge Markets at Fox EQ
(The EQ Entertainment Quarter - Sydney's Fox Studio's)
Undercover market, just 2 Wednesdays per month through April to June, see show listing for dates. Maket Includes organic meat and vegies, an amazing florist plus kids to ladies clothing, bags and jewelery. With 2 hours free parking on site. Food from restaurants to hawkers stalls.
Shows for May & June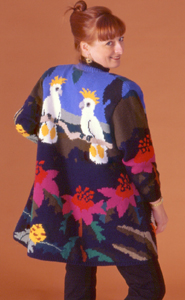 Bowral Public School Market
Saturday 11th May & 8th June - 8am to 1pm
Wool Week Old Bus Depot Market
Saturday 18th, Sunday 19th May: 9am - 3pm
Coal Loaders Artisan Market
Sunday 26th May: 9am - 3pm
Sydney Quilt & Craft Show
Wednesday 19th to Sunday 23rd June: 10am - 4.30pm
Handmade Market Canberra
Saturday 29th & Sunday 30th June 10am - 4pm
American Knitter alert! Got Yarn's inviting you downunder for Wool, Wine & Wildlife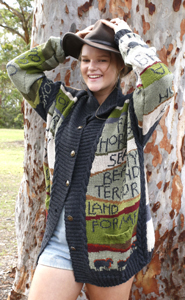 Dana of Got Yarn in Richmond VA has put together an unforgettable Wool, Wine and Wildlife boutique tour of Australia. Having visited in January and fallen in love with our country, she is looking forward to sharing the places she visited and the people she met.

Of course this will include a day at my Sydney Studio to enjoy a Style and Colour workshop. Limited numbers contact Dana...
It's been quite a while since I've taught in Virginia, or anywhere in the US, so I can't wait to meet everyone and enjoy an update and a few laughs.
KNIT TALK: It's all about no-fear colour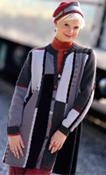 Many knitters show trepidation towards colour knitting, especially when they're working from graphs. Above (with the cockatoos) my Bush Garden Swingcoat from the 1990's really presses all the buttons of complexity! In addition to working the colours from a graph there are decreases for the body shaping across the width of the garment. Just like a jigsaw puzzle, the picture develops as you knit.
But not all colour techniques require a graph. Blocks of colour like the Metro A-Line left can be worked from a simple diagram with measurements for colour changes. Youtube has loads of tutorials showing every technique.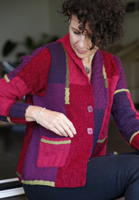 Simple Intarsia is worked from a diagram with a ball of yarn per area of colour. The Metro coat is knitted in Intarsia (below centre and right) working measurements given on the diagram to the colour changes. The large dots are bobbles and small red & blue dots show placement for the decrease shaping. Of course both of these diagrams are supported by written instructions too.

In my book I split instarsia designs into simple intarsia, working from diagrams - and stunning intarsia, working from graphs.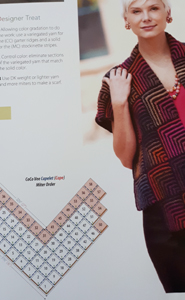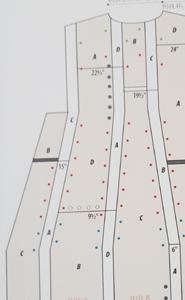 Centre above: The Metro coat is knitted from a diagram which shows placement of bobbles, stripes and colour changes by measurement.
N.B. the red spots are decrease shaping.
Once you've worked a simple piece in Mitre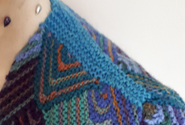 technique you'll be hooked! It's the simplest way to introduce colour to your needles.
Youtube link to Mitre Knitting
Below Jester A line, Mitres are knitted from a diagram (centre) following the sequence as numbered. Below right Mitre Vee Capelet is knitted seamless. First the Mitre panel as a square, then stitches are picked up from two edges of the Mitre panel (shown worn onto the shoulder) and these stitches are worked to the front edge / hemline.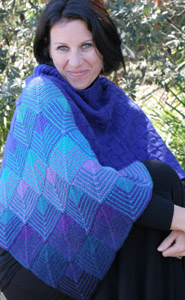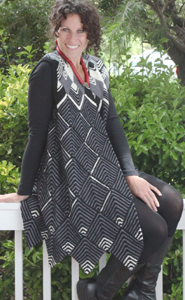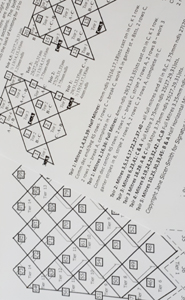 Picture this: your own Intarsia story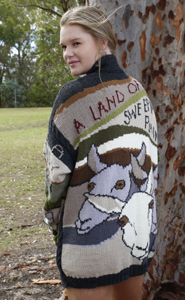 Intarsia has another more literal name: picture knitting. Once we have a picture a graph is required, with each square of the graph been a stitch of colour creating the picture.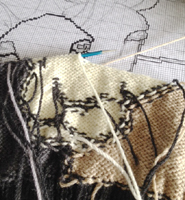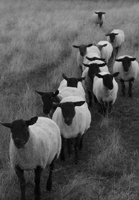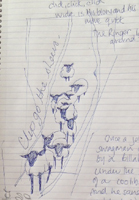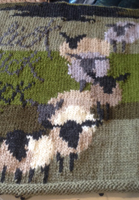 Below: Cowls and scarves as knitting kits
Three free patterns!


Three free patterns when you order
from www.ozeyarn.com
3 x 100g ball of Azteca or Azteca Fine
OR
4 x Horizon or Gomitolo

www.ozeyarn.com for yarn and pattern orders
Above 4 colours in Gomiloto Pure Wool left to right NEW black, grey, white/ Khaki, Plum/ Rust, Lime/ NEW Navy mix. Below Azteca Fine Faded Denim small circular Cowl 100g ball; Azteca Fine Mixed Berry Yurt Berry, this pattern has two hat styles far right in Azteca (12ply) Yurt Hat in Aqua; second from the right Two the Point Scarf in Azteca Fine Peachy Pink.




If you'd like to discuss anything in this newsletter - or anything at all, please
email Jane
.
Thanks for your support - Laura, Petra, Philippa, Helen, Cathryn, Stephanie, Dodie, Anne and I look forward to seeing you in the knitting circle!