Subscribe now to be added to our mailing list. You will receive our newsletter, containing the latest news and offers from Signatur Handknits.
Sydney & Canberra
Coal Loaders Market Sun 27th August
Handmade Market Canberra Sat/Sun 16th/17th Sept.
Knit Talk - short rows.

I am still relishing the chilly start to the day, wrapping myself up before I take Choppie for his walk.
Between shows I am just managing to keep stock up-to-date with great sales on new designs and a wonderful ongoing appreciation of the fun I have designing. Using cables and Collars to create designs that have my Signatur styling from Jackets, Coats and Drapes.
Coal Loaders Market
Sunday 27th August


Located at Balls Head, from Waverton Station just head down to the

point. The venue is the centre for sustainability - it is where the coal was loaded on ships and an interesting site with the addition of vertical veggie gardens and chickens - not to forget the market!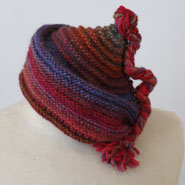 Handmade Market Canberra @ EPIC
Sat 16th and Sun 17th Sept 10am to 4pm.
A wonderful and the show has expanded to take in even more Australian Made goods from Designers and Makers in NSW, VIC and SA!
Design Talk & Knit Talk - short rows!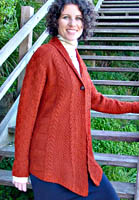 Above Split Texture Jacket shows short rows creating a wedge into the hemline

of the garment - with more rows centre front and less rows as the side seam. Left Swagger Jacket.
All the stitches for the front are cast on, creating an even edge, then on the left front which we see clearly in the image when we work the first pattern row from the centre front we don't work the complete row, lets say we work'10sts. Therefore this technique is called short row shaping. Knitting is turned and next row worked back to the front buttonhole band working all 10sts. The next row is a short row, adding 6 stitches = working 16sts, turn knitting without completeing the row and work back to front edge.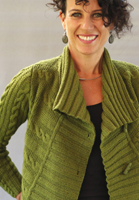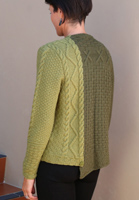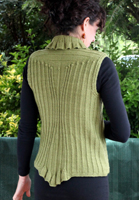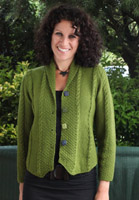 All the above design have short row shaping (Yes and they are all green!).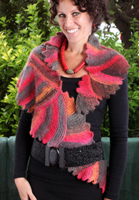 Left to right: Ameila Jacket two thirds of the back colour split, the short rows create an uneven hemline between the two colours Light Olive and khaki.
Buckingham Jacket with short rowed Bells centre back. Light Olive.
Tally Ho Jacket in sequioa the Vee hemline has short rows both right side and wrongside rows!
Billy Drape which has been so popular this year, especially the sequioa! Knitted sidewys left front edge to right front edge. The rib buttonband is wider at the hem than the neck edge, A line shaping is also worked into the body of the knitting. Back hemline trim also has short row shaping.
Above left: Wave Wrap knitted in short row wedges, not
in pieces and sew together. All these pieces sold as knitting kits are of course sold ready made at shows. If you are interested in purchasing a hat, scarf or wrap but don't knit just gove me and email and I'll send some images of what stock I have in these pieces. The colour shown above Pink Zebra has sold out, but I am about to introduce some new colours, including Ruby Nights which I've shown below as I sample knit!
Right: Wave Cowl, rainbow colour now back in stock.
Knit Talk
Short rows
create wedges
increases add
Stitches
Cast off creates
Zig Zag edge
Knit Talk is about short rows, the wave scarf right is knitted with short rows.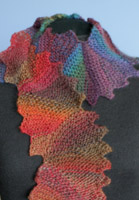 Short rows create wedges, which you can see right. I have knitted one left facing wedge, then 2 right facing wedges to create a horse shoe shaped curve to the scraf.
Short rows are simply incomplete rows. They have so many uses, there are therefore so many methods looking at Youtube is whelming.

I took some quick shots today whilst working on a sample in anew colour of Azteca Ruby nights. If you want to pick up your needles and have a try, you can use any yarn and any needles to have a try. It's garter stitch knit all rows.

Cast on 17sts. Obviously the image below I am part way through the scarf, having already worked 6 wedges.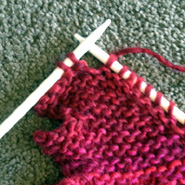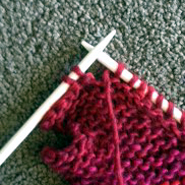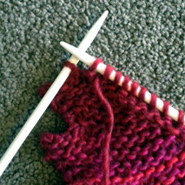 Above left: So with 17sts cast on work only 15sts for your first short row.
The piece is garter st so knit all rows, so the yarn is at the back of the work.
Above centre: Bring the yarn between the needles to the front of the knitting.
Above right: Slip next stitch left to right needle without working the stitch.
Below left: Take yarn back between needles, single unworked stitch on left needle.
Below centre: Turn knitting to wrong side - so the single unworked stitch is now on right needle.
Below right: Slip the next stitch left to right needle (same stitch previously slipped).
Take yarn between needles and knit to last stitch.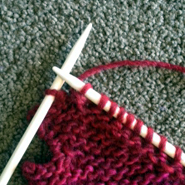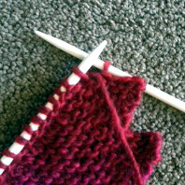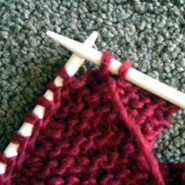 Zig Zag edge of scarf is creating by increasing stitches the end of the wrongside row, when we cast the increase stitch off we create the points of the zig zag - so how to increase without a hole.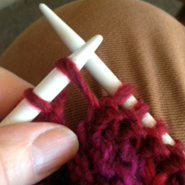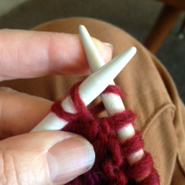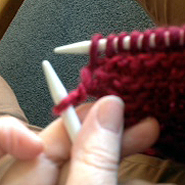 Work wrongside until 1stitch remains unworked.
Above left: Pick up the yarn from between the stitches of the previous row. Can you see how large this loop can be pulled leaving a hole.
Above centre: Knit through the back of the loop for a frim stitch no hole.
Above right: Increase stitch completed, knit last stitch of row.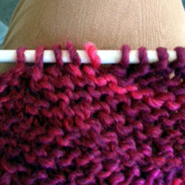 Summary
Row 1: K15 left 2sts unworked - we slipped and wrapped the 16th stitch, the 17th stitch was unworked on left needle.

Row 2: Knit to the last stitch, M1 = make 1sts, K1 = 18sts.

Repeat Row 1: K15sts - as we have 18sts this will leave 3sts unworked - wrap and slip the next stitch - so 2sts unworked.

Row 4: As row 2 knit to last stitch M1, K1 = 19sts.
Repeat twice more = 21sts - this means you have worked 4 short rows and 4 increases.
Beg of next short row cast off 4sts (Below left). Knit 11sts (instead of 15sts). (below centre)
At this point it's really good to look at the stitches over the row, can you tell which stitches have been wrapped? You'll learn so much simply by looking at the knitting, make fewer mistakes and when you do make a mistake find fixing it so much easier!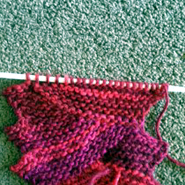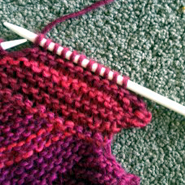 Repeat short rows and increases. After next 4sts cast off K7 to next wrap stitch.
Complete 3rd cast off 4sts (right centre). Continue row after cast off, K4, the next 11sts have wrap at base of each slipped stitch.
The slip stitch and the wrap below need to be worked as one stitch.
Left below: With point of right needle pick up the wrap at base of stitch, then knit the stitch, shown centre. Lift the wrap (brighter stitch on right needle) over knit stitch.
Below right: This has been knitted without the wrap from below the stitch, the stitches have elongated. Above right you can see how when the wrap and the stitch are knitted together there are no holes along each section of the wedge.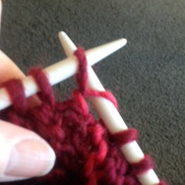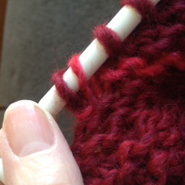 It's all about colour!
Buy to knit yourself or gift your sister, mum or BF a kit!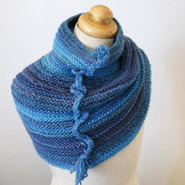 Quick special for the end of winter
check www.ozeyarn.com
15
% off
Cinque,
Horizon &
Azteca 12ply.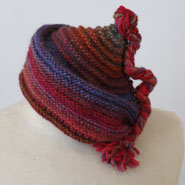 Circular Cowl - above in Jungle Green Cinque, below in Azteca colour Autumn Heather, below right Cinque again. 3 different pieces from the one pattern. Can be knitted also in Poems Silk, Horizon or Tonalita.
Wave Scarf - the pattern has 2 widths shown below narrow width, actually knitted with 1 ball of sunset and 1 ball in blue (discontinued).
Yurt Hat - the pattern now has 3 variations - as shown or as a Beret and recently added a brimmed version as the Beret.
Receive 3 free patterns!
Order 3 balls of Azteca or Cinque
Azteca 100g balls/ Cinque 50g with 150m
or 4 Balls of Horizon
These are 50g balls with about 100m per ball.
Hope to see you soon!
If you'd like to discuss anything in this newsletter - or anything at all, please
email Jane
.
Thanks for your support - Laura, Petra, Philippa, and I look forward to seeing you in the knitting circle!