Sorry for a wrong link in my last email: I took the chance to add & update so here's the LATEST Signatur Newsletter for March 2017...
Winter 2017 - keeping it hot!!

I was lucky enough to travel to the Pitti Filati yarn show in Florence in January. The show covers hand knitting and commercial knitting fibres from sportswear to chunky cowls. Great colours & shapes coming for 2017: yarn that's a genuine 3D experience!
On a day off I discovered another 3D experience of 'Woman in Gold' artist Gustav Klimt. 'The Klimt Experiénce' required 3D goggles so you could step inside the paintings. As well as 3D there was a massive surround sound/digital image presentation running 45 minutes - I'll pop video on facebook.com/signaturhandknits
Three new designs will see Winter through. The Pandora Jacket (left & right), Textured Millar line coat and Cable Jacket, close ups below.

I have also revised the Manhatten Jacket, a long-time favourite of mine. And I continue to make the long Zig Zag Swagger version of Manhattan.

There are 3 new colours: Buttermilk, a soft creamy yellow (left & right). Filigree is an antique, sligthly faded duck egg blue while Ruby is as rich as it promises!
Email jane@sigknit.com for a shade card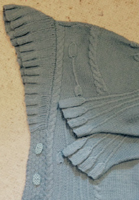 Pandora Jacket, has been spinning around in my head since I created the Buckingham Jacket. There are always points when you're designing where an idea could take you in several directions.

With the Buckingham Vest and Jacket (below) I chose to knit the fronts sideways to create the bell stitch edge collar, while I took stitches in horizontal stripes to create a slightly military look.

Right is Filigree: more photos coming on sigknit.com - please ask me for a free shade card to see the new colours dsiplayed more accurately!
jane@sigknit.com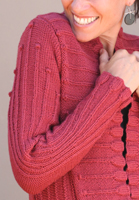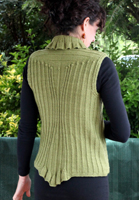 So for Pandora (above) the collar is knitted separately and sewn into the Vee neck shaping. Now knitting the fronts hem-up I can work the Bell Stitch pattern into elongated Bells on the hemlines of both the front and back. A single knit stitch continues vertically from each bell into the body of the garments to create stems. The stems are finished with elongated bells. Whilst on the Buckingham these stems 'K1tbl' are completed with a bobble at the shoulder line.
Both designs are shaped into the waist as you can see right with the back of the Buckingham Jacket.
I'll look at the stitch techniques more closely in my next newsletter.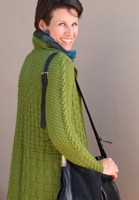 Textured Millar Coat - I just love these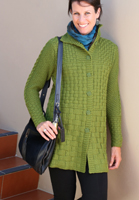 textures: they're some of my favourite stitches up close! Original Millar Coat left shows the length for this piece.
Large Leaf stitch, varied cables from standard to OXO cables, bobbles, large bells, garter stripes and double moss. Different lights have made the same colour look different, it's actually Sequoia though the left photo looks more like Light Olive, which is the colour of the Buckingham above right.

I am happy of course to send a free shade card, just email me jane@sigknit.com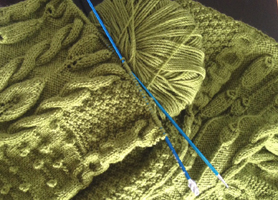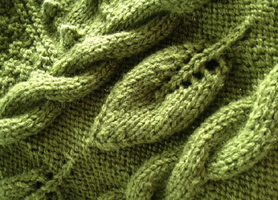 Slanted Cable Chaffey Jacket,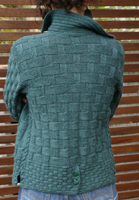 classic cables with slants and angles. Left is the very simple version of this Chaffey Jacket which is now available both as a kit or pattern.

I just cast on the back, so better get knitting!

Photos planned for late February, so new designs will be on the site mid-March.
Gosh! I've attempted to make the Ruby look like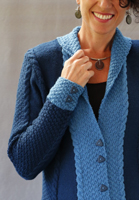 Ruby, reds are the hardest to see on a computer screen: let alone a smartphone!

Guess what - email me and get a free shade card!
jane@sigknit.com

Right is the Waratah Jacket in Tasman and Steel. This was a new design in May last year.
Steel is such a stunning and versatile colour that wears with navy, black, grey or blues: I just love steel!
My first two shows of the year are in March....
Canberra: Sat 18th & Sun 19th March
Sydney: Fri 24th to Sun 26th March
Handmade Canberra: Sat & Sun at EPIC
I keep telling you this is a great show, so get in the car and come and check it out for yourself!
Free parking and free entry
You'll find several Australian Designers On Show exhibitors at Handmade Market Canberra the week before Turramurra in Sydney March 24-26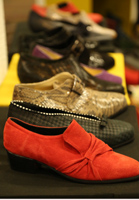 At Handmade Market Canberra you'll find exhibitors from Sydney, Canberra, Melbourne and Adelaide who all know it's worth the trip!

Left: Page Shoes
Right: Ruth Tate Designs

The March show in Canberra, like Designers On Show in Sydney, will be the first shows of the year for these designers so everyone has new designs, plenty of new ideas and lots of stock,

Page Shoes is a family business based in Sydney. Carol Tilling brings a range of shoes, sandals and boots, in different sizes and widths, with heel choices and trim choices. After selecting style, heel and trim you choose from suede, single colour leather or printed leather - truly bespoke shoes.

Ruth Tate Designs - left and above right.
I met Ruth last year at the December market in Canberra. Ruth is based in Sydney and like me, trained in the UK and has worked for labels in Europe and Japan. Ruth brings beautiful styling and stunning fabrics to her designs. Winter includes leather jackets and skirts, silk shirts and stunning dresses from daywear to cocktail. Ruth designs are offered as made-to-measure for a perfect fit.
Designers On Show


Friday 24th to Sunday 26th March
Turramurra Masonic Centre
Corner of Pacific Hwy and Turramurra Ave
Friday & Saturday 9.30pm to 6pm
Sunday 9.30am to 4.00pm

Entry: Voluntary $2 donation to CanToo Cancer Research



Above left to right: Sapphire and diamond ring from Aharoni Jewellery. Watercolour arts Jane Stapleford's white rabbit, a section from a larger painting. The next 2 pieces are from Christine Mija, who is joining us for the first time at Designers on Show, working in silver and pearls.
Below: Glass bead from Denise Smith. Coco Shawl Jacket from Signatur Handknits.
Aharoni Jewellery Emerald set into ring in Mokume Gane style, created by fusing white, yellow, rose gold and copper - some great shots of this ancient Japanese technique or their website.


Designers on Show Sydney - Turramurra Masonic Centre


Entry $2 donation and a chance to win a $200 spending spree.
Doors open 9.30am Friday 24th March to 6pm
Saturday 9.30am to 6pm and Sunday 9.30am to 4.00pm.

CanToo Cafe will be open during the show with light refreshments and lunches.




Above: Handmade glass bead set as a necklace from Denise Smith, Denise also sells individual loose beads if you enjoy creating your own pieces, or simply love collecting beads. Signatur Hankdnits Mitre Shona Jacket, the front, like the sleeve, is broken into blocks of colour between cables.
Carol Dobson polymer clay, Carol is a previous exhibitor with Designers On Show and is now working in virbrant geometric styled pieces. Signatur Handknits Stitched Up Jacket in 4 shades of red with highlights in Light Olive and Khaki.

Jenepher Walker is a Milliner who explores her craft with a passion. Her 'Restore, Revamp and Reclaim' philosophy incorporates old and vintage elements and found pieces to create one-off hats and headpieces.

Jenepher's commissions often integrate a client's treasured piece into a hat or headpiece.



Left: A one-of-a-kind cream felt headpiece featuring vintage veiling and a vintage Czech button

.

Nicole Miranda is a local Sydney graphic designer and artist. Each piece is hand-painted onto earthenware ceramics: from domestic pieces to tables and plaques for garden installations.
Nicole will take commissions for house plaques, friezes and stunning splashbacks. Inspirational themes include Australian natives, Mediterranean, French and current trends.
Penel Bigg is a wonderfully creative glass artist

Glowing colours, fluid forms, molten magic characterize Penel's pieces.

"Working with a molten material continues to surprise and delight me, to develope my own idiosyncratic style." That's our Penel!


www.firebirdbeads.com


Trish Fraunfelter, like many creators, started her business in the family room. It's still all about home & garden, from magpies to chooks. Her furnishing fabrics are vibrant and of excellent quality. The main range includes aprons & ironing board covers made of canvas/drill. It's hard wearing and guaranteed to provide years of wear. Trish's pieces are often hand-printed with some fabrics printed by the metre.
Bronwyn Hunter creates felted pieces from wearables to furnishings. Left is the start of a new piece for winter 2017, and I am always fascinated to see where this latest design journey takes Bronwyn and her work.

Below left Diana Booth's felted vessel.
Right Christine Mija Silevr and Pearl necklace.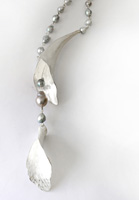 If you would like to see more from our exhibitors please click Designers on Show newsletter on the Signatur Handknits site. Or for maps and the train station location visit www.designersonshow.com
facebook.com/DesignersOnShow Instagram DesignersOnShow
If you'd like to discuss anything in this newsletter - or anything at all, please
email Jane
.
Thanks for your support - Laura, Petra, Philippa, and I look forward to seeing you in the knitting circle!