Subscribe now to be added to our mailing list. You will receive our newsletter, containing the latest news and offers from Signatur Handknits.
Sunshine+Rain+Grass+Sheep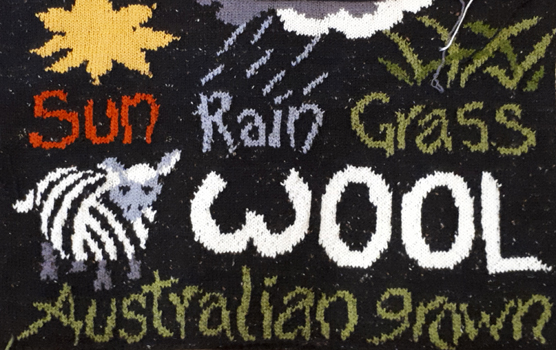 = Wool, Wool, Wool


Canberra here I come with two events in May
simply brilliant shows followed by Brisbane, Bendigo & Bowral
Thank you Victorians for a great Craft Alive in Ballarat!

Handmade Market Canberra EPIC


April 30th & 1st May 10am to 4pm

Old Bus Depot Market Canberra
May 14th & 15th 10am - 3pm Kingston

Australasian Quilt Convention
Brisbane May 26th to 29th

In Style Bowral Presbyterian Church Hall
June Fri 3rd & Sat 4th 10am - 3pm
Coal Loader Artisan Market
June 5th Sunday 9.30am -3pm Waverton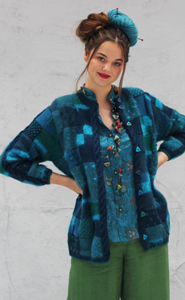 The Handmade Canberra Market at EPIC and The Old Bus Depot Market are all about Australian-made; so please, come and meet the designers and makers.
Handmade Canberra brings artisans and their beautiful products from Victoria, South Australia and New South Wales, with delights ranging from food and clothing to jewellery, art and homewares.

The Old Bus Depot Market runs a two days WOOL WEEK every year and it's not be be missed! With a focus on fibre you'll once again find creators from all over Australia.
The Bendigo Sheep & Wool Show is my next adventure into Victoria from 15-17 of July.
Ballarat Craft Alive in early April was a brilliant three days. Thank you to all who attended including my Melbourne customers who made the trip out to say hello.
Because shows have started up again it's a great idea to call & make an appointment to visit my Alladin's Cave Studio in Sydney. Call Jane on 0427 064 834
Enjoy my new
shopify website.

I am loving my new
shopify website.

sigknit.com is continuing as a design archive
Archive Design: Coley Fitted Jacket and Coley Aline available only at sigknt.com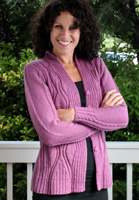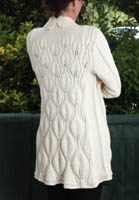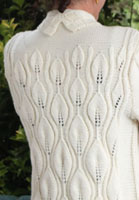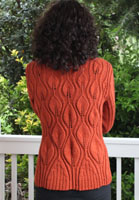 Follow Signatur Handknits on Facebook - show updates and reminders!
Add a modern twist to inherited stitches with new styling & finishes
As well as seeing colour and fun in Winter 2022 we're also seeing a desire for classic stitches and styles like the Fan, Bell and Cable Cardigan and Vest below.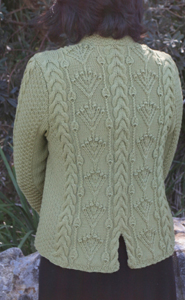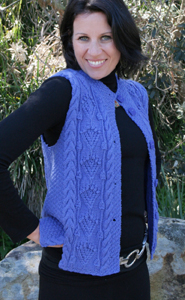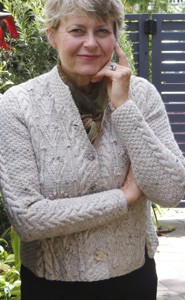 I love to add unexpected details with cable-edged splits front & back
This Fan and Bobble pattern is a Signatur classic stitch that's also used in Swagger & Swingcoat designs.
Fan, Bell Cable Jacket: Garment A$505/ Knitting Kit A$195/ Pattern A$35.
Fan, Bell Cable Vest: Garment A$315/ Knitting Kit A$170/ Pattern A$35.
Knitting kits include pattern, yarn and buttons. Below Left and centre:
Fan & Cable swingcoat - the cream and brown shots show how the fullness of the swing falls from the shoulder.
Right (in Brick) the Fan & Cable Swagger, same stitch pattern but this is high-waisted and fitted over the shoulder, less fullness over the hip and shorter than the Swingcoat.
Fan & Cable Swing: Garment A$695/ Knitting Kit A$260/ Pattern A$75
Fan & Cable Swagger: Garment A$595/ Knitting Kit A$230 / pattern A$45
Traditional style: stitch pattern between cables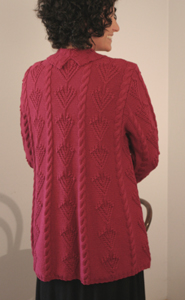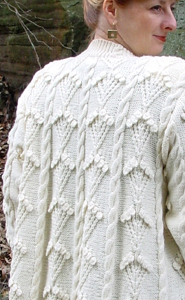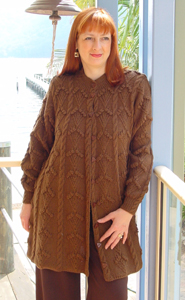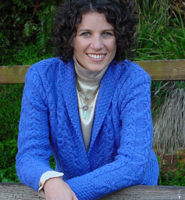 The Shona Jacket in Jacaranda (right) and below is a more traditional design with the Celtic Cross stitch pattern between cables.
Cables create such fantastic textures.
In the Shona the cables are worked as both crab claw cables and what I call OXO cables. The split open edge is worked on the front of the jacket: there's no back split.

All these shots show the shawl collar option but the design also has a round neck option, and a shorter length.
Shona Jacket: Garment A$545/ Kit A$215/ Pattern A$45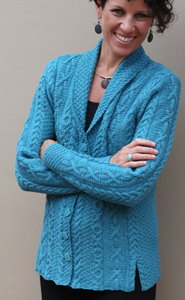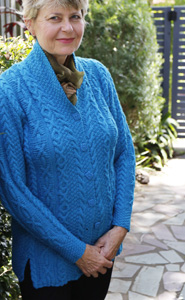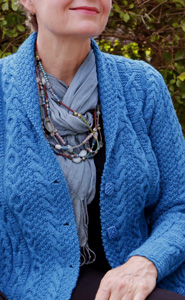 Hemline details in
Cable Chaffey Jacket
With the Cable Chaffey Jacket, in cream below, I have combined two traditional stitch patterns

asymmetrically. Right back with the Diamond pattern and left back with the

Zig Zag, the front carries the same two patterns.
Cable Chaffey: Garment A$515/ Knitting Kit A$205/ Pattern A$45
Ya gotta love short row shaping:
creating striking hem variations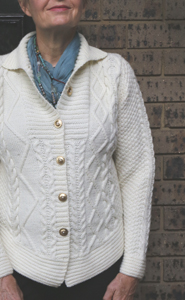 I am very fond of short row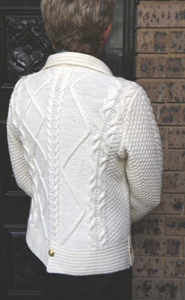 shaping, adding length to the centre front hemline.

With the Cable Chaffey I have worked the band before the short rows, emphasized by the centre back split. The front bands overlap the back at the side seam and are trimmed with a button.

Shown with round neck collar, pattern also has the shawl collar option (same as Shona above)
Below: Cowls and scarves as knitting kits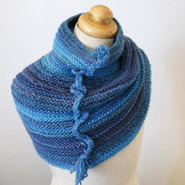 Azteca in Blue Lagoon is back in stock. Azteca is a self striping yarn, brilliant for accessories. 53% wool and 47% man-made, Azteca knits beautifully. Designs range from hats to cowl neck and wraps.

For Azteca and Azteca Fine see the full colour range on my new website
shopify website.
If you'd like to discuss anything in this newsletter - or anything at all, please
email Jane
.
Thanks for your support - Laura, Petra, Philippa, Cathryn, Helen and I look forward to seeing you in the knitting circle!