Subscribe now to be added to our mailing list. You will receive our newsletter, containing the latest news and offers from Signatur Handknits.
Looking forward to looking back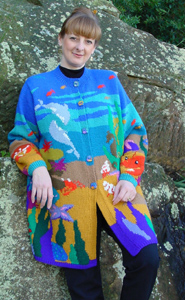 Here we are in 2018 and Newsletter #83 tells me we're into our 11th year of sharing pictures & thoughts, but most importantly, your comments & friendship. Thank you so much.

I hope you got a chance to put your feet up & knit over the holidays: be it in front of a roaring fire or a roaring surf!

I start the year with two shows and a market in March (details below). So while looking forward to 2018 Newsletter #83 also lets me share some of my designs from the last 20 years, including Living Reef (shown left).

The Living Reef A line isn't a new design but it's a real feast for the eyes! The graph is drawn in sections with decreases across the row, not just at the side seam of the garment.
I'll flash some other special pieces across the page for you.




A sun and sea theme fits nicely into my latest play with Intarsia knitting, which years ago in Australia we called 'Picture Knitting'. For me, knitting Intarsia is like a gripping novel where the picture unfolds!
These picture pieces of course call for hand-made buttons to match. The buttons above include fish, dolphins and octopii in their sea-scenes.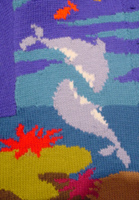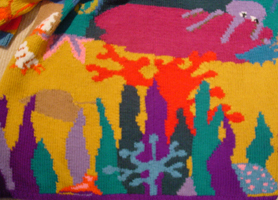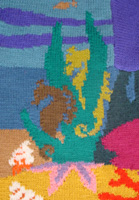 Design Talk: Intarsia, or Pixel Knitting!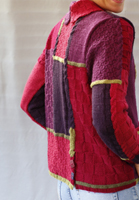 Intarsia is a technique I have taught to both beginners and more advanced knitters, starting with the basic principal that each square on a graph paper represents a stitch of colour - or a pixel!
Hence, Intarsia's long overdue makeover will be as Pixel Knitting!

The Stitched Up Jacket left is Intarsia, but being blocks of colour it doesn't require a graph. Instead it is knitted from a diagram. So if you want to knit and watch TV this is easier to knit than a design from a graph.
Playing with Words and pictures in 2018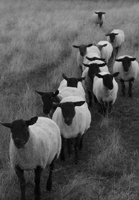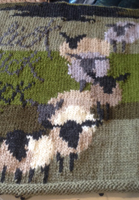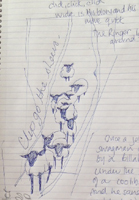 I showed the start of this "Sheepish Jacket" in my last newsletter and posted more images on www.facebook.com/signaturhandknits and Instagram signaturhandknits too.

So, here's the progress from my original image: sketching, graphing then adding words, this time "Click go the Shears Boy" part of the chorus is 'click, click, click'. I don't want the sleeves as bold as the body pieces, so I am really happy with the result. The other sleeve has a line from Waltzing Matilda "Once a Jolly Swagman" and of course more sheep!

Above shows my workings for the sleeves, from far right the image of sheep, which I sketched and then graphed so I could fit the words onto the sleeves too.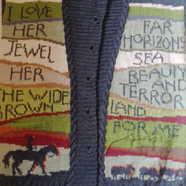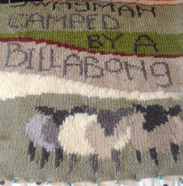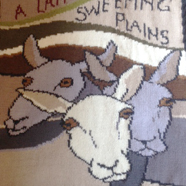 Above left are the completed fronts (yes I need to make buttons) centre picture is the second sleeve and above right is the back of the Jacket. The hardest bit (yes I did knit this) was the outline of the sheep especially when it got to all those ears! I did cheat and asked Laura to sew in the ends! lets see what else I can discover strolling down my memory lane of knitting!
Classic Signatur Pixel Knitting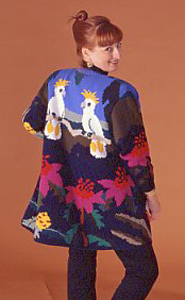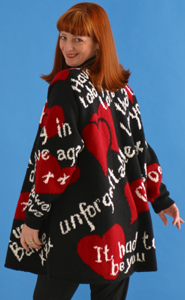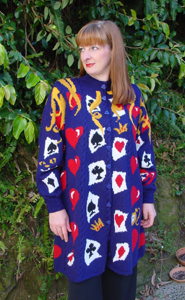 Just had great fun going through old images: above are three more designs from the '90's.

The Bush Garden with the Cockatoos on the back has A-line styling, same as the Living Reef featured above. Note, the shorter the length the less swing (or width) I put into the styling.

Centre is the Mad Hatter inspired by Alice in Wonderland, so over the shoulders Alice's golden curls, playing cards cascade down the garment with hearts for the queen of hearts, then if you look closely on the right sleeve you'll see the eyes of the Cheshire cat, there are a couple of crowns on the front, on the lower area of the right sleeve, and there's also a red cup and saucer for the tea party!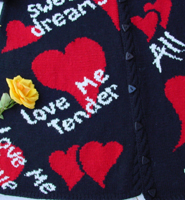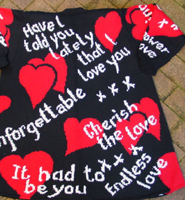 The lovesong swingcoat sings and swings for itself, I've put some close-ups above.
The Lovesong Swingcoat & Mad Hatter Swingcoat are both linked. The Bush Garden A line isn't on the site, if you would like this pattern please email me jane@sigknit.com
Cowls and scarves as knitting kits
Wave Cowl in Cinque 8ply, Wave Wrap in Azteca Autumn Harvest, Circular Cowl in Cinque 8ply
SPECIAL OFFER on www.ozeyarn.com order 3 balls of Azteca, Cinque or Tonalita and receive 3 free patterns.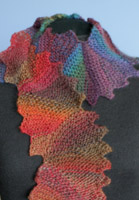 Three Patterns in the Special Offer are: Circular Cowl (below), Wave Scarf (left) and Yurt Hat (below left)

Right above and below centre and right: Circular Cowl.
Left and centre above Wave scarf.
Below left Yurt Hat.
Circular Cowl pattern has 3 options. Above right: Cinque 8ply knitted on large needles. Below right Azteca 12ply using 1 ball and centre long length using 2 balls of yarn.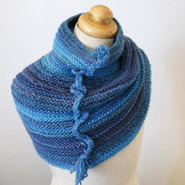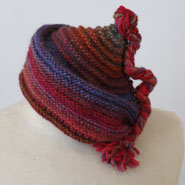 2018 Winter shows
Last year I joined the In Style Turramurra Market the first Sunday of the month. It was a good show for me, so I am adding a couple fo other market days to my year too. Of course you will still find me in Canberra and of course my favourite show of the year Designers On Show at Turramurra.
Turramurra Produce and Designer Market
Karuah Park, Turramurra


8am to 1pm
Wed 7th March
Handmade Market Canberra

EPIC - Exhibition Park in Canberra
10am to 4pm
Sat 17th & Sun 18th March
Designers On Show - All Australian made
Turramurra Masonic Hall corner Pacific Hwy and Turramurra Ave
9.30am to 6pm except Sun to 4pm
Friday 23rd to Sunday 26th March
If you'd like to discuss anything in this newsletter - or anything at all, please
email Jane
.
Thanks for your support - Laura, Petra, Philippa, and I look forward to seeing you in the knitting circle!