Handknits that 'Shape Up' before they ship out
- Shows, Markets & Events July/August
- New design: Signatur's Aran Swagger
- Remastered Killarney A-line Cardigan
- Take a closer look at Signatur classics
- Lustre & Love: our Latest photo shoot

What's the point of making or wearing handknits if you can't fit, colour and customise them to your own taste? Jane and Signatur have always been about garments, kits and accessories that fit and flatter, with built-in flexibility and options to guarantee a length, colour, shape, hem & collar style that has you knitted all over it!
Show us then, you show off!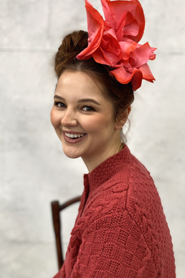 Sydney Craft & Quilt Fair

Homebush Olympic Park.


Thurs 28th June to Sat 1st July

Bendigo Sheep & Wool Show
Showground Fri 14th to Sun 16th July

Handmade Market Canberra
EPIC Sat 30th & Sun 31st July.

Fibrefest Wyong NSW Sat 9th & Sun 10th Sept

Quilt NSW 15th to 17th September

Tasmanian Craft Fair 3rd to 6th Nov
This annual show takes over the town of Deloraine over seven venues with free transport between.
Love our Latest photos
Model Meg
and Sally & Karen at Two Threads Clothing Company have completed another photography session for me - so there's plenty of new, luscious images in this newsletter.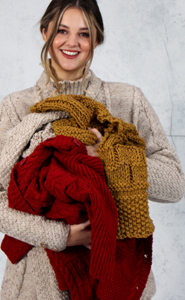 A taste of new images of designs that have been loved for years plus a few that have been remastered. I love that phrase: they used it when they relaunched the Mini car)

I have also tweaked the Killarney A-Line and reintroduced it to my range.

I remastered the Blocks and Split Texture Cardigan several years ago, taking the design from a cardigan to a jacket, with a change to the front buttoning, and adding the collar.

Now in 2023, a drum roll for the NEW Aran Swagger coat - which even has pockets! The Aran Swagger design incorporates

Cables and Diamonds,

the keystones of traditional Aran knits and familiar worldwide.
A Penny for your Blocks
Blocks Cardigan has been remastered several times, originally from a single colour garment with 4 highlight colours for bobbles and texture. Blocks is all about colour and texture combining wool and mohair.
Right the Penny Jacket, has to be my most simple design; so really important collar and cuff details plus a pocket for this one. More images below...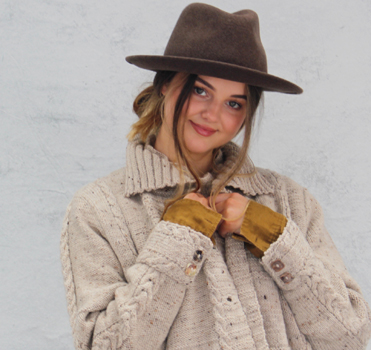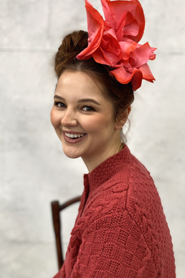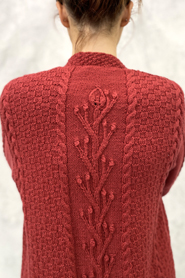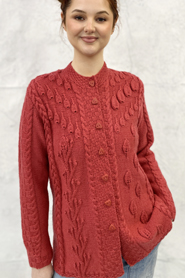 Killarney A-Line - it's a very gentle one
The Killarney A-Line has a very gentle A-Line styling and it's shown above in my new Coral colour.

Aran Swagger: living up to tradition & style
I love knitting cables and creating diamonds with travelling stitches. It's easy to see how I use cables to create the panels into which I have worked the Diamond pattern. The back shows this combination perfectly and how the two outer Diamonds reduce in size hem to shouldered with the Aline shaping. The back of the garment has given me the opportunity to add a centre panel that increases the Diamonds hem to shoulder.
Muffin Top Hat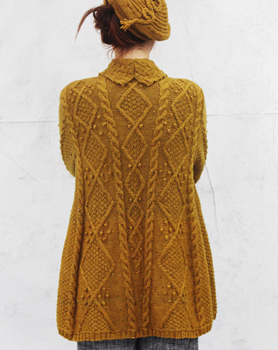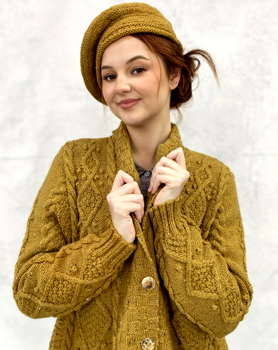 Aran Swagger: living up to tradition & style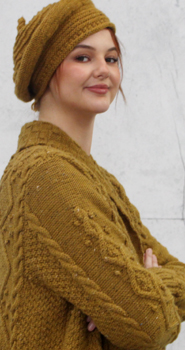 Aran Swagger - New design - I have 4 kits on special - as this needs a few more check knits -
You must email me for this discount
jane@sigknit.com if you are interested.
Kit $245 less 10%

I have been holding off on my new design, a few teething problems with the pattern and the graph. I am finally happy with the pattern which is great as I love this design.

The close up left shows the sleeve diamond, having reduced in size the last cable twist terminates the pattern.
This is applied on the front and back panels before shoulder shaping.
I always like to have length adjustments within my designs and I was struggling to achieve this, as well as maintaining very comprehemsive row by row instructions. This came down to how to reduce rows to and still complete the final cable twist before the shoulders. I have just completed a second graph to achieve this length option within the design. Finally happy!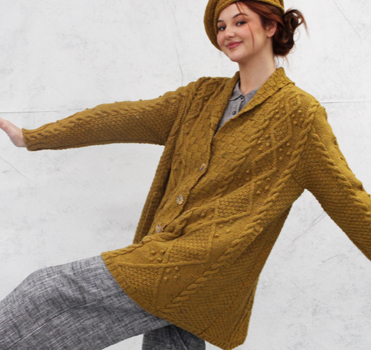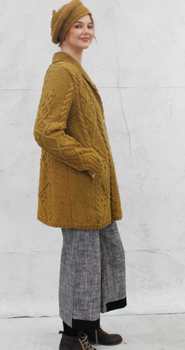 Coco A-Line combines 1 strand multi-coloured 5ply with 7 colours in 8ply Australian Wool. The body is knitted in one piece with just shoulder seams.
Check out my YouTube video on Mitre knitting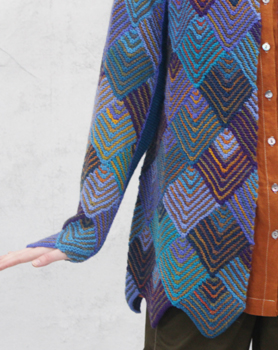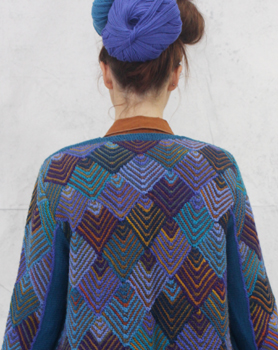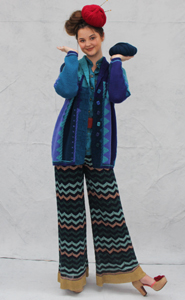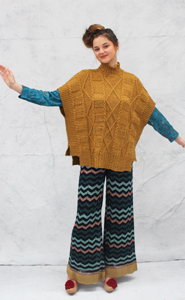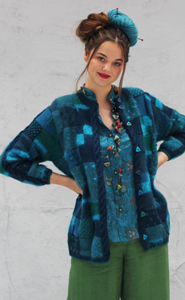 Left to right: Santa Fe Jacket in the long length. Centre picture is of Meg in the fabulously popular Diamond Tunic & on the right, my ever-popular Blocks Cardigan.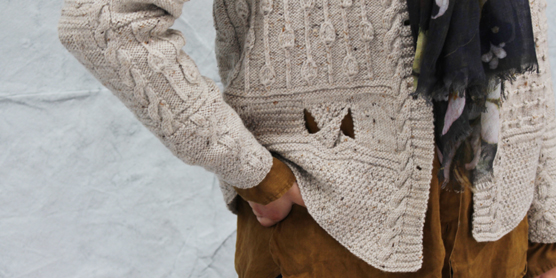 Split Texture Jacket. Centre Fan, Bell & Cable in Cotton and Mohair/silk blend and right in light Denim Fleck.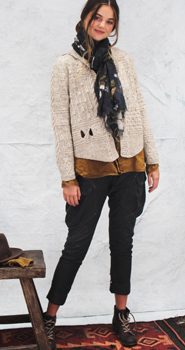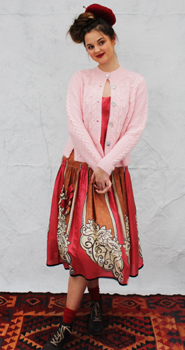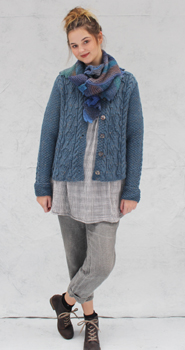 The Fan, Bell & Cable Cardigan is such a classic stitch pattern. I have created double cables which come together to create the Crab Claw Cable. The back and fronts all have the split hem created by working two sections with a cable edge, when joined creating the Crab Claw Cable. The cuff detail I stole from the Penny Jacket cuff as the sample garment arrived back from my knitter the day before I sent the garments to be photographed. The sleeve was a little short, so I added a cuff and button detail!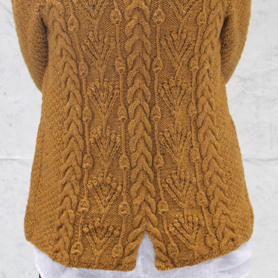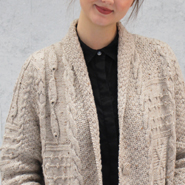 Byron Aline Coat
has wonderful deep pockets. The image shows the long length, side seam 55cm, the pattern includes a shorter length with side seam 45cm.
I introduced a few new stitch patterns along of course with a few favorites, I love the large Lace Leaf centre back.

Stitch pattern: Celtic Cross, 10st cable, Bamboo Stitch, Hanging Bells, Garter & Bobble and of course the large leaf Lace centre back.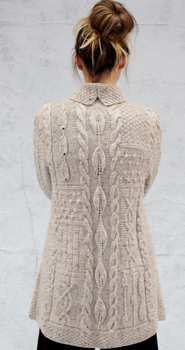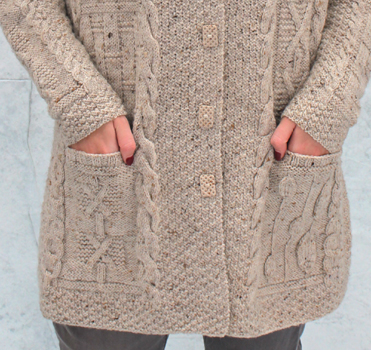 Shona Jacket was originally a round neck cardigan. This was the first design I created with the Celtic Cross stitch pattern. The fronts have a split hem, then picked up at the back neck collar trim. I have used several cable patterns from a single 6st cable adjacent to the front button bands, the OXO cable which the back shows well each side of the centre panel and the Crab Claw Cable at the armhole edge.
The hat is the Muffin Top, both are knitted in Mustard Fleck Australian wool.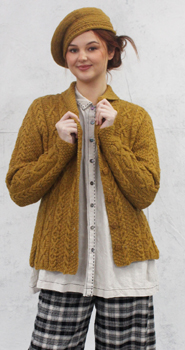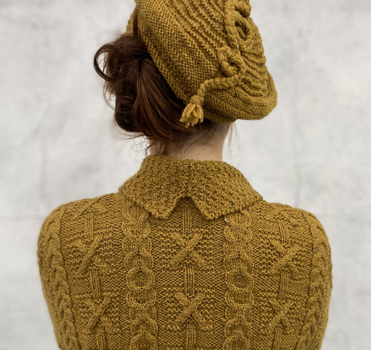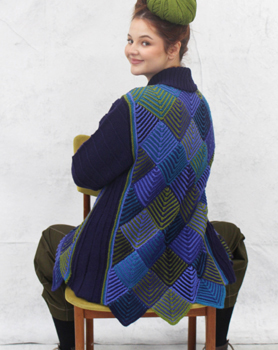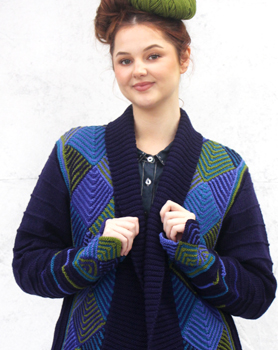 Coco Shawl Panel Cardigan knitted in 5 colours
Frida Jacket - this has been so popular - I love knitting this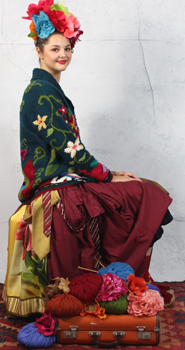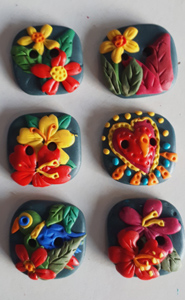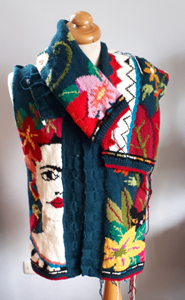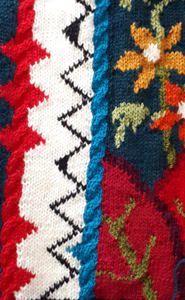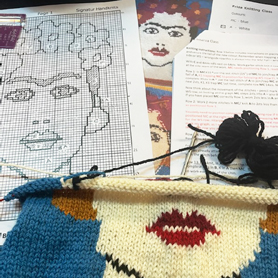 Left is a knitting class I created, a simplified version, allows you to get comfortable with working colours from a graph and managing them.

I do offer several free knitting classes, from a simple scarf, to a sticth sampler for the Split Texture Jacket and Penny Jacket.

I also offer a basic colour work class.

These classes are all as a pdf for you to download at home.

email me for a free class.
jane@sigknit.com
Hats, wraps and accessories are perfect small projects, whether they're single colour flecked yarn or multi-colour combinations.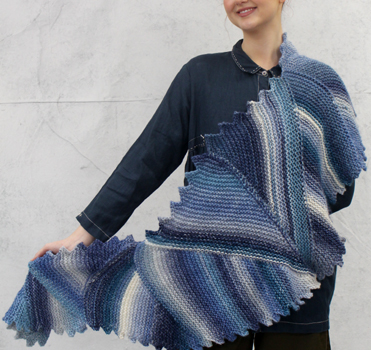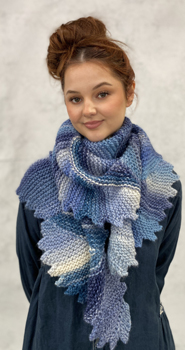 The ever popular Wave Wrap knitted in Verve in Blue, below in Orange/Pink and Lilac/Purple/Pink shown as balls. This is 50g balls of 12ply.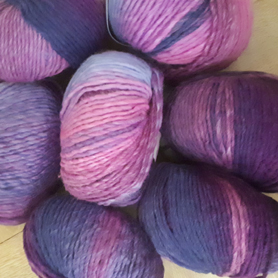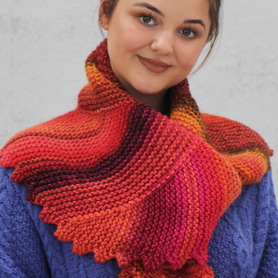 Going out of my state of mind
Having lived longer in my adopted state of NSW rather than my birthplace in Yorkshire (UK) it's fun to go out of my state of mind and look forward to seeing the world at upcoming shows in Canberra, Bendigo and Tasmania. Never you mind, though, Sydney NSW is up next!

If you'd like to discuss anything in this newsletter - or anything at all, please
email Jane
.
Thanks for your support - Laura, Petra, Philippa, Helen, Cathryn, Stephanie, Dodie, Anne, Kelly, Kyoko and I look forward to seeing you in the knitting circle!