Colour, Texture & Techniques
Ready to wear handknits, knitting kits
and knitting patterns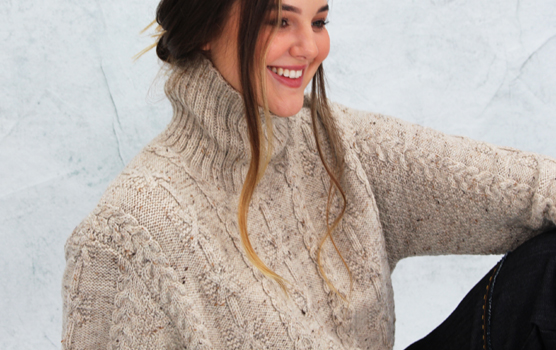 I love my downtime and designing but I'm also really excited to be back on the road. My first two days in Melbourne have been brilliant, so wonderful and inspiring to see so many familiar faces and meeting new knitters and wearers.
The Australasian Quilt Convention continues until Sunday 16th April at The Royal Exhibition Building Carlton Gardens from 10am to 4pm.
Canberra Presentation with Jane:
lecture and mini fashion parade!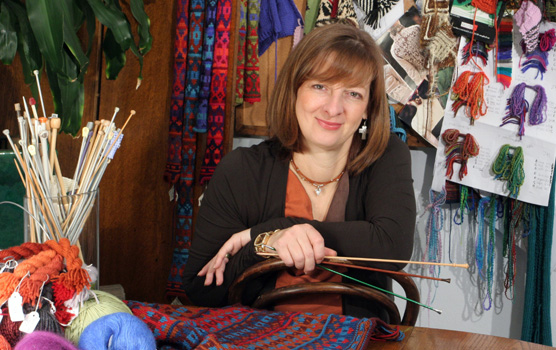 Canberra Presentation. Lecture and mini fashion parade!
Cost $30 8.30am - 2pm Chifley Community Room - 70 Maclaurin Cres, Chifley
Book: trybooking.com/events/landing/1045272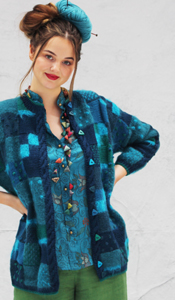 Fit & Style is one of my favourite and most well received classes: but you don't need yarn and needles for this class.

First I take you on my design journey and the key ingredients I use to design styles that fit and flatter. These key elements are very simple and can be applied to most commercial patterns. I taught this class on ZOOM earlier this year & my students have agreed to let me to share some of their images. I then show you how commercial patterns can be adjusted to you figure.

The Canberra Handknitters Guild is hosting this event and the cost is $30.
Please book trybooking.com/events/landing/1045272
My presentation is a morning of interaction, combining chat and a screen display with plenty of garments and a little modelling from you.
Sat 13th May 8.30am to 2pm
Chifley Community Room. 70 Maclaurin Cres, Chifley
Markets and Show in April & May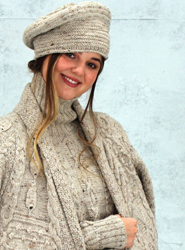 Canberra
Handmade Market Sat 29 & Sun 30 April
Over 200 stall holders from food to knits. At EPIC

Adelaide!!!! Bowerbird Market Wayville Showground
Fri 5th to Sun 7th May (Fri 5pm to 9pm) 10am - 4pm

Canberra's Knitters Guild Sat 13th May Hosting a Signatur Handknits show & tell 8.30am-1.30pm with lunch.

Newcastle Craft Alive Racecourse
Fri 26th to Sun 28th May

The Coal Loader Artistan Market Sun 4th June

Sydney Quilt Fair Homebush 28th June to Sat 1st July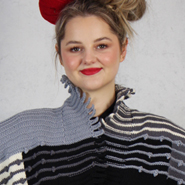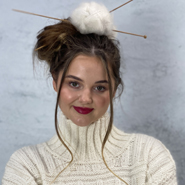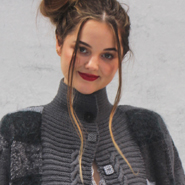 signatur-handknits.myshopify.com
Very top: Shona Sweater. Above: Digit Tabard and Blocks Jacket.
Below: Diamond Sweater, Blocks Sweater & Shona Jumper.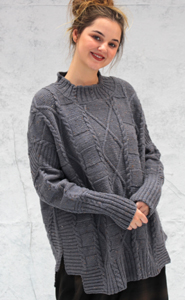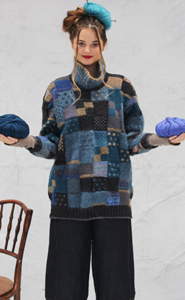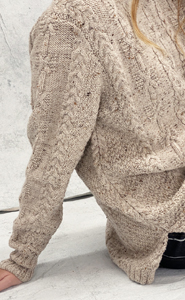 Design is all about details
from colours & collars to pattern & texture. And of course beautiful, quality wool and cotton yarns...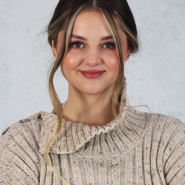 Great example: I love playing with collar detail. It's the element that can clinch a design choice. It's dramatic to photograph a high collar, but my designs always have collar & length options. The Pippa Sweater button-up shoulder detail lets you wear the collar open. All these collars are round but also slightly wider than average. This lets the neckband be 3cm deep or 15cm as a high collar. Hemline and rib details are a key, with side seam cables.
Multi direction Mitres: why knot?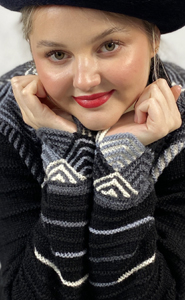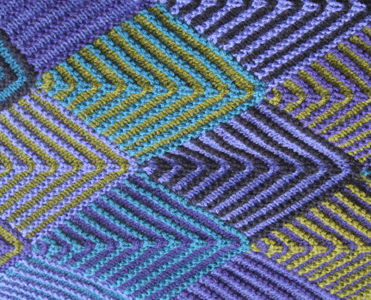 signatur-handknits.myshopify.com
Coco Shawl Panel Cardigan
(below)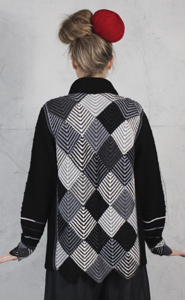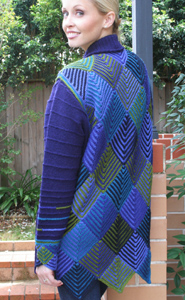 Mitres are so simple and rewarding. Two rows stripes with a centre decrease. Stitches are picked up Mitre to Mitre from a garter stitch edge, one stitch per stripe, picking up cannot be easier!
The Coco Shawl Panel Cardigan is knitted firstly as panels for the back and two fronts, hem to shoulder. Then stitches are picked up along the long edge of each panel and worked out first to the armhole cast off and then to the side seam cast off - any chest size is achievable!


Knitting Classes - dates and venues to be set
Intarsia Knitting Class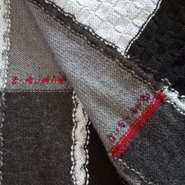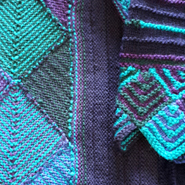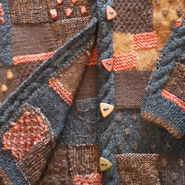 For a knitter, the wrong side of the knitting also tells a story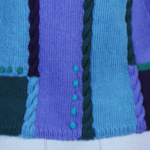 The Bee Bee Jacket is knitted in Intarsia with a ball/ length of yarn per area of colour. The top left image shows how this twisting/interlocking looks on the wrongside of the knitting. Simple Intarsia, like the Bee Bee Jacket, can be knitted from a diagram rather than a graph. My class will cover how to join and interlock colours, additionally interlocking colours for a multi-colour cast on as shown left.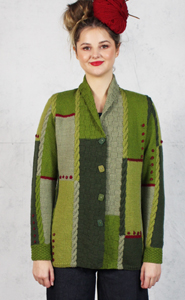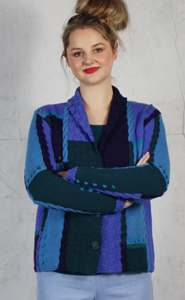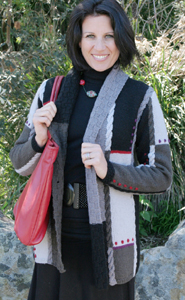 Mitres Class Knitting Class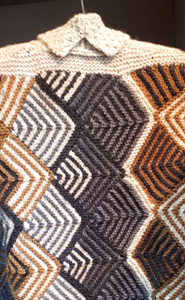 Knitting Mitres is quite simple. Garment construction with Mitres is also simple but is quite different.

This two or four hour class gives you an up close look at garments, some designs that are almost totally made with Mitres and many using panels of Mitres.

Right shows the Mitre Tally Ho Jacket, with stitches picked up to allow for shoulder shaping.

The class is about garment construction so homework before the class is essential. The homework will be emailed prior to the class, and can be completed after the class.
Below: Coco Aline Mid: Mitre Vee Capelet Right:
Mitred Drape Vest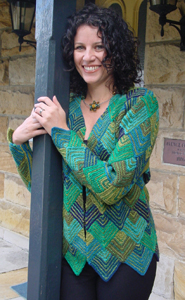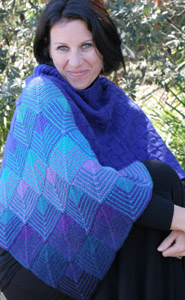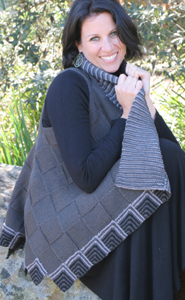 Let these fabulous
new yarns work for you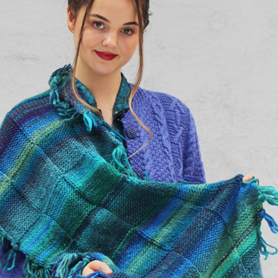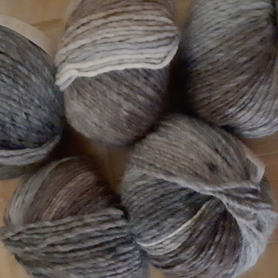 NEW VERVE 12ply by Cleckheaton
70% Wool/ 30% Acrylic 50g balls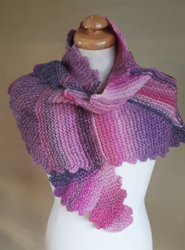 What I love about Verve, as well as Azteca, are the long bands of colour. Both are dyed as fluff, spinning blends and almost marls colour to colour, with long lengths of colour.
This is quite different to hank dyed yarn, both the Wave Wrap left and the Basket Stitch Wrap above showcase these yarns beautifully.
Top: Basket Stitch Wrap in colour Blue, Aqua.
Grey, Natural - this has a smoky undertone from grey to natural (not cream).
Left: The Wave Wrap knitted in Verve Pink, Lilac, Denim
Below: Denim, Blue, Cream - I am knitting this next.
The Wave Wrap knitted in Orange Spice - my favourite - from orange to dark pink, into claret and a touch of autumn.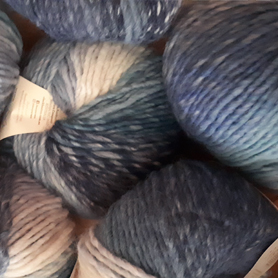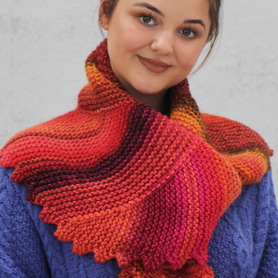 Step by Step instruction in my patterns on
short rows for the Wave Wrap.
Patterns can be knitted in 8ply, 10ply & 12ply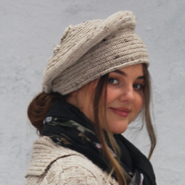 These pieces have been really popular and make fabulous gifts, both as a knitting kit or as the finished piece.

Below Left: Circular Cowl
Leftt: Muffin Top Hat
Below Right: Wave Wrap
Azteca 53% Wool/ 47% Acrylic 100g balls
Circular Cowl knitted in Autumn and Wave Wrap in Red Velvet.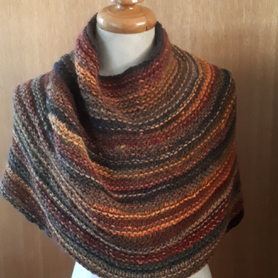 signatur-handknits.myshopify.com
www.sigknit.com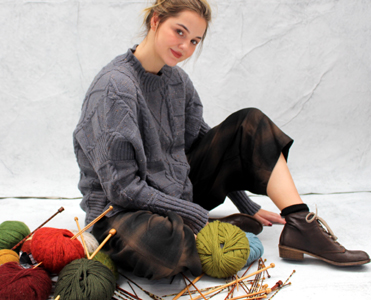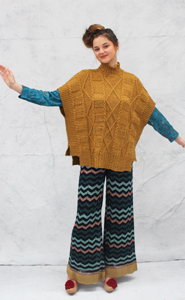 Diamond Tunic and Diamond Sweater.
If you'd like to discuss anything in this newsletter - or anything at all, please
email Jane
.
Thanks for your support - Laura, Petra, Philippa, Helen, Cathryn, Stephanie, Dodie, Anne, and I look forward to seeing you in the knitting circle!