A fantastic start to 2023
signatur-handknits.myshopify.com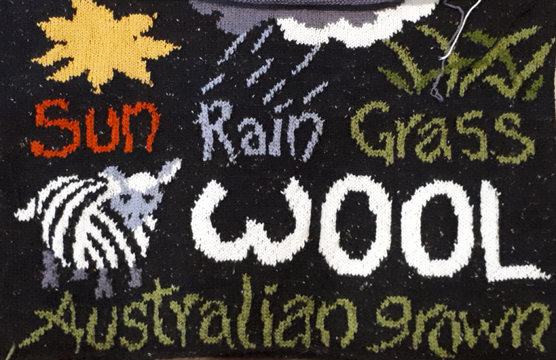 Designs to entertain and inspire you...
...and discounts to excite you!
Thank you for supporting my first market of 2023 at the brilliant Coal Loader Artisan space in North Sydney. It's offically Autumn: la NiƱa's wet, steamy coastal weather is on the wane and we're already having lovely cool mornings.

SALE SALE SALE
signatur-handknits.myshopify.com
Knitting kits & yarns 10% off till March 30
www.sigknit.com
Hitting the highways hard this Autumn!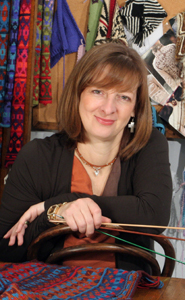 I'm a woman on a mission...
Shows are popping up everwhere and like a rebel with a cause I'm taking new stock and new designs to, and talking new ideas in, Melbourne, Canberra, Adelaide, Newcastle and Bendigo.
Canberra's Knitters Guild May 13th
I started Signatur handknits as ready-made garments, then added made-to-measure and knitting kits which completely changed my approach to designing.

This class allows me to share the simple changes every knitter can make to achieve a wonderful, personal fit for your knitting.
It's an interactive class/lecture and I will of course have plenty of garments and mirrors. This will be knowledge-building and should make you rethink your knitting and apply my customising techniques to most knitting patterns.
On Show for May & Jun
e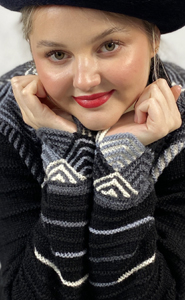 First Melbourne with the Australian Quilt Convention (AQC) returning to the lovely Royal Exhibition Building Thurs 13th to Sun 16th April.

Canberra Handmade Market Sat 29th & Sun 30th April: over 200 stall holders from food to knits. EPIC

Adelaide!!!! Bowerbird Market Wayville Showground
Fri 5th to Sun 7th May (Fri 5pm to 9pm) 10am-4pm

Canberra's Knitter Guild Sat 13th May are hosting a Signatur Handknits 8.30am to 1.30pm with lunch.
Topic is Fit & Style: a really popular power point and lecture. Limited numbers - will confirm details.

Newcastle Craft Alive Racecourse
Fri 26th to Sun 28th May

The Coal Loader Artistan Market Sun 4th June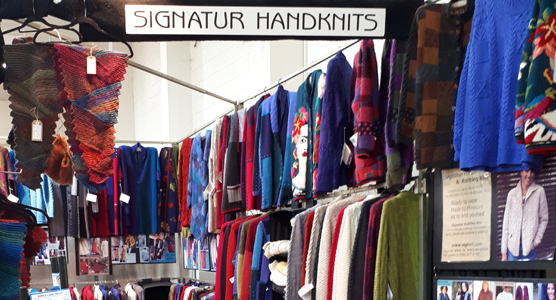 All about the detail - options for knitted on button bands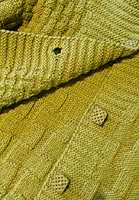 Here are a few of the stitch pattern variations I use when knitting the button band with the front of the garment, using the same needle size as the body of the garment.
Right: Chaffey Jacket with Corrugated Garter is a reversible band.
Below left to right shows Basket Stitch 8 row repeat, Double Moss 4 row repeat, Corrugated Garter 4 row repeat and lastly, a cable band with a P2 garter edge.

The key is 4 to 8 row reversible stitch patterns.
Knitted on button bands - no more UFO's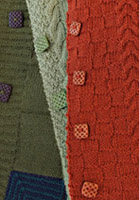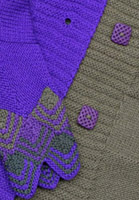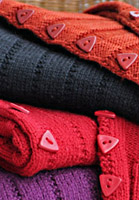 Split Texture Jacket front band
knitted in Corrugated Garter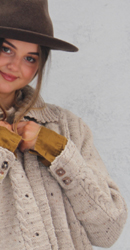 Corrugated Garter is a mock rib and one of my favourites for button bands. Knitted with 2 rows st-st and 2 rows reverse st-st, it looks like rib. Traditionally button bands are picked up from the front edge of the garments and knitted on, and can be a challenge. The junction at the neckband can also be a challenge: knitting the button band with the fronts is so much easier and neater.

Of course ribs are an essential part of knitting for cuffs and hemlines that stop the hemline rolling and sit the garment against the body. The smaller the needle you use the firmer the rib, which is perfect for cuffs and neckbands, but doesn't work as knitted-on button bands.
The Split Texture Jacket brings all the details together. The short row hemline is great fun, with the extra detail of the button-up tail.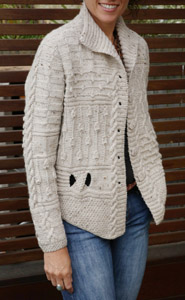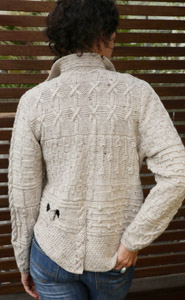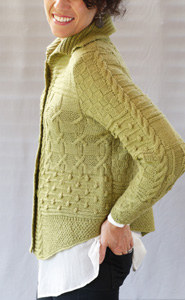 What or who does the work?
Yarn or Technique?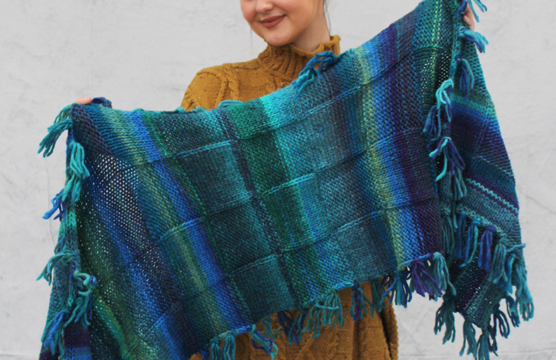 The Basket stitch Wrap (above) shows how multi-coloured yarn does the creative work, while below, the technique creates the design.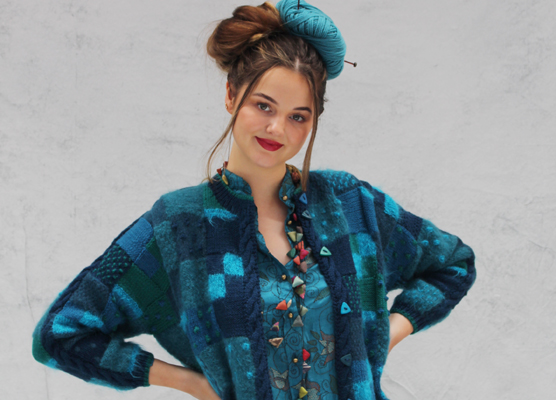 Whichever you choose I am more than happy to help you with your 'on-the-needles' project. The Basket Stitch Wrap uses Italian-made Joker yarn, a classic blend of 53% wool and 47% acrylic. 100g of Joker makes a hat and 300g delivers the Basket Stitch Wrap above.
The Blocks Cardigan:
6 colours and plenty of texture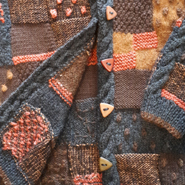 The Blocks Cardigan is a combination of five main colours in wool and mohair, the fifth highlight colour is clearly seen above as the bright turquoise quarter squares.
Looking at the wrong side of the knitting (left) the garment is knitted with standard garment pieces: fronts, back and sleeves. I recommend with many of my designs to knit the sleeves first to both re-check your tension and also so you become familiar with the pattern.
10% off at my new Shopify Signatur Handknits shop
Facebook.com/signaturhandknits
Instagram.com/signaturhandknits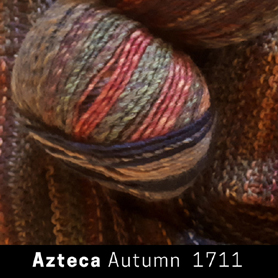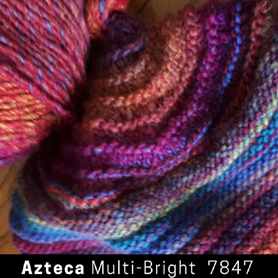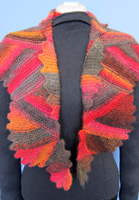 Azteca has simply wonderful colour combinations.
53% Wool & 47% man-made, which is a standard blend for a multi-coloured yarn. Spun in Spain & Italy, Azteca is 100g with 180 metres. Garment tension 17sts on 5mm or 5.5mm ndls.
Hats, Wraps, Cowls and Scarfs

Buying a Signatur Knitting kit gives you the pattern and the yarn to complete your project. Prices vary with yarn selected.
My December newsletter has step-by-step instructions and pictures for working short rows for the Wave Wrap.
Accessories also have Pure Wool options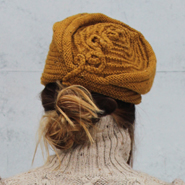 Tension: When I'm knitting a wrap or scarf in any yarn I'll go up at least two needle sizes from the size given on the ball band.
Ballband 5mm = 7mm needles.
However the styling for my hats relies on a firmer tension 22sts to 10cm/ 4". All the hat patterns can be knitted in 8ply/DK or Aztec - the ball band has no ply gauge.
I love playing with these hats, they are a great 'between-major-project' knit for me.
Hope to see you soon!
If you'd like to discuss anything in this newsletter - or anything at all, please
email Jane
.
Thanks for your support - Laura, Petra, Philippa, Cathryn, Helen, Margaret, Annette and I look forward to seeing you in the knitting circle!