Zoom knitting classes
USA time Jan 13 - 15 = Australia time Jan 14 - 16
2pm to 4pm / 5pm to 7pm = 7am to 9am / 10am to noon
Book Classes for Stitches Expo at Home
Stitches Expo At Home direct from my Sydney studio
USA time Jan 13 - 15 = Australia time Jan 14 - 16
2pm to 4pm / 5pm to 7pm = 7am to 9am / 10am to noon


I have created three classes, each class 2 x 4 hours split over 2 days.


* Colour Intarsia and Mitres - keys to success!
*Textures from Cables to Bells - understanding the key ingredients.
Tips and Tricks to adjust Design & Fit - how to personalise a pattern.
* Colour & Texture classes both have homework to complete before class

View Classes for Stitches Expo at Home
Cost US $100 4 hour class over 2 days 2 x 2 hours
Colour Intarsia & Mitres
Textures from Cables to Bells
Tips and Tricks to adjust Design & Fit
Overview of teachers and classes at January Stitches Expo.
ZOOM knit, crochet, weaving, sewing, needle work and more.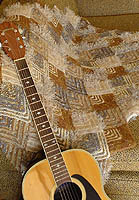 Teaching by ZOOM from my studio allows me to share some really close-up instruction on stitch detail, garment shaping and, especially with Mitre, garment construction.

These classes are interactive, allowing you to ask questions, unlike YouTube, plus with class recordings so you can review anything you need to check after the class.

My classes are designed to grow your skill and build your knowledge: and therefore increase your confidence in knitting garments with colour and textured stitches.
I hope you can join me!
View Classes for Stitches Expo at Home
You will need to create an account to login to book classes.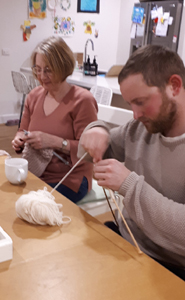 Colour Intarsia & Mitres 2 x 4 hours



January Fri 13th 2pm - 4pm/ Sat 14th 2pm - 4pm


Mitres are the simplest way to put colour on your needles. It's brilliant for creating simple blankets and throws and indeed for using up left over yarn!
Intarsia is often known as picture knitting and we'll step into this technique with some simple vertical stripes before getting more adventurous.
Tips & tricks to adjust design and fit:
2 x 4 hours



January Fri 13th 5pm - 7pm/ Sun 15th 2pm - 4pm


There is nothing more disappointing than completing a garment and finding it doesn't fit. I have spent over thirty years making handknits to measure and designing for the female form. This can be as simple as adding a touch of A-line for ease into the hip and narrowing the shoulders for fit. Once you understand ease and fit you can apply this to many commercial patterns you're knitting.
Book Classes for Stitches Expo at Home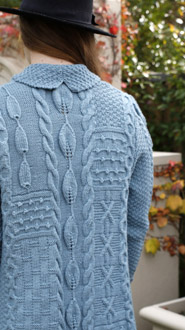 Textures from Cables to Bells: 2 x 4 hours



January Sat 14th 5pm - 7pm/ Sun 15th 5pm - 7pm


There are very few designs in my range without a cable. Apart from looking great they have many other purposes.
Tradtionally cables have been used to create panels within which stitch patterns are worked, like the Byron A-line Coat (right) with cables framing my stitch patterns.
The class will look at how these textured stitches are created. From jogging on the spot to knit bobbles, firstly increasing into one stitch, working a row and decreasing back to 1st. The Byron A-line Coat has a centre Large Lace Leaf, the left shoulder Large Hanging Bell. My class explores the techniques to create these stitch patterns. This design also features two cables, each side of the centre panel a standard 8 stitch cable, and just in shot right is the OXO Cable, which is a combination of two adjoining cables.
The stitch options are endless, this class explains the key ingredients to understand how these textures are created.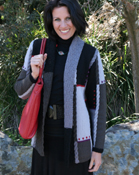 The Bee Bee Jacket right has just a touch of A-line into the hip, and is one of the simple style/fit adjustments I share in my Tips & Tricks to adjust design and fit class.
The Metro A-line Coat and the Bee Bee Jacket are knitted in Intarsia. You will learn how to work vertical stripes of colour in my Colour Intarsia &

Mitre c

lass.
The Metro A-line Coat is knitted from a diagram, the pattern is size inclusive with seven chest sizes and three length options.
The beige colourways shows how the how the upper body of the garment fits the shoulder, with extra ease to skim the hips.
The three length options. The neutral colourway left and blues on the right are the Swagger length, the grey and the green are the A-line, the red coat is the swing length.

If you are visiting m Sydney my studio is open, just call ahead and make a time please.
0427 064 834 or jane@sigknit.com
I have a fabulous line up of events for 2023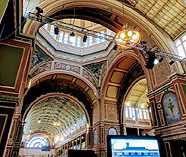 Sydney Coal Loaders Artisan Market Sun March 5th

April 13th - 16th 2023
Winter 2023 AQC The Australian Quilt Convention returns to Carlton Garden and the Royal Exhibition Buildings. It's a wonderful show and Brisbane hosted this so well in April 2022.

April 29th - 30th 2023
Handmade Market Canberra award-winning quarterly market

Shop @ Shopify & be inspired @ sigknit.com
As I move across to the Shopify online store platform you can still visit sigknit.com which will continue as my design archive and allow you to order by card at @ sigknit.com or click to my Shopify site for card or Paypal. Patterns are still available on sigknit.com by clicking on a colourway or the rainbow colour band to purchase a pattern or kit.
Below Blocks Cardigan in the ever popular Autumn tones.
Centre Coco Shawl Aline Cardigan in Midnight, Jacaranda and Sequoia.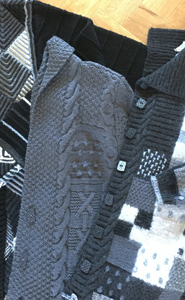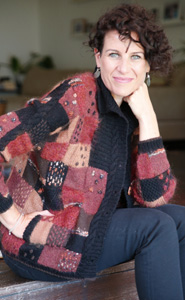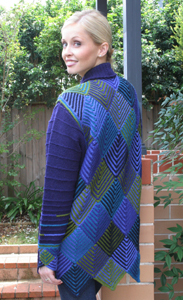 Signatur Handknits
Facebook/ Instagram
Email Jane at jane@sigknit.com
signatur-handknits.myshopify.com

Signatur Studio in Sydney 0427 064 834
Just give Jane a call and set a mutual time for a visit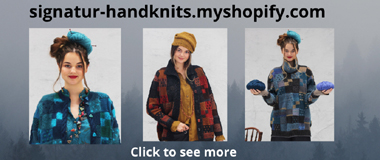 Signatur Tech Talk - Short Rows
Short rows have many and varied applications.
Let's take a look at hemlines and accessories using short rows.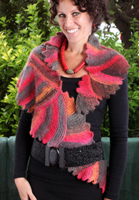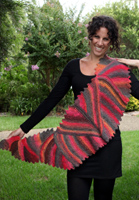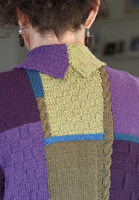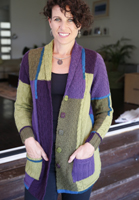 MORE and MORE on SHORT ROWS
The wave scarf (below right) is knitted with short rows. Short rows create wedges. I have knitted one left facing wedge, then 2 right facing wedges to give a horse-shoe shaped curve to the scarf
.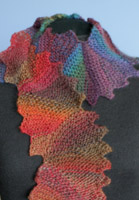 Short rows are simply incomplete rows. They have so many uses, and there are so many methods you can choose to achieve similar results.

The images below will step you through short rows. If you want to pick up your needles and have a try, you can use any yarn and any needles. It's garter stitch knit all rows.

Cast on 17sts. Obviously the image below shows I am part-way through the scarf, having already worked several wedges.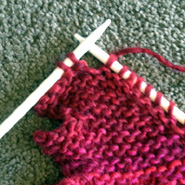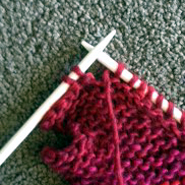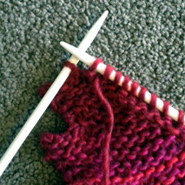 Above left: So with 17sts cast on work only 15sts for your first short row.
The piece is garter st so knit all rows so the yarn is at the back of the work.
Above centre: Bring the yarn between the needles to the front of the knitting.
Above right: Slip next stitch left to right needle without working the stitch.
Below left: Take yarn back between needles (single unworked stitch on left needle).
Below centre: Turn knitting to wrong side so the single unworked stitch is now on right needle.
Below right: Slip the next stitch left to right needle (same stitch previously slipped).
Take yarn between needles and knit to last stitch.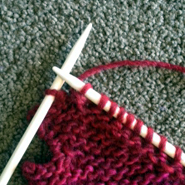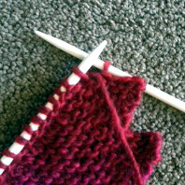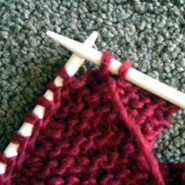 Zig Zag edge of scarf is created by increasing stitches at the end of the wrongside row - a full row. When we cast the increase stitch off we create the points of the zig zag.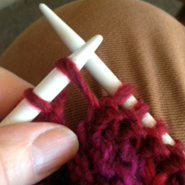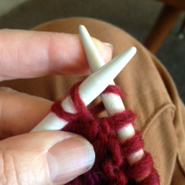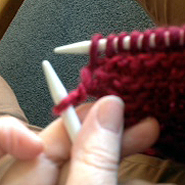 Work wrongside row (full row) until 1 stitch remains unworked.
Above left: Pick up the yarn from between the stitches of the previous row. Can you see how large this loop can be pulled leaving a hole?
Above centre: Knit through the back of the loop for a firm stitch, no hole.
Above right: Increase stitch completed, knit last stitch of row.
Short Row in Summary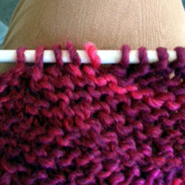 Row 1: K15 left 2sts unworked - we slipped and wrapped the 16th stitch, the 17th stitch was unworked on left needle.
Row 2: Knit to the last stitch, M1 = make 1sts, K1 = 18sts.
Repeat Row 1: K15sts - as we have 18sts this will leave 3sts unworked - wrap and slip the next stitch - so 2sts unworked.
Row 4: As row 2 knit to last stitch M1, K1 = 19sts.
Repeat twice more = 21sts - this means you have worked 4 short rows and 4 increases.
Beginning of next short row cast off 4sts (Below left). K11 (instead of 15sts). (below centre). At this point it's really good to look at the stitches over the row. Can you tell which stitches have been wrapped? You'll learn so much simply by looking at the knitting, make fewer mistakes and when you do make a mistake find fixing it so much easier!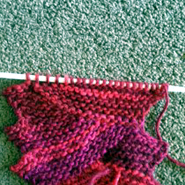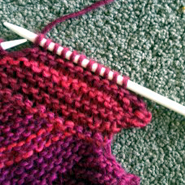 Repeat short rows and increases. After next 4sts cast off K7 to next wrap stitch.
Complete 3rd cast off 4sts (right centre). Continue row after cast off, K4, the next 11sts have wrap at base of each slipped stitch.
The slip stitch and the wrap below need to be knitted as one stitch.
Left below: With point of right needle pick up the wrap at base of stitch, then knit the stitch, shown centre. Lift the wrap (brighter stitch on right needle) over knit stitch.
Below right: This has been knitted without knitting the wrap and the stitch so there are holes / elongated stitches.
Above right: You can see how, when the wrap and the stitch are knitted together, there are no holes along each section of the wedge.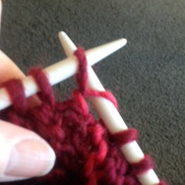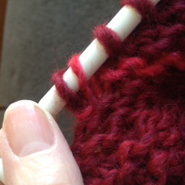 How do I find Signatur patterns on the website?
The easiest way to find which patterns are available is to go to the horizontal navigation bar at the top of signknit.com and select Designs A-Z After you've found what you're looking for and want to order a pattern you must select a colour (the pattern option was added later on the site). You need to pick a colour for single colour designs by clicking on the rainbow. For multi colour designs simply click on a colourway. If you buy a pattern and decide at a later date you want the knitting kit the cost of the pattern is deducted from the price of your knitting kit. The knitting kit includes yarn and buttons.
Swing, Swagger, Drape is now a USB stick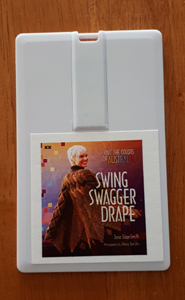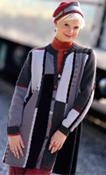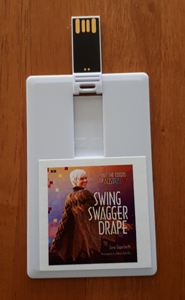 Out of print as a book!
NOW on a USB stick!
Simply slide into your computer, see every page of the book, print out just the pattern you need!
Perfectly packaged $25
Hope to see you soon!
If you'd like to discuss anything in this newsletter - or anything at all, please
email Jane
.
Thanks for your support - Laura, Petra, Philippa, Cathryn, Helen, Margaret, Emily, Jacinta and I look forward to seeing you in the knitting circle!