- Canberra Quilt & Craft Fair (with
Mini knitting classes daily)
- Winding down & Knitting New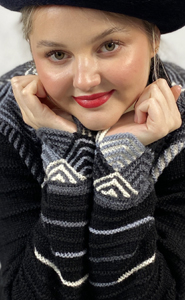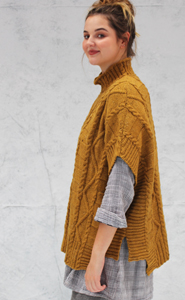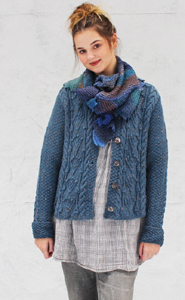 Over the last two years I've added a few jumpers to my range, and will be adding more to my sweater and tunic range as well, so watch this space!
Above left to right: Coco Panel Aline Cardigan, Fan, Bell & Cable Jacket This design has length options. Diamond Tunic, also has a jumper option.
Zoom class in the works for January as I ramp up design work and wind down the Aussie show season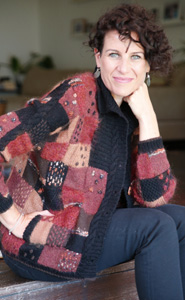 Winter downunder has been a fabulous time for me and my wonderful kit-knitters and garment lovers. I love colour, so to see bright colourways embraced again is a dream for me - and obviously for many Signatur knitters and wearers.

Then add endless texture choices, bobbles (they're back!) as well as evergreen cables that are always popular, & you'll understand my delight at Autumn tones being a hit too!

When I design I'm taking traditional stitches and garments shapes and looking for new directions. I love playing with hemlines, cuffs and collars too. Close up on collars below is the new Pipa Jumper (below middle).
Check knitters? Who's keen?
Several knitters have expressed interest in check knitting a new design for me. Because I need at least 3 garments knitted in a new design before launch - & my knitters are flat out knitting garment orders - I'd love to hear from you at jane@sigknit.com
No panic, the garments aren't needed till Feb 2023.
10% off at
signaturhandknits.myshopify.com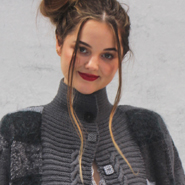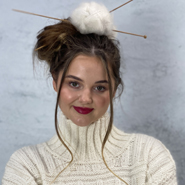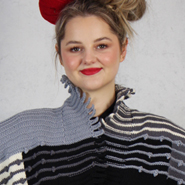 Last show for 2022
Canberra Quilt & Craft Fair,
with mini knitting classes all rolled in!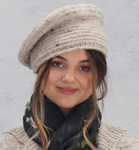 This Thur 17th to Sat 19th November
at EPIC Canberra.
I have added three mini knit classes into this show. I'll be providing the yarn and needles; so you can cast on and try a new technique!
No booking required
10.30am Short rows: 12.30pm Intarsia: 2pm Mitres:

read all about them below
The long and short of Short row shaping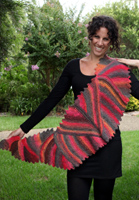 I talk a lot about short rows, since I incorporate them into many designs. The Wave Wrap left demonstrates beautifully how short rows create wedges, with the knitting continuous & not in pieces.
Below right the Split Texture Jacket has short rows on the hemline working extra rows at the centre front and back. Most knitters learn about short rows from socks or booties. So, it's really useful to learn the principles of short rows.
Intarsia is the term used for creating designs in blocks of colour or with graphics. The Mini Class introduces how to join colour and secure ends, working from a diagram.
Mitre Knitting - Simple two row stripes of colour which I have so much fun designing with.
Getting into Intarsia and marveling with Mitres
Stitched Up Jacket (below left) is knitted in Intarsia from a diagram: no graph required.
Coco Shawl Cardigan (below centre) is knitted first as three Mitre panels: a back panel and 2 fronts. Once these three panels are completed, stitches are picked up along the edge and the garment is then knitted to the side seam to achieve any chest size.
Split Texture Jacket there is a free knitting class for this design which includes short row hem line, cable and buttonband corrugated garter, bobbles and celtic cross stitch pattern.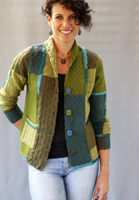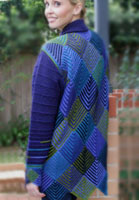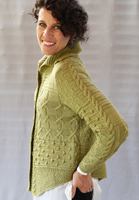 The Knit classes I've created are a brilliant way to test your skill level before ordering the knitting kit, though the class is included in the knitting kit.
Pipa Jumper and
Textured Scarf Class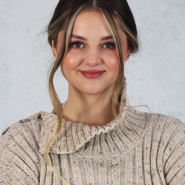 Pipa Jumper takes stitch patterns from the Textured Scarf Class. Styling the jumper, I have created a wide round neck, with button shoulder, allowing the collar to fold back.
The class has been a huge success, stepping new knitters into moss stitch and rib, then basket stitch and a woven basket stitch.
Inspired to try the FREE class for the Textured Scarf? Please email me jane@sigknit.com
I would really like a check knitter for this design. Please email jane@sigknit.com if you're keen!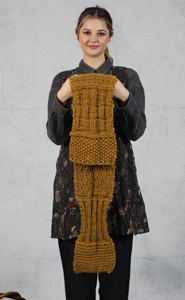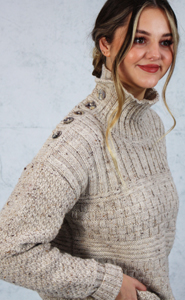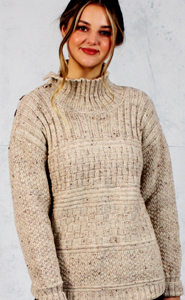 Looking after your handknits
There is nothing more dissappointing than finding holes in your garments, so I am often asked how to prevent moths attacking your precious clothing. I do repair moth-damaged garments andI find that most frequently the holes are a the centre front of garments. The conclusion I've drawn is that moths love wool with a little extra flavour you have spilt: be it tea or coffee, white wine or gin! That tiny dribble you don't notice or dust off is a moth magnet? So, please wash yor garments before storing.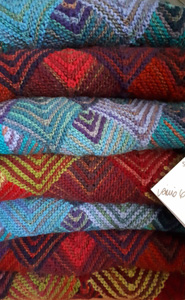 How to wash is a huge concern too. Think about washing a baby - if you've never shrunk a baby then be assured you can wash wool. What causes shrinkage, is a combination of hot water, heaps of soap and a lot of rubbing - your washing machine can unfortunately do this on a hot cycle - it's called felting!

I like to use a liquid detergent with warm water. Firstly, check the garment for stains and wet these first to help them soften and release. Once the garment is wet it's hard to find those stains. Never rub - squeeze the water through the garment. I may leave the garment for 5 minutes sitting in the water. Please rinse: just like you're washing your hair.

A large towel helps to remove excess moisture: lay the garment on the towel and roll like a kebab, you can even apply a little pressure. Dry flat, never hang or tumble dry. Washing a garment is like taking your garment to a spa, much better than dry cleaning.

Storing knits on hangers isn't good. Over summer zip lock bags are brilliant. You can then place a moth repellent into the storage area adjacent to, but not inside, the ziplock bag.
If you look after your knits they will continue to look brilliant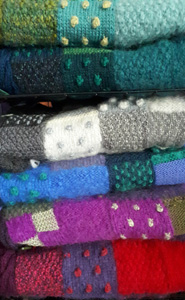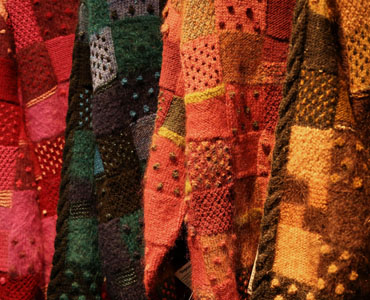 The vividly stunning Blocks design above is a great example of caring for your creation, I first designed Blocks in 1987 and have evolved it into many colour, texture and yarn variations over the years. It's as popular as ever, and it's real, living vintage! I will chase up some old images of the original design.
10% off knitting kits runs until the end of November
Discount applies on both websites Shopify and Sigknit
www.sigknit.com is my design archive, with links to my new site.
signaturhandknits.myshopify.com
www.sigknit.com
If you'd like to discuss anything in this newsletter - or anything at all, please
email Jane
.
Thanks for your support - Laura, Petra, Philippa, Helen, Cathryn, Stephanie, Dodie, Anne, and I look forward to seeing you in the knitting circle!