Signatur Handknits sharing an unpredictably varied
2022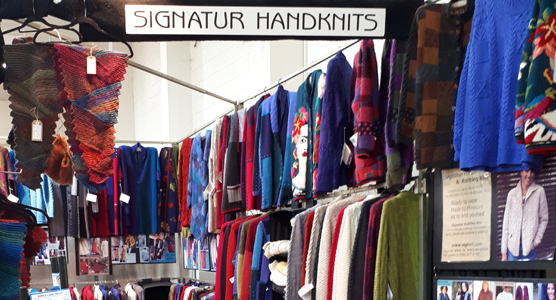 Thank you for supporting us...
live and online

10% off Knitting Kits & Yarn

https://signatur-handknits.myshopify.com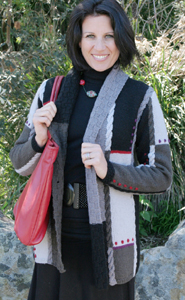 With just three shows to go, winter 2022 has been fabulous, and I thank my faithful and new customers for battling pandemics and weather events to support locally grown, designed and made.

Of the upcoming shows, two are paid entry, so I have 10% off knitting kits & yarn for show attendees and online buyers. For my overseas customers you'll find reduced postage on my new website.
signaturhandknits.myshopify.com

For made to measure, please order now for 2023, with a 30% deposit & balance next year. Right Bee Bee Jacket, below in greens Stitched Up Jacket crop length. Below in blue Santa Fe Jacket
Fun facts about ordering Signatur 'made to measure'

All Signatur designs have 5 to 7 chest sizes, along with length options, collar types & of course, so, so many colourways & colour choices. And when a stock garment isn't your perfect fit then I happily make to measure.
Even with professional knitters a garment takes 10 to 12 weeks. In fact, all my knitters are currently completing orders taken in July.
I am now taking garment orders for 2023, with a 30% deposit, and your stunning Signatur garment ready and delivered in March/April.
Sneak Peek!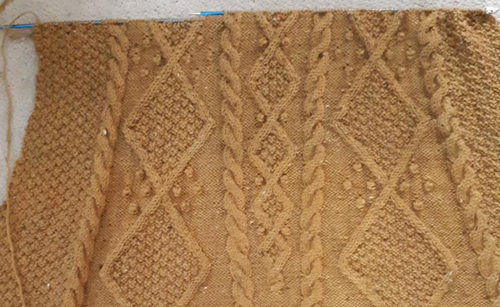 A new design seeing needles and life for the first time. I live for these creative beginnings! I posted a short video on Instagram if you want to see more. The design is yet to be named - maybe angels, angles or a Mountain Range? Texture suits a mountainy feel, or maybe an Irish landscape - celtic flavours - suggestions welcome!
Three more shows for 2022
Sydney Quilt NSW at Rosehill Racecourse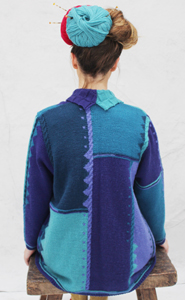 Thurs 20th to Sat 23rd October
Amazing Quilting with a fantastic display of over 400 Quilts, including the Bernina Best of 2022 Quilts.
Handmade Market Canberra
Sat 29th & Sun 30th October @ EPIC
Award winning indoor market with over 200 stalls from knitwear, jewellery & fashion to regional wines.
Canberra Quilt & Craft Fair at EPIC
Thurs 17th to Sat 19th November
This show has craft supplies & classes, so I'll set up a Signatur table to let you pick up and knit!
I'm still here on the phone or online!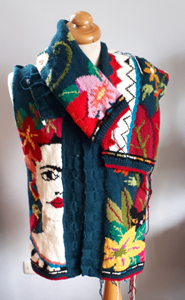 I have many hand knitters looking for an inspiring new kit project but I also have plenty of non-knitters who look intimidated when I ask if they knit - when all they want is to appreciate the skills of a knitter by loving to wear handknits! It's a perfect match!
What's important for everyone is buying an Australian wool garment, direct from the designer/maker, handknitted in Australia.
At shows it's really easy to spot the handknitters, as they approach a garment in quite a different manner to a non knitter! For a knitter the wrong side of the knitting tells just as much of the story as the right side.

My Frida Jacket has had a brilliant year, with an amazing number of knitting kit sales - muchisimas gracias!
Are you a right or wrong side afficionado?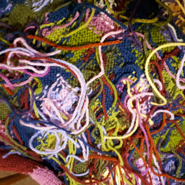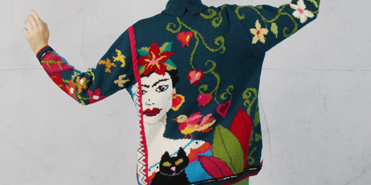 Above is the wrongside of a picture sweater. This is like painting by numbers for hand knitting, using the most challenging techniques. The picture unfolds as you knit, just like pieces in a jigsaw puzzle. Intarsia is worked from a graph with a square of the graph as one stitch of the picture.
Below left, Blocks design is also knitted from a graph but is much less complex, being squares of pattern. Centre below the Bee Bee Jacket is knitted from a diagram with measurements to colour changes: it's still based on Intarisa techniques with a ball of wool per area of colour.
Below Right the Coco Shawl Panel, knitted in garter stitch Mitre squares in two row stripes, sounds and looks complicated but isn't! This is the easiest technique to bring a colour story to your knitting needles! Youtube video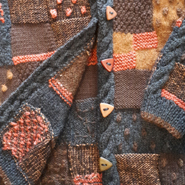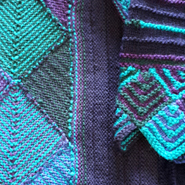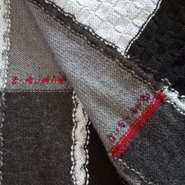 Left to right: Blocks Cardigan, Bee Bee Jacket and Coco Shawl Panel Cardigan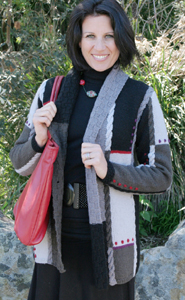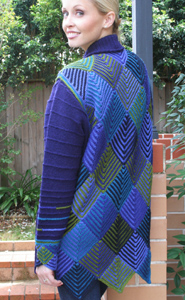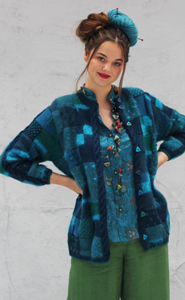 Rainforest Retreating with Creative Yarns
Creative Yarns founder Kylie Kerry recently invited me to teach in south-east Queensland at O'Reilly's Rainforest Retreat.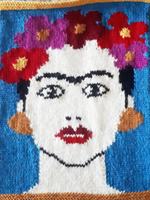 Kylie's Creative Yarn Retreats are held five times a year and are very well organised: you'll be spoilt. From Tasmania to Sydney's Blue Mountains, the Barossa Valley in South Australia's wine region, Hepburn Springs in Victoria's high country and O'Reilly's Rainforest Retreat.

I had a lovely time with a really wonderful and warm group of handknitters. O'Reilly's is a great venue up in the mist of Lamington National Park. The bird life was amazing: the bird below is a Regent Bower Bird. Left is the sampler we worked on in my Intarsia Frida Kahlo class. This was a five hour class, but most students completed the Friday 3 hour class first.

Guess what I also taught? Another colourful favourite of mine: Mitres. This is always a class of discovery as newbies gain the confidence to create their own colourways and colour patterns.
Book early for 2023's Creative Yarn Retreats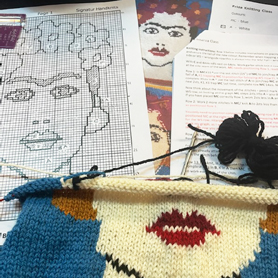 I really look forward to teaching again with Kylie in 2023 - this time we'll be challenged by a few days of Intarsia! These three day retreats soon book out, many students are singles, some come along with partners. My sister Annette joined me and took full advantage of the venue's daily activities.
TEXTURED SCARF FREE CLASS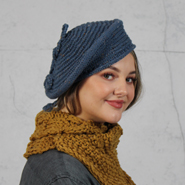 Apart from being a great scarf the class objective is to teach some basic stitch patterns, starting with knit garter stitch.
When we combine Knit and Purl stitches we create rib.

Each stitch pattern is worked for 18 rows - if you can rib you can basket stitch, moss stitch and woven basket pattern. I hope this helps you to learn to recognise the knit and purl stitches, count stitches and count rows. It's a great foundation to knitting basics which allows you to step up to your next project.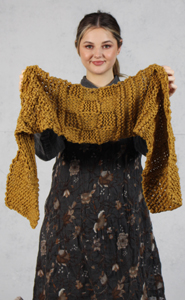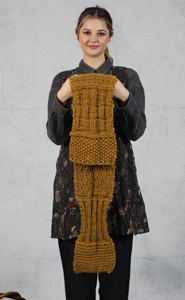 Please join Jane's daily visual feast on Social Media
Facebook.com/signaturhandknits
Instagram.com/signaturhandknits
Studio Open Days
Jane's Sydney Studio is open by appointment.
jane@sigknit.com 0427 064 834

Simply call 0427 064 834 and make a time, one customer at a time, 2 people maximum (let the other be a wonderfully lovely BF, mum, sister, daughter, aunt or brother: husbands of course welcome but under strict terms and conditions) Please email
jane@sigknit.com Signatur Studio Ballyshannon Rd, Killarney Heights NSW 2087.
Looking for a Pattern?
Finding a pattern on sigknit.com:
go to A - Z Design Index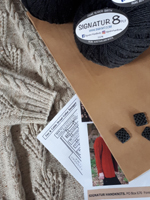 To purchase JUST the PATTERN you still need to pick a colour or colourway! Sorry, but it's a website rule. (until some smart IT person trades their suggestions for a kit)

Pattern = knitting instructions, supporting diagrams & graphs, colour image with notes. For single colour designs
click on the rainbow and pick a colour.
For multi-colour designs pick a colourway to order the pattern.

Knitting kits include the pattern, plus Signatur 8ply Australian Pure New Wool yarn & hand-made buttons: plus a spare.
...and topping it off

...
Below
Muffin Top Hat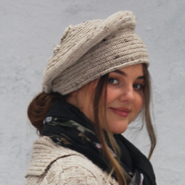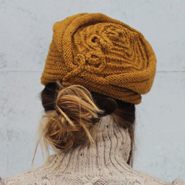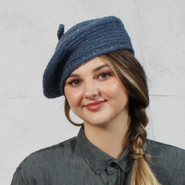 Hope to see you or hear from you soon!
If you'd like to discuss anything in this newsletter - or anything at all, please
email Jane
.
Thanks for your support - Laura, Petra, Philippa, Cathryn, Helen, Margaret, Annette and I look forward to seeing you in the knitting circle!