Retreating, Restyling and Returning
It's great to be back on the road, at least in Australia for the moment. In addition to my newsletter below please enjoy what's been happening in my shared world of Sigknit, Shopify, Facebook and Instagram. Mean time let's share, style and start special projects, all for the love of handknitting.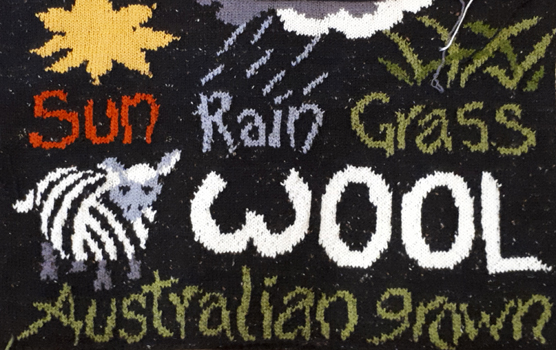 Signatur Handknits & Signatur Knitting Kits
in Pure New Wool by Jane Slicer-Smith
What's on over the next month or so
Coal Loader Artisan Market Sun Sept

SALE DAY




Sorry pulled out of the market





SALE DAY

In Style Lane Cove Golf Club Thurs 8 Sept 10am to 3pm - 6 x designers and makers including Page Shoes & Alive With Style Bags



NEW

MAX22 Blue Mountains Art Expo at Fairmont Resort
Sat & Sun 17th & 18th of September



CLASSES

Yarn Creative Rainforest Retreat Queensland
Craft classes, as a residential 3 - 4 day retreat, or join for 1 day.
Check-in Thursday 6th Oct at 3pm. Classes Friday to Sunday.
Jane is teaching Mitre Knitting and Intarsia knitting - more below.
I'm looking forward to being part of the Mountain Art Xpo 2022 at the fantasious Fairmont Resort in Leura. Some of the awesome creators who were part of Designers On Show will also be there.
Thank you for a fabulous Winter 2022
It started with a BrisVegas kiss...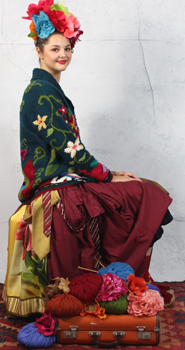 ...which was The Australasian Quilt Convention in Brisbane: well attended by stall holders, quilters & crafters alike and a great city to return to from lockdown wilderness!

The AQC includes awards nights & lectures with an audience from all over Australia & New Zealand. Delegates received early access to the market floor so Signatur kits & garments soon took flight.

I sold out of every accessory kit & sample of my wraps & hats, forcing me to knit furiously every night for the next show! Never a problem when I'm knitting and watching telly in a hotel room.
Frida Jacket on fire in Kits and Garments
What has really surprised me is the number of kit sales for my Frida Jacket. I designed it because I love picture-knitting, and because Frida Kahlo is so inspirational. I was moved by her work when I back-packed Mexico many moons ago, so sharing her spirit in a picture garment is very satisfying for me.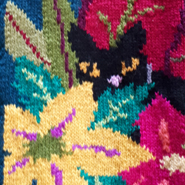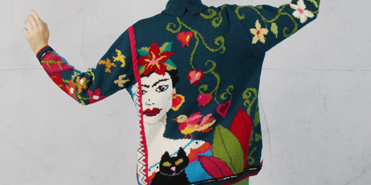 Recently, Sally and Karen of Two threads Clothing in Melbourne organised a photoshoot of my new designs. Meg is our gorgeous mode, dressed up (above) in a Two Threads creation of reproposed fabric including school ties!
Please take me back to the start!
Never too soon to start making gifts, whatever the season!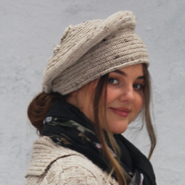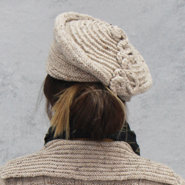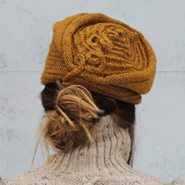 I created these hat patterns in kits that can be knitted in 8ply or 10ply yarns. You can choose from Classic Fleck 8ply or let the colour do the talking with the Azteca range of yarns. If wraps are your desire below right is the Basket Stitch Wrap and Left is the Circular Cowl. All on Shopify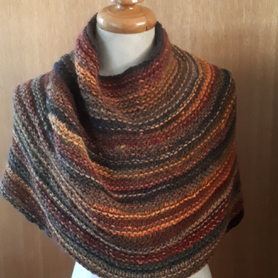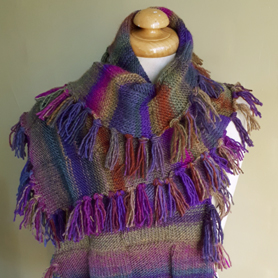 Please take me back to the start!
Restyling for a blokes version
of the
Shona Jacket
The Shona Jacket is quite the classic style, and can be knitted as a Jacket, Cardigan or Jumper. I do make to measure a few garments each year to create a blokes version of a design. So, finally I'm introducing the Blokes Shona Jacket as a kit and finished garment.

The main change, apart from buttons, is taking the collar from Double Moss to wider Corrugated Garter for a chunkier look. The Corrugated garter is usually a 4 row repeat but I've made the blokes a 6 row repeat. I matched this by making the cuff a rib too, long enough to turn back.

The shaping of the Vee Shawl Collar shows really well centre & left, the dec/inc shaping of the collar steps the 6st cable across the body of the knitting & over the OXO cable. This paired dec/inc maintains the stitch count so, right front, work collar inc before the cable, work cable, dec after the cable, which adds stitch to the collar. I also worked a slightly different join to the back neck.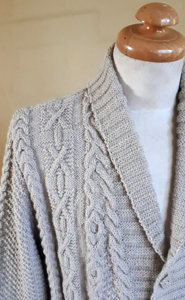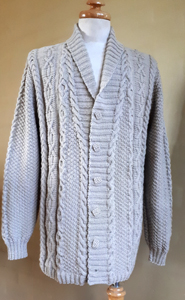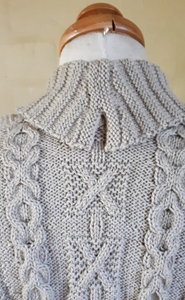 The link for this design will take you to my new website. Until I get this photographed please order the women's version - up a chest size for a bloke - and message me please to let me know you'd like this new version.
Please take me back to the start!
CLASSES
Yarn Creative
Rainforest Retreat Queensland
I have been invited to teach with Yarn Creative,
of course my first love is colour and therefore I take this into my two favourite classes Mitres and Intarsia. I taught at many retreats across the USA bringning c

raft lovers together. Classes include knit and crochet.

Friday 7th Oct will be Introduction to Mitre knitting. Saturday 8th Oct Mitre knitting for garments.
Fri 7th Introduction to Intarsia.
Sun 9th Oct Intarsia Frida Kahlo Sampler.

There are amazing classes in crochet, as well as garment finishing. Full details will be up on the site by the weekend. Conact Kylie
Yarn Creative Rainforest Retreat
If you miss out this time join her mail list for future events, Kylie runs several each year.
Below are a few of the designs and techniques I'll include in the Retreat class
Below left to right: Mitre knitting with the Coco Shawl panel coat - part of my Mitre Knitting Class. Centre Digit Tabard - simple colour changes in intarsia. Right, Frida Jacket - challenging but satisfying intarsia.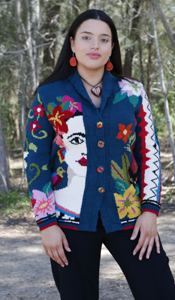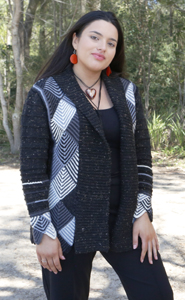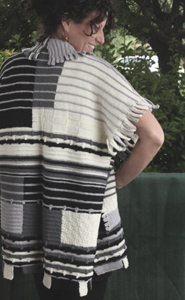 Above Left to right: Coco Shawl Cardigan, Digit Tabard, Frida Jacket
Below: Stitched Up Jacket long length, Blocks Cardigan, Stitched Up Jacket short, Split Texture Jacket in Light Olive.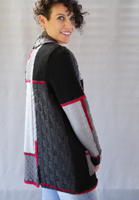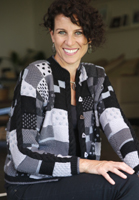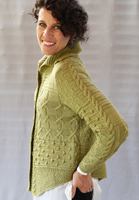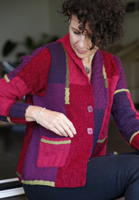 Below; Ruby Swagger in colour Stone Fleck. Centre Coco Slub A line in Green and Steel combination - below right are the colourway options for Coco Slub A line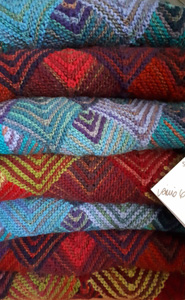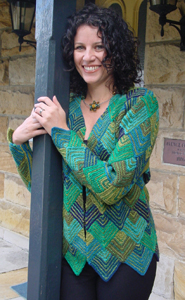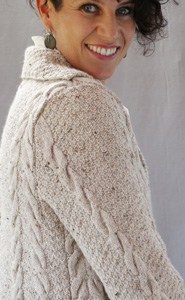 Please take me back to the start!
Book $25:
Swing, Swagger, Drape -
Knit The Colors of Australia on USB stick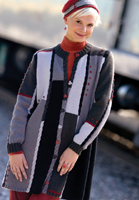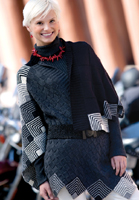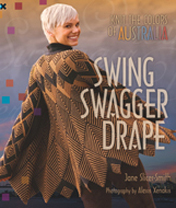 Sydney studio visits are always welcome,
just email or call first 0427 064 834
jane@sigknit.com
Every Signatur design is available as a ready-made garment or a knitting kit. The Kits include knitting instructions, yarns and buttons. Simply click on a design below to see more.
Follow Signatur Handknits on Facebook - for show updates and reminders!
If you'd like to discuss anything in this newsletter - or anything at all, please
email Jane
.
Thanks for your support - Laura, Petra, Philippa, Cathryn, Helen and I look forward to seeing you in the knitting circle!