Signatur Handknits road trip!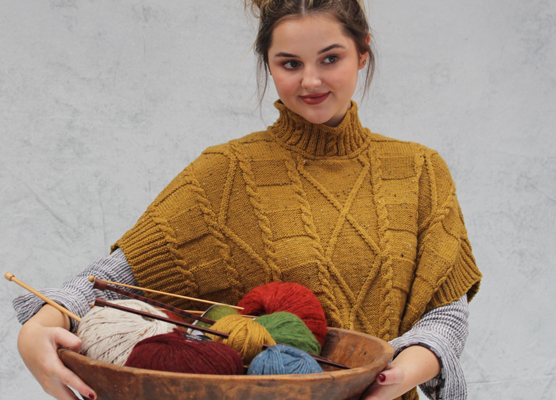 ...knitting fun from Brisbane to Bowral & Bendigo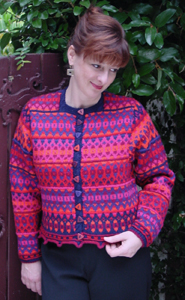 Australasian Quilt Convention
Brisbane May 26th to 29th

In Style Market Bowral Fri 3 - Sat 4 June
Presbyterian Church. Corner Bendooley St 10 - 3pm

Coal Loader Artisan Market Sun 5 June
Balls Head Drive Waverton 10 - 3pm

Craft Alive Hawkesbury
Fri 17 - Sun 19 June

10 - 4pm


Showground, Racecourse Rd, Clarendon 2756

Sydney Craft & Quilt Fair Homebush
June 29 - July 3
It's always a treat to try on a hand knit before you've even picked up your needles

Old Bus Depot Market Fibre Day Sun 10 July

Bendigo Sheep & Wool Show July 15 - 17

ACT Quilt & Craft Fair 22 - 25 September
My new website gets better every day
https://signatur-handknits.myshopify.com/
Archive design: Above Madras Jacket
Winter 2022 shows
The In Style Market Bowral gives us both plenty of time for individual attention.
Coal Loaders Artisan Market brings together Australian designers and makers: both indoor and outdoor stalls and cafes.


NEW

Craft Alive in Hawkesbury, showground, Racecourse Rd, Clarendon.
Craft & Quilt Fair in Sydney at Homebush. A fantastic event for quilters, papercrafters, fibre friends & so many more. Heaps of classes & displays to discover your next craft!
Bendigo Sheep & Wool Show three days from fashion parades to sheep dog trails. Bring the family, there's lots to see, learn and enjoy.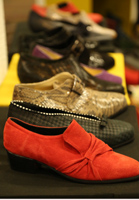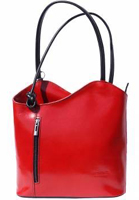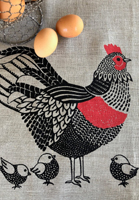 Bowral & Sydney In Style Market: 6 designers: Margaret Cane Clothing, Alive with Style Bags, Signatur Handknits, Eastbourne Homewares, Page Shoes & MLS Jewellery.
Signatur Shopify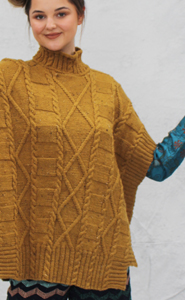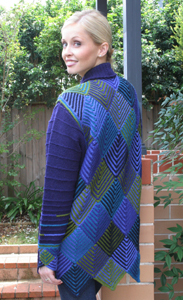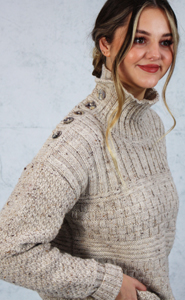 Left to right above: Diamond Tunic, Coco Shawl Panel Cardigan & Pippa Jumper.
Below: Byron A-line Coat, Fan, Bell, Cable Cardigan in Fleck Denim & Mustard.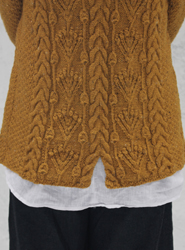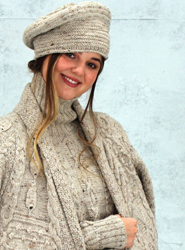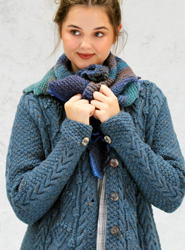 I love to take classic stitch patterns and add an extra twist & added detail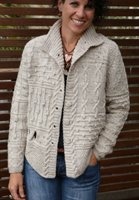 Blending traditional stitch patterns into new designs is so much fun. I like to create Jacket styles, easily achieved by removing the hemline rib band and replacing it with an eye-catching detail.

If you have already knitted one of my designs you'll know how knitting the buttonbands as part of the front of the garment achieves brilliant results.

Take the opportunity, at a show or Jane's Sydney Studio, to try on a sample garment before you even pick up your needles!
What's in a Signatur knitting kit?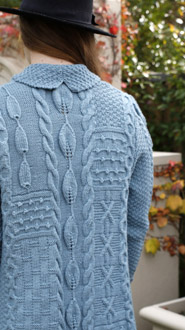 Signatur Knitting kits include Jane's original pattern, her Signatur Australian wool and matching buttons.

Jane takes the idea of a 'stitch sampler' into both the
Byron Aline Coat

and above in the

Split Texture Jacket
Both these designs are true favourites.

There are 33 designs uploaded onto my new shopify website. My original sigknit website has 77 designs!
At craft shows and markets I display 100-120 garments, with several colourway options as well as size options per design. In newsletters I will be featuring archive designs. If you'd like to see one of these designs at a show please email me to bring the design to the show.

www.sigknit.com and this newsletter will remain. Orders can still be placed on www.sigknit.com as I've decided to maintan the site as a design archive.
If you catch Jane at a show in Australia you'll get the chance to try on a design before you've even picked up your needles!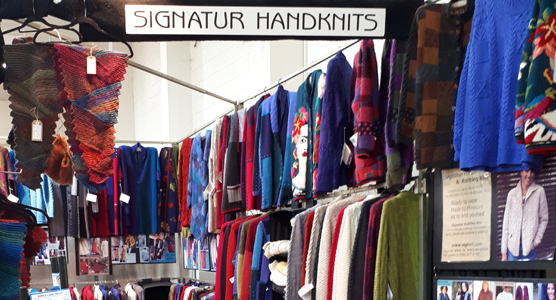 Textured Scarf Knit Class is emailed to you, the class steps you through seven stitch patterns email
jane@sigknit
for a free pattern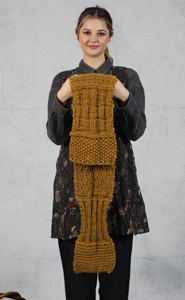 Tension!


Stitch patterns can alter both the stitch and row tension.

The Textured Scarf knitted over 20sts and 7 stitch patterns each knitted for
18 rows. The image left shows the vast difference between the bottom edge knit garter and the ribbed section above the garter st.
RETAIL STOCKISTS - Uralla & Berrima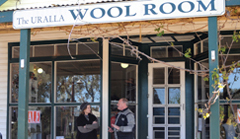 If you are travelling the New England Highway don't miss the URALLA WOOLROOM. Nicole Wilkins stocks Signatur Handknits along with many Australian and New Zealand labels.
The Hume Highway now bypasses Berrima in Sydney's Southern Highlands. Enjoy time out in this lovely village and drop into the THE OVERFLOW AT BERRIMA
Hats and Wraps keep fingers busy between big projects
We are always looking for a small project to keep the
needles occupied. Hats and Wraps are ideal and also make brilliant gifts.
Check out new colours in Azteca Jade/Brown and Autumn. In fact, see all the colours of Azteca, Azteca Fine and Joker on:
signatur-handknits.myshopify.com
KEEPING YOUR NEEDLES BUSY - SMALL PROJECTS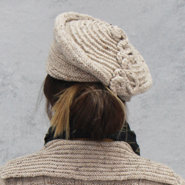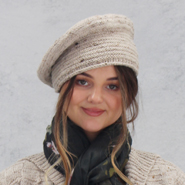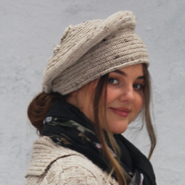 Above Muffin Top Hat.
Check out all the Accessory options on my new website
signatur-handknits.myshopify.com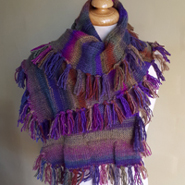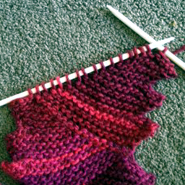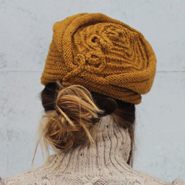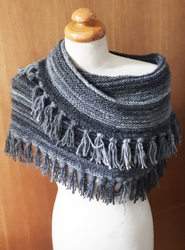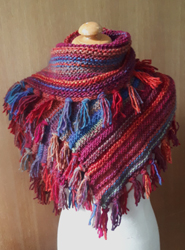 Above left Basket Stitch Wrap in Azteca Fine col 220.

Short row technique - see newsletter 117

Wicked Hat

Hour Glass Wrap/ Cowl
Left in Azteca Fine Grey
Right in Azteca (10ply)
in Multi-Bright
If you'd like to discuss anything in this newsletter - or anything at all, please
email Jane
.
Thanks for your support - Laura, Petra, Philippa, Helen, Cathryn, Stephanie, Dodie, Anne and I look forward to seeing you in the knitting circle!