On the road again...
...time to cast on your next project

Winter 2022 is starting early
American Zoom classes meet live Aussie shows
Thanks to my new and long-standing American (and some German, Kiwi and Aussie) friends for enjoying a wonderful zoom class season brought to us all via the XRX/Sitiches team. I was really happy with the response to my new Texture, Purpose, Placement & Pattern class that concluded last Sunday, while my Mitre and Intarsia/texture classes in November and December were full of love and fun and great knitters - thanks to you all and I look forward to the next season of learning!
Face to Face events
Touch and feel the new

Diamond Tunic,


(also avaliable with sleeves) at my upcoming shows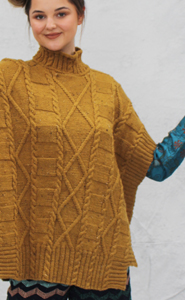 Last weekend in Bowral was fabulous.
Now for Sydney, Canberra and Ballarat, where I'll have a great selection of ready made handknits: perfect timing to order a knitting kit (7-10 days) or a made to measure garment (allow 10 - 12 weeks).
HERE'S WHAT SHOWS ARE COMING
Woodstock Artisan Market Sunday 20th February
Fitzroy Hall part of Woodstock House & Gardens
22 Church St, Burwood.

10am - 3pm.


Coal Loaders Artisan Market Sunday 6th March
2 Balls Head Drive, Waverton

10am - 3pm.


In Style Turramurra Market Sat 12th & Sun 13th March Turramurra Masonic Hall, corner Pacific Hwy10am - 3pm
Craft Alive Ballarat NEW Fri 1st - Sun 3rd April
Civic Hall, Mair St. 9.30am - 4pm
Handmade Market Canberra late April
EPIC Northbourne Ave, Canberra
Shop @ Shopify & be inspired @ sigknit.com
As I move across to the Shopify online store platform you can still visit sigknit.com which will continue as my design archive and allow you to order by card at @ sigknit.com or click to my Shopify site for card or Paypal. Patterns are still available on sigknit.com by clicking on a colourway or the rainbow colour band to purchase a pattern or kit.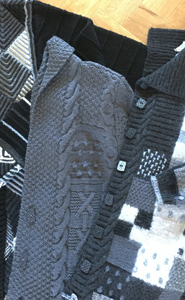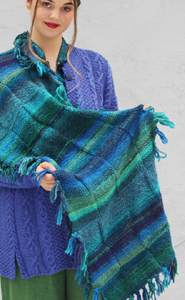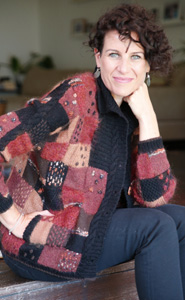 Winter 2022 pops with colour: from accessories & wraps to swingcoats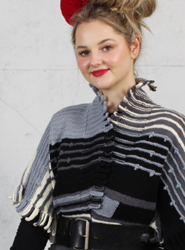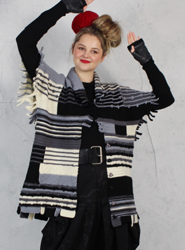 I'm looking forward to being part of markets with the focus on locally-made (in my case, Australian-made).
I'm also looking forward to seeing the many friends who sell their fabulous local origin and locally made goods alongside me. We all ask you to support local ideas and community.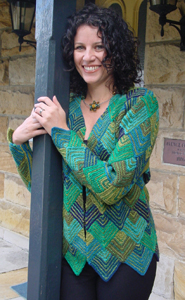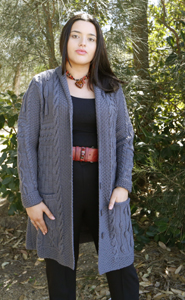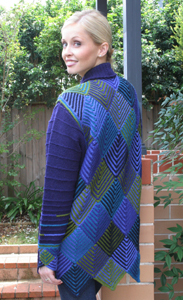 Signatur Handknits
Facebook/ Instagram
Email Jane at jane@sigknit.com
signatur-handknits.myshopify.com

Signatur Studio in Sydney 0427 064 834
Just give Jane a call and set a mutual time for a visit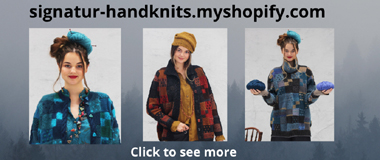 Signatur Tech Talk - Short Rows
Short rows have many and varied applications.
Let's take a look at hemlines and accessories using short rows.
The sloped hemline of the Split Texture Jacket is created with short row shaping.
Short rows are also worked into the back neck of my shawl collars, making the outer edge longer, as below on the Stitched Up Jacket.

Most knitters will learn short rows when turning the heel on their first pair of socks or booties.



On YouTube you'll find a multitude of ways to work short rows!



The Wave Wrap below knitted in Azteca really showcases both the yarn and the short row technique. The Wave Wrap is really popular for its versatile wearing options. Below is a step by step, on the needles explaination of short rows, I use on the wrap.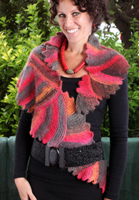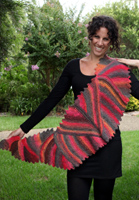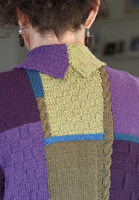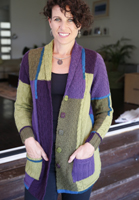 MORE and MORE on SHORT ROWS
The wave scarf (below right) is knitted with short rows. Short rows create wedges, I have knitted one left facing wedge, then 2 right facing wedges to give a horse-shoe shaped curve to the scarf
.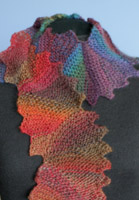 Short rows are simply incomplete rows. They have so many uses, and there are so many methods you can choose to achieve similar results.

The images below will step you through short rows. If you want to pick up your needles and have a try, you can use any yarn and any needles. It's garter stitch knit all rows.

Cast on 17sts. Obviously the image below shows I am part-way through the scarf, having already worked several wedges.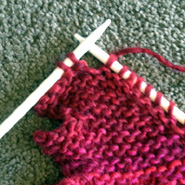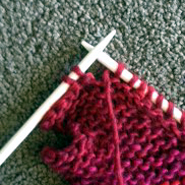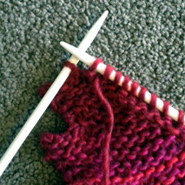 Above left: So with 17sts cast on work only 15sts for your first short row.
The piece is garter st so knit all rows so the yarn is at the back of the work.
Above centre: Bring the yarn between the needles to the front of the knitting.
Above right: Slip next stitch left to right needle without working the stitch.
Below left: Take yarn back between needles (single unworked stitch on left needle).
Below centre: Turn knitting to wrong side so the single unworked stitch is now on right needle.
Below right: Slip the next stitch left to right needle (same stitch previously slipped).
Take yarn between needles and knit to last stitch.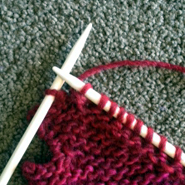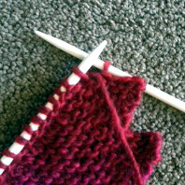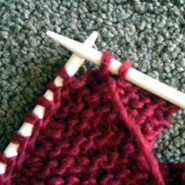 Zig Zag edge of scarf is created by increasing stitches at the end of the wrongside row - a full row. When we cast the increase stitch off we create the points of the zig zag.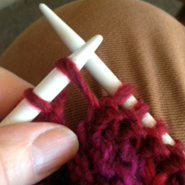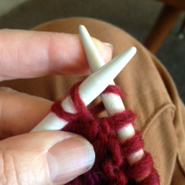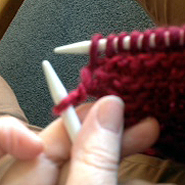 Work wrongside row (full row) until 1 stitch remains unworked.
Above left: Pick up the yarn from between the stitches of the previous row. Can you see how large this loop can be pulled leaving a hole?
Above centre: Knit through the back of the loop for a firm stitch, no hole.
Above right: Increase stitch completed, knit last stitch of row.
Short Row in Summary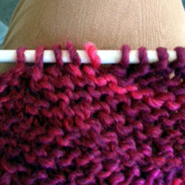 Row 1: K15 left 2sts unworked - we slipped and wrapped the 16th stitch, the 17th stitch was unworked on left needle.
Row 2: Knit to the last stitch, M1 = make 1sts, K1 = 18sts.
Repeat Row 1: K15sts - as we have 18sts this will leave 3sts unworked - wrap and slip the next stitch - so 2sts unworked.
Row 4: As row 2 knit to last stitch M1, K1 = 19sts.
Repeat twice more = 21sts - this means you have worked 4 short rows and 4 increases.
Beginning of next short row cast off 4sts (Below left). K11 (instead of 15sts). (below centre). At this point it's really good to look at the stitches over the row. Can you tell which stitches have been wrapped? You'll learn so much simply by looking at the knitting, make fewer mistakes and when you do make a mistake find fixing it so much easier!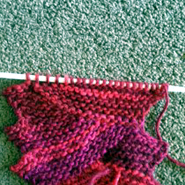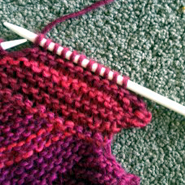 Repeat short rows and increases. After next 4sts cast off K7 to next wrap stitch.
Complete 3rd cast off 4sts (right centre). Continue row after cast off, K4, the next 11sts have wrap at base of each slipped stitch.
The slip stitch and the wrap below need to be knitted as one stitch.
Left below: With point of right needle pick up the wrap at base of stitch, then knit the stitch, shown centre. Lift the wrap (brighter stitch on right needle) over knit stitch.
Below right: This has been knitted without knitting the wrap and the stitch so there are holes / elongated stitches.
Above right: You can see how, when the wrap and the stitch are knitted together, there are no holes along each section of the wedge.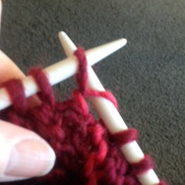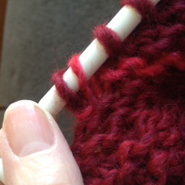 How do I find Signatur patterns on the website?
The easiest way to find which patterns are available is to go to the horizontal navigation bar at the top of signknit.com and select Designs A-Z After you've found what you're looking for and want to order a pattern you must select a colour (the pattern option was added later on the site). You need to pick a colour for single colour designs by clicking on the rainbow. For multi colour designs simply click on a colourway. If you buy a pattern and decide at a later date you want the knitting kit the cost of the pattern is deducted from the price of the knitting kit. The knitting kit includes yarn and buttons.
Swing, Swagger, Drape is now a USB stick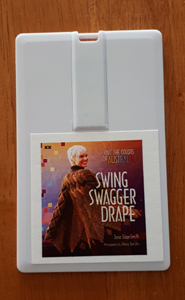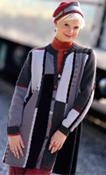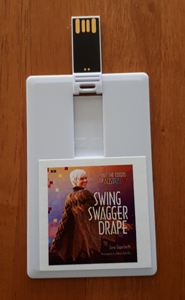 Out of print as a book!
NOW on a USB stick!
Simply slide into your computer, see every page of the book, print out just the pattern you need!
Perfectly packaged $25
Frida Takes out knitting prize for
Orna in annual Florida show
Orna in Florida has sent me some great shots as she progressed through her Frida Khalo Jacket. I designed this as an indulgence for myself, and you have surprised me with the number of knitting kits I have sold. There are obviously plenty of avid Intarsia knitters out there!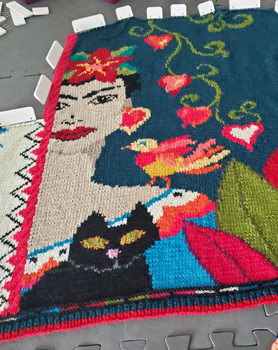 Orna is pictured below modelling her Jacket. We did add a little extra into the hip so the fit is fantastic. The sleeve was a touch long but Orna remedied this by running a thread across the shoulders and back neck to ease the garment in across the shoulders. This narrows the shoulder and subsequently then shortens the sleeve.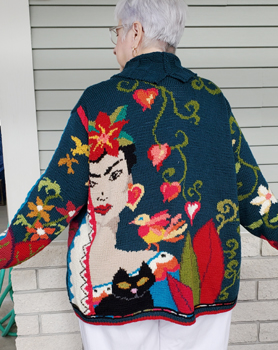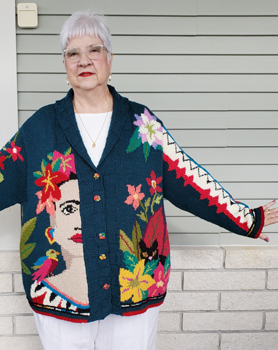 Hope to see you soon!
If you'd like to discuss anything in this newsletter - or anything at all, please
email Jane
.
Thanks for your support - Laura, Petra, Philippa, Cathryn, Helen, Margaret, Emily and I look forward to seeing you in the knitting circle!