Merry Christmas & Happy Holiday
Wishing you good health for 2022
I have lived most of my adult life in Australia, where Christmas in Sydney is family and sunshine, but the picture of Christmas in my mind will always be snowy and white! If you don't live in Australia you have most likely never heard of Christmas in July, it's mid winter here and if your heart desires you can even head to the snow fields and have a true white Christmas! What a splendid knitting retreat!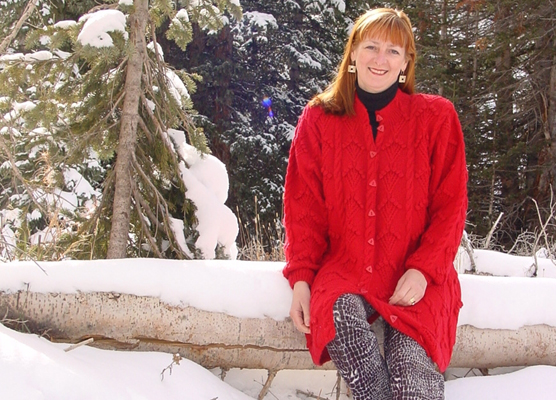 Holidays are a fantastic time for knitting... ...especially with 10% off 'til January 10
HERE'S WHAT'S HOT!
Diamond Tunic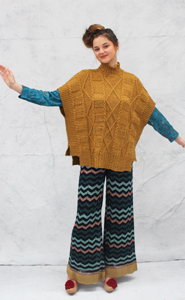 Breath-taking Diamond Tunic has been so popular, especially when my new images of Meg show you all the texture and detail in the design. The cable detail starts in the ribbed hemline and, like a classic Aran design, divides the garment into panels and really shows off the geometric stitch pattern.

The garment increases hem to shoulder as I didn't want a box shape, which can be hard to wear. The increase shaping is worked into the panel of the pattern and this sits the garment to the elbow. The open side seam adds detail as well as ease into the hip. Centre below you can see how the centre Diamond pattern increases in size as the panels are increased.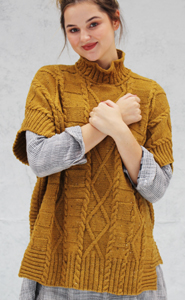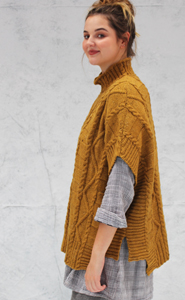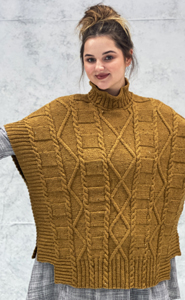 The Diamond Jumper and Diamond Tunic both have a standard neck as shown, along with a wider neck option.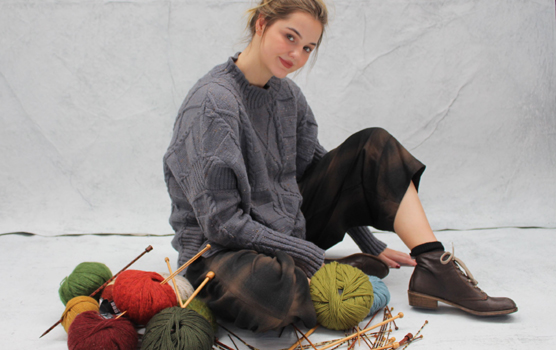 Hats wraps and accessories are perfect small projects, whether they're single colour flecked yarn or multi-colour combinations.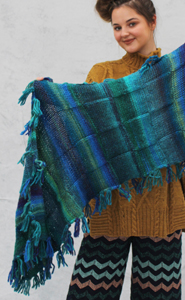 I am really looking forward to shows in
Sydney, Canberra, Bendigo, Melbourne and, at last, Brisbane on the 2022 calendar.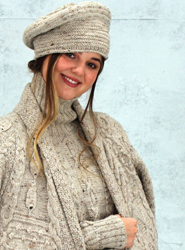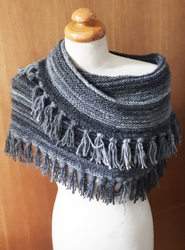 HOLIDAY SPECIAL until 10th January:
10% off knitting kits and patterns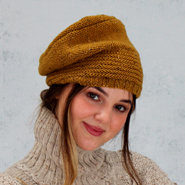 www.sigknit.com
www.ozeyarn.com
https://signatur-handknits.myshopify.com
Jane's online classes are back!
Purpose, Placement & Pattern
My new texture class for February 2022
Do you have the skill set to join the class? Yes!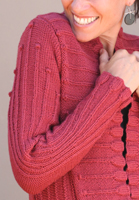 I am so excited to teach this new class and I'd love you to join me.

If you can knit & purl, and you're happy to try a cable twist before the class, then that's all you need!
My class is fun, fulfilling and extremely flexible, allowing students to work at their own pace and skill level.
Purpose: Why & When.
When I use cables & why I use them alongside textures.
Placement: Which & Why...
Which stitch patterns I use when knitting the front bands with the front of the garment and why.
Pattern: Why and how...
...of stitch patterns, from lace to cables and traveling stitches.
STITCHESatHOME
host the classes from the USA - Australia is a day ahead.
Central Time (CT) USA Sat Feb 5th
5pm to 7pm/ Sun 6th 2pm - 4pm & 5pm to 7pm.
Sydney Time (AEDT) Sun 6th Feb
10am to Noon/ Mon 7th Feb 7am - 9am & 10am to Noon
Booking will open with www.stitches.com in January. If you'd like to receive a personal reminder please email jane@sigknit.com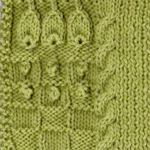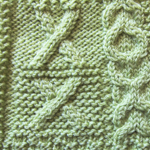 Above the Buckingham Jacket,

Yes I know this looks intimidating, which is what's great about knitting classes.
The class includes four different swatches, each over 30 sts, a great way to learn to bobble, bell and cross stitch.
Above right, this is the first swatch of the class, first Basket Stitch with a simple 6 stitch cable, then bobbles and bells. Above left the Celtic Cross firstly (lower section) worked with garter stitch, above on Purl/ reverse stocking stitch base. You can see the Celtic Cross on the Split Texture Jacket below right.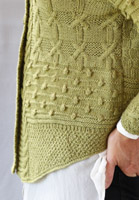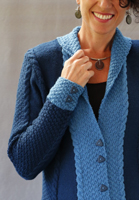 Placement: Left the Windsor Jacket, the front band in double moss stitch is knitted as one with the front of the garment.
Purpose: The cable worked in the lighter blue of the front band divides and defines the colour join from light to dark. This also gives a neater colour join.
Pattern: Right the Split Texture Jacket is all about stitch patterns. The class includes the Celtic Cross pattern and of course cables and bobbles, how to knit and the logic too.
Stories and Videos on Facebook and Instagram...
...altering a favourite's shape or size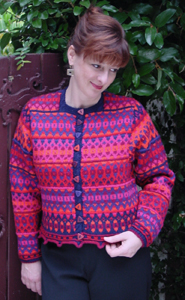 The Madras Jacket was part of my winter collection 2001. It's still one of my favourite designs, as Fairisle is all about playing with colours.

I am often asked about altering garments as there's nothing sadder than the one you love looking stunning but being too big or small, too long/short.

It's not always possible to alter a garment too much. However Jennifer brought her Madras Jacket to me (purchased before marriage and her now 18-year old daughter) it was in the pinks and oranges shown left & my favourite colourways and she said she'd be happy to have it really jazzed up, so I couldn't resist.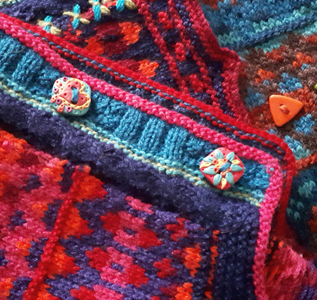 It came up fabulously, with new button bands (adding to chest) plus some new flashy buttons.

I added length, as I am a horder, and still had some of the original lengths of the different colourways, and it worked brilliantly.

I added a little surface decoration, which you can see better below, and I then used the original buttons as a trim to the cuffs and hemline.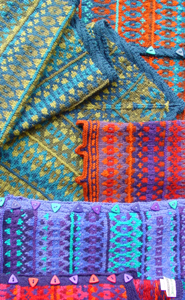 Left show some of the many colourways in Madras. This was 20 years ago, so many colours have changed slightly.

Below left shows the added length using bands of different colourways. I brought these additional colours into the front bands and used them as surface embellishment.

Below right the triangle buttons help create a cuff detail and surface embellishment on the neck edge. I am always very careful when adding surface embellishment.
Here's the link for the video
Facebook.com/signaturhandknits



Below centre shows the original Blue colour combination.
Jennifer promised to take some great photos of her
loving her updated Madras Jacket.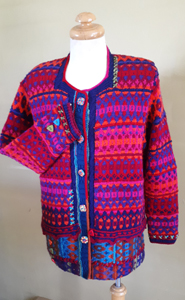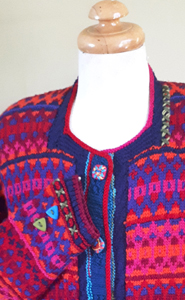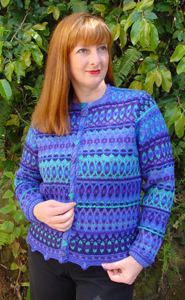 2022 SHOWS & MARKETS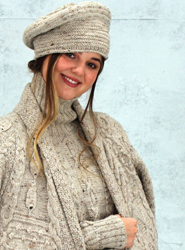 Pop Up Show Bowral NSW - 12th -13th
Feb
Coal Loaders Artisan Market - 6th March
In Style Market Turramurra 12th - 13th March

Australasian Quilt Convention
is moving to

Brisbane

26 - 29 May
Sydney Quilt Fair

Homebush
Thursday 29th June to Sunday 3rd July
Sydney Showgrounds at Homebush
Dates to be confirmed for 2022

Handmade Market Canberra
Old Bus Depot Market Canberra

Craft Alive Sydney & Canberra
Bendigo Sheep & Wool Show

If you'd like to discuss anything in this newsletter - or anything at all, please
email Jane
.
Thanks for your support - Laura, Petra, Philippa, Helen, Cathryn, Stephanie, Dodie, Anne and I look forward to seeing you in the knitting circle!