Knitting's timeless journey of
fascination & giving casts on
- New designs
- Zoom classes two hour class US$50
- Birds on the needles!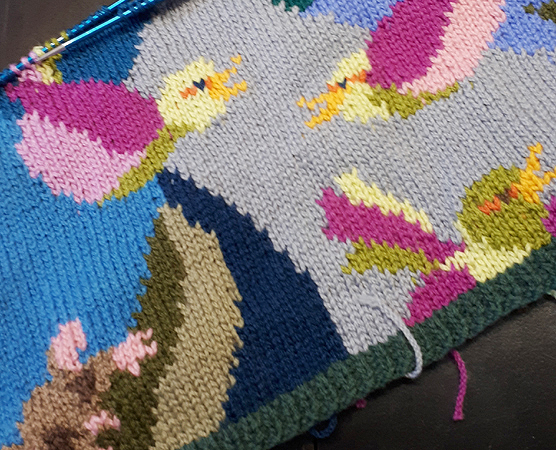 Knitting has been a wonderful bonus for all of us over winter. I'm welcoming so many
new knitters, new social groups online, as well as many experienced knitters finding the time to upskill with classes and challenge themselves with new projects and techniques.
ZOOM KNITTING CLASSES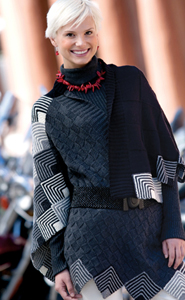 Two hour class $50

Both of my October ZOOM classes with Stitches Expo At Home are designed to bring colour and technique to your needles, with essential foundation skills to grow your knitting confidence and advanced skills to help you judge complexity in a design.
The Expo schedule has free events prior to the classes to give you a better idea of what STITCHES and my classes are all about. If you're not familiar with ZOOM, these lead-up events prior to the class will comfortably ease you into your student seat.
The Mitre Vee Capelet (right) is an achieveable first garment in Mitres.
For east coast Australians going into Summer Time the classes will start at 11am the next day (7PM in the US midwest)
More below...
BOOK TODAY: Two hour class US$50
Knitting Garments with Mitres
&
Simple Intarsia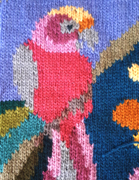 I love Intarsia! Have I mentioned this before?

I've been playing with birds and colour: I may have invented a few rare or undiscovered breeds!
Intarsia is often called picture knitting, it's like knitting a jigsaw puzzle with the reward of wearing the puzzle when you're finished!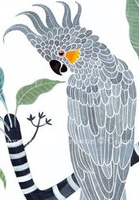 The designs of choice in my business in the nineties were picture sweaters for Japanese and American visitors. Spurred on by iconic films like The Man from Snowy River and Crocodile Dundee and splashed across our daily life when Princess Diana wore her honeymoon Koala Sweater by Jenny Kee.

Creating these designs starts with accumulating images: lino cut and screen printed are fantastic since the key elements are already defined.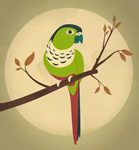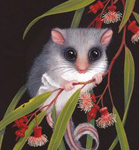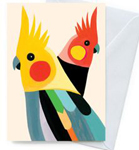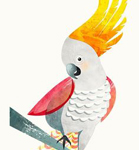 My Famous Painting pattern is almost complete. The sample shown has already found a home! Just like the Frida Khalo Jacket this will be offered as a made to measure finished garment or a knitting kit.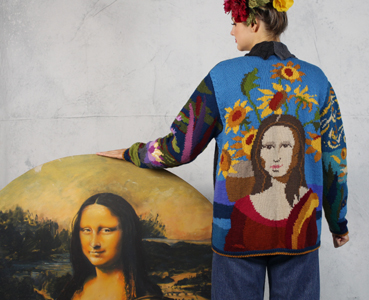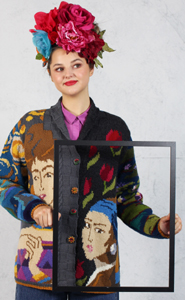 Take advantage of 10% lockdown knockdown discount

Enjoy your winter or summer even more with a
satisfying and stunning Signatur Knitting Kit
Feeling like starting knitting for the gifting season? Here's some popular pieces that are quick and easy to knit.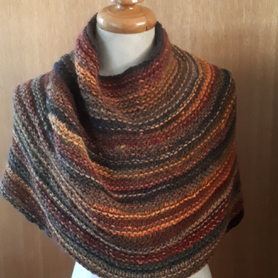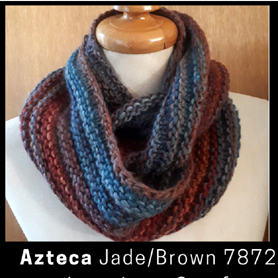 New colour Jade/brown knitted circular and wrapped twice requires just 100g Azteca.
The large Circular Cowl has 200g Azteca in the knitting kit, the new colour is Autumn 711. Knitting Kits for the Muffin Top Hat require 100g, choose from Pure Wool or Azteca and Joker wool Blends.
I love to fringe Wraps, the Basket Stitch Wrap is simple to knit and makes a great present which you can gift as a knitting kit or as a completed piece.
View more designs on my new website
Take advantage of 10% lockdown knockdown discount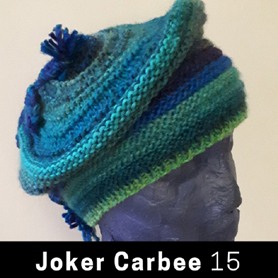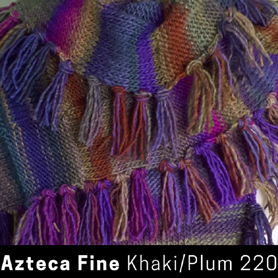 ZOOM KNITTING CLASSES
I am back on screen!
Stitches is a US company so classes are scheduled for 7pm in the USA = which is


11am AEDT (Australian Eastern Daylight Time).


These two hour classes allow you to dip your toes into new techniques.
BOOK TODAY: Two hour class US$50
Knitting Garments with Mitres & Simple Intarsia
Simple Intarsia - 2 Hour Class US $50
USA CT Fri 8th Oct 7 pm to 9 pm = Sydney Sat 9th Oct 11 am to 1 pm. (N.B. CT is Central Time USA)
This class puts colour onto your needles in simple steps allowing you to find your comfort zone with colour work.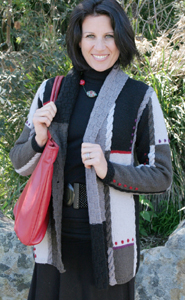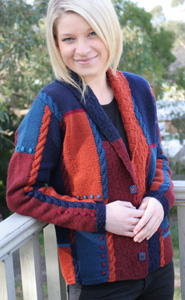 Simple Intarsia is worked from a diagram, and this is where the class will start.

Joining colour, securing ends and managing yarns, working vertical stripes of colour and interlocking the colours as the images below show.

The class will then move on to working a design from a graph.
(left) Bee Bee Jacket Short, (right)Bee Bee Jacket Long
ZOOM is brilliant as it allows you to watch as I knit and lets me demonstrate techniques. Classes are recorded so you can watch again later. You can ask questions through out te class and I can repeat any section. Turns out when it comes to learning and focus, it can actually be better than teaching this in the class room.
10% Discount off knitting kits:
Lockdown Knockdown continues!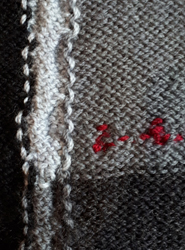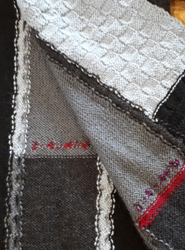 Knitting Garments with Mitres - 2 hour class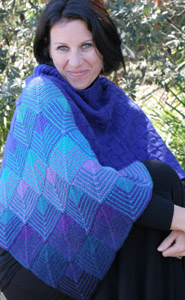 USA CT Sat 9th Oct 7 pm to 9 pm
Sydney Sun 10th Oct 11 am to 1pm.
(N.B. CT is Central Time USA)
The class includes knitting Mitres and allows you to take a close up look at how garments are constructed with Mitres. Mitres are simple and fun to knit, and a great introduction to colourful knitting. Creating garments from Mitres is quite different, from panels to complete, almost seamless, garments in Mitres.
This class requires a little homework, so you'll receive class notes in advance. My Youtube video on Mitre knitting will step you through the basics of Mitre Knitting.
The class continues from the homework.
Zoom allows you a really close look at how Mitres translate into garments.
Above: Mitre Vee Capelet. Below: Coco Shawl Panel Cardigan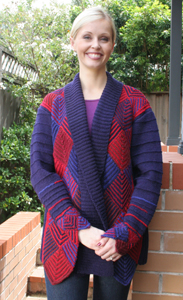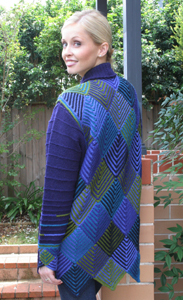 Garments can be constructed completely from Mitres or as these two pieces show, using panels of Mitres.

You will also learn how garments are constructed with Mitres, and how this technique is quite different from standard garment construction.

Homework for the class requires all students to complete a 4-mitres sample before the Zoom class begins.
Above Coco Shawl Panel Coat, one of the designs we'll explore in the class, knitted as panels of Mitres first, then the stitches are picked up along the edge of the panels and knitted first to the armhole cast off then continued to the side seam.
Join the Stitches open day, meet the teachers and see what fun you're in for...
The STITCHES EXPO At HOME opening day introduces the teachers alongside your fellow students and the team behind the weekend. Don't stress over the tech, their HELP folk are amazing: especially if you're new to ZOOM.

October Stitches Expo At Home runs over a single weekend.
November Stitches At Home runs over two weekends, allowing for 6 to 12 hour classes!
With both events classes are offered with up to 30 instructors across a full spectrum of needle arts from quilt to stitching. My classes are always late afternoon to accommodate the time difference, USA to Australia
Shop Signatur at MyShopify
www.sigknit.com and www.ozeyarn.com
Ozeyarn offers Paypal as well as credit card payment
If you'd like to discuss anything in this newsletter - or anything at all, please
email Jane
.
Thanks for your support - Laura, Petra, Philippa, Helen, Cathryn, Stephanie, Dodie, Anne and I look forward to seeing you in the knitting circle online, on Zoom and in person!