Knitting continues on its timeless
fascination and giving journey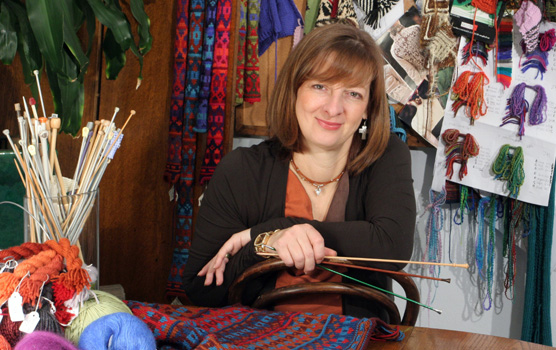 Our challenge of the last eight months has taught me so much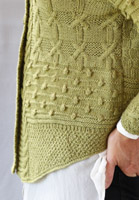 Signatur Handknits ready-made garments, as well as made to measure garments - and your wonderful support and love of handknits - has thankfully kept my team of knitters busy.

Signatur Knitting Kits 2020's new focus started with three online knitting classes then fast-forwarded to ZOOM classes.



Knitting is trendy again!


#slowfashion is so much better than #oldfashioned!

sigknit.com is not getting a facelift, it's going back to school.
15% discount on all kits at ozeyarn.com
Enjoy your winter or summer even more with a
satisfying and stunning Signatur Knitting Kit
Digital Bootcamp: putting the Me in SoMe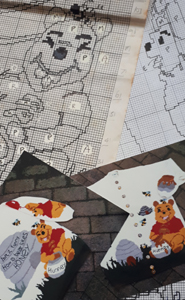 I've had some very amusing conversations with social media experts during COVID, some who weren't even a twinkle in their parents' eyes when I started Signatur Handknits and some who were in Kindergarten when my website was launched in 1999!


Digital Bootcamp classes set me on a mission to post on Facebook & Instagram every day. I've had some great responses from you and from new Insta/FB followers and it's been really interesting to share ideas and stories in pictures and videos. The daily inspirations continue unabated so please follow and comment!

The next challenge is my website!
Signatur Knitting Kits: new knitters,
you have my focus and attention....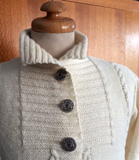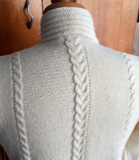 In addition to challenging new kits for those who love a Signatur kit challenge, my new focus for 2021 will be New knitters
So, are you ready for cables?
Knitting class for Penny Jacket $1
This class is on pdf and will be emailed to you. It covers the cables and details in the Penny Jacket, including the pocket.

Buy all 3 knitting Classes for just A$3.00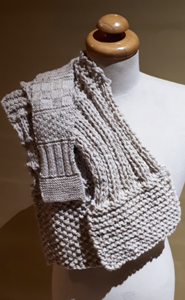 Educational Knit Class.

Texture Class steps you from garter stitch to K2, P2 rib. The small sample is knitted in 8ply, the chunky scarf has the yarn double thickness, both are just 20sts.
The chunky version really shows the row tension difference between 18 rows of Garter Stitch and 18 rows of rib. The class has seven stitch pattern to discover.
Cost 10 cents, and will be emailed to you.
Sampler Class

I created the Split Texture Knitting Class to help you knit a sampler for when you're ready to take the full garment kit plunge. This really popular design includes many stitch patterns as well as short row shaping on the hemline - all included in the A$5.00 knitting class. The paper copy will be emailed to you.
DECEMBER STITCHES At HOME: places still available for this 3 x 2 hour Mitre class
(N.B. this class won't be repeated until late 2021)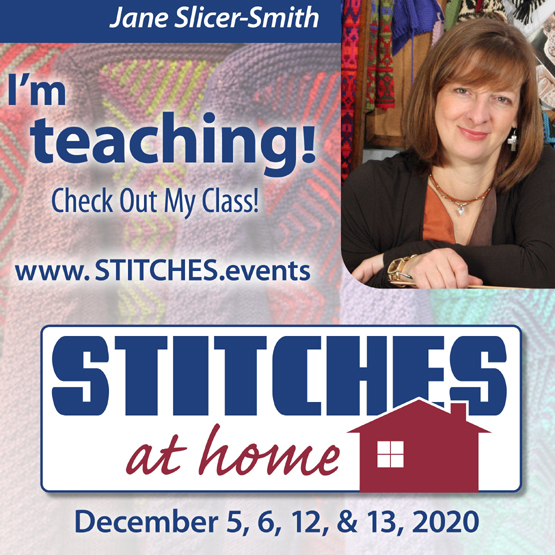 ZOOM KNITTING CLASSES
I was delighted to be approached by Stitches At Home to teach in September, so much that I repeated the 6-hour Mitre class in October. November brought two new classes, which sold out before I could list the classes! Sorry for this.
Stitches is a US company so classes are scheduled for pm in the USA = which is late morning AEDT (Australian Eastern Daylight Time)
Mitre Knitting class had 10 people waitlisted, so the 6-hour class will repeat in December. Hopefully, in January I will get a chance to create another Intarsia Knitting class.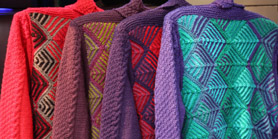 NOVEMBER STITCHES AT HOME
Class sold out - will be repeated next year...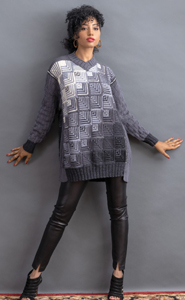 Mitre Knitting is a 2-hour class focusing on knitting garments from panels of Mitres. Will repeat next year.
DEC 6 hour class now open for bookings.
Youtube video
Simple Intarsia 4-hour class - 2 x 2 hours over 2 days. This class puts colour onto your needles in simple steps and will be repeated in 2021.

My September & October classes introduced me to ZOOM. There are extra free events, if you are not familiar with ZOOM, these events prior to the class will ease you into your student seat.
The STITCHESAtHOME opening day introduces some of the teachers, along with your fellow students and the team behind the weekend. don't stress over the tech, their help folk are amazing: especially if you're new to ZOOM.
Simple Intarsia - 4 Hour Class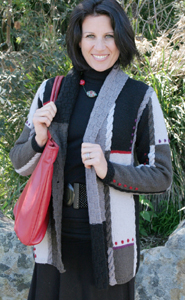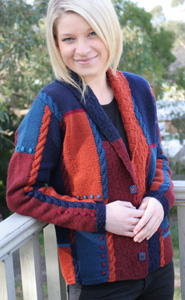 (next class
February 2021)

Simple Intarsia can be worked from a diagram and this is where the class will start.

Joining colour, securing ends and managing yarns, working vertical stripes of colour, interlocking the colours as the images below show.

The class will move onto working a design from a graph. Image (left) Bee Bee Jacket Short, (right) Long
Simple Intarsia 4-hour class
Class sold out - will be repeated in 2021

Email jane@sigknit.com if you wish to be advised when bookings open for this class.
This was a brilliant class on ZOOM as it allows you to watch as I knit and demonstrate the technique. You can ask questions and I can repeat each section. Turns out it's actually better than teaching this in the class room.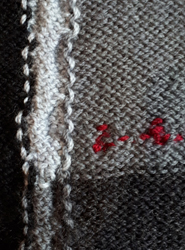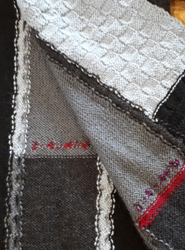 Mitre Knitting 6 hour class

Focusing on knitting garments from panels of Mitres.
Youtube video
USA CT Sat 5th Dec 5 pm to 7 pm = Sydney Sun 6th Dec 10 am to Noon.
USA CT Sun 6th Dec 5 pm to 7 pm = Sydney Mon 7th Dec 10 am to Noon.


USA CT Sat 12th Dec 5 pm to 7 pm = Sydney Sun 13th Dec 10 am to Noon.
(N.B. CT is Central Time USA)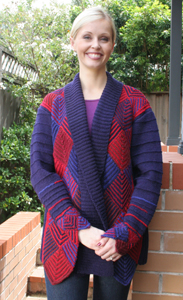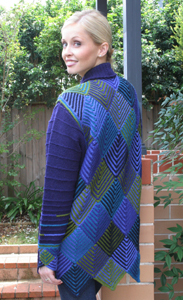 This class requires a little homework, so you'll receive class notes in advance. My Youtube video on Mitre knitting will step you through the real basics of Mitre Knitting.

Homework for the class requires all students to complete a 4-mitres sample before the Zoom class begins.

Six hours packed with details, ideas and tips and tricks from Mitres to achieving fit.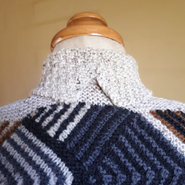 Above Coco Shawl Panel Coat, one of the designs will explore in the class, knitted as panels of Mitres first, then the stitches are picked up along the edge of the panels and knitted first to the armhole cast off then continued to the sides seam.
Ready-made A$615/ knitting kit A$200/ pattern A$50
(knitting kit = pattern, yarn and buttons)
less 15% discount kit A$170


(Left) Mitre
Tally Ho Jacket
www.sigknit.com and www.ozeyarn.com
Ozeyarn offers Paypal as well as credit card payment
Neck shaping with Mitres can be tricky, the decrease of the Mitre creating the Vee, then the shoulder shaping adds depth to the neck.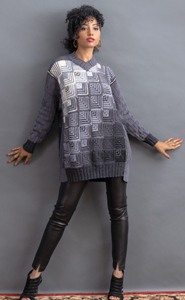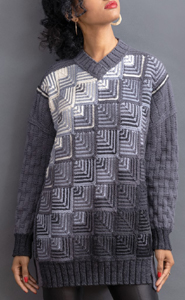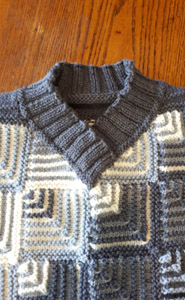 Designers On Show 2021 March 27th & 28th
Thank you for making Designers on Show 2020 a fantastic two days, it's great to be able to start planning my 2021 calendar!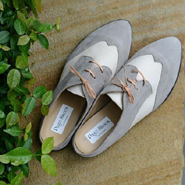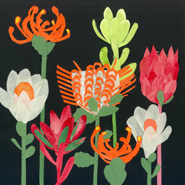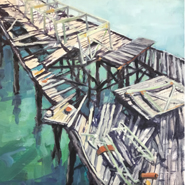 www.ozeyarn.com for yarn and pattern orders
If you'd like to discuss anything in this newsletter - or anything at all, please
email Jane
.
Thanks for your support - Laura, Petra, Philippa, Helen, Cathryn, Stephanie, Dodie, Anne and I look forward to seeing you in the knitting circle online, on Zoom and in person!