Winter 2020 - Picking up the needles!


Australian spinning mills have had record

wool sales this winter. You are knot alone!

So be sure to welcome any knitter you see to our hand-knitting community. It might be their first scarf but we all know what that kind of nascent behaviour leads to.....
Three classes for a Fiver!
My downloadable knitting classes have gone gangbusters: I'm offering all three classes for the price of one: that's only A$5.00 or US$3.60!
Order 1 x $5 class to get all three
Facebook.com/signaturhandknits
Instagram.com/signaturhandknits
Thanks for embracing social media with me. I am really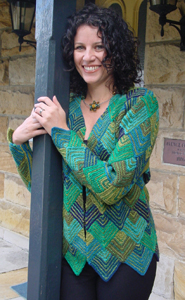 enjoying sharing stories & projects from my Sydney studio.

Facebook lets me put garment slideshows together, as well as videos for education and fashion parades. I've put them on Instagram and Facebook under TECH TALKS and CATWALK.

A huge thank you to Handmade Canberra's Julie Nicholls who organised a digital Bootcamp for her stallholders. The market is a virtual online venue.

sigknit.com has two new pages on the navigation bar.
Ready to Wear shows just some of my garments in stock.
Knitting Classes now has three classes, with many new friends picking up the needles for the first time. As a designer I welcome them to a journey of creative learning.
STITCHES ZOOM CLASS FOR MITRED GARMENTS
if interested email jane@sigknit.com for booking details.
or www.knittinguniverse.com - class release soon!
STITCHES are amazing knitting/ fibre event in the US, hosted
by my publisher XRX, of Knitter's Magazine fame.
The class format is 3 x 2 hour sessions:
Australia: Sun 6th, Mon 7th and Sun 13th Sept 8am to 10am - USA Sat 5th, Sun 6th & Sun 12th time zone? 5pm - 7pm

XRX is very familiar with my designs and I taught with them over 15 years. I've created many garments in Mitres from skirts and ponchos to swingcoats, knitted waist down then waist up, on the diagonal, infact every which way! I never would have believed I could be entertained by two row stripes! So, from my Sydney studio I can thread you through my design journey, from designs incorporating Mitre Panels to garments knitted totally in Mitres, as above the Coco Slub above. Mitres for shoulders, armholes and sleeve heads! Sharing tips, tricks and many challenges I discovered whilst manipulating Mitres into stunning garments.
New Designs for Winter 2020
Santa Fe Jacket


With seven chest sizes and two length options.
The Fox, Khaki, Moss combination below left and right shows the shorter length knitted in 4 colours. Santa Fe Jacket centre image shows the longer length, knitted in 6 colours, which allows for bolder contrasts, Black, Smoke, Cloud and Wine are the four main colours with Red Berry and White as the contrast colours in smaller proportions.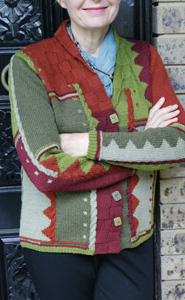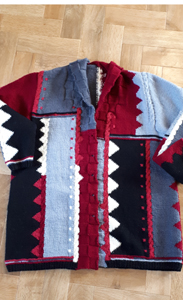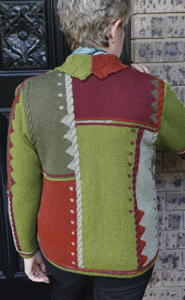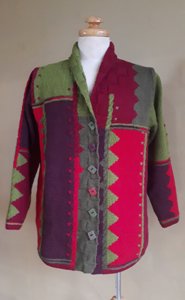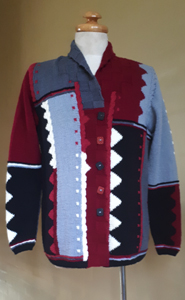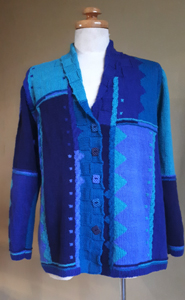 Diamond Tunic, Shona Jacket and Fan, Bell & Cable Cardigan/Vest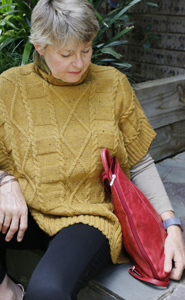 Diamond Tunic in Mustard Fleck, shown sleeveless but as usual with Signatur patterns, full sleeves are included.

Shona Jacket below left and right shown with a shawl collar but also available with a standard round neck. I've never knitted the Shona as a vest but it would translate quite nicely. I do have a sweater on the needles for the Shona Sweater.
Fan, Bell and Cable is a Signatur classic, as the Fan & Cable Swingcoat and Fan & Cable Swagger, here shown in the same stitch pattern with bobbles. Shona and Fan designs both have a split in the hemline, trimmed each side with a cable, which when joined becomes a wheat sheaf cable pattern.

Knitting kits for all designs include the full knitting pattern, all the yarn plus matching, handmade buttons.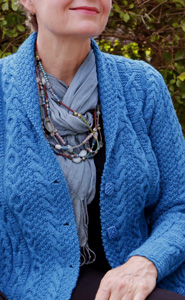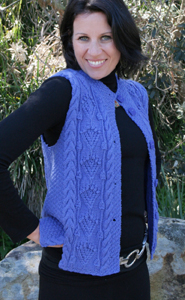 Retro picture knits return on Facebook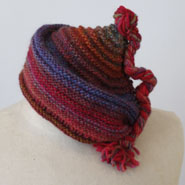 I have been sharing some archive images on Facebook,
here are some of them.

The parrots below are knitted in 10ply and flew in during the eighties:
we had a lot of fun in this decade of pictures and colour.

The image below right shows kids sweaters front and back, the Parrot's wings open onto the sleeves, this piece is knitted in 8ply.

Graphs are available if you feel like having some fun with them! Email Jane...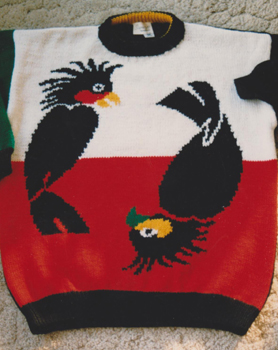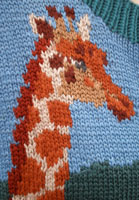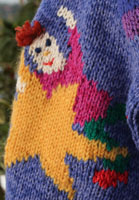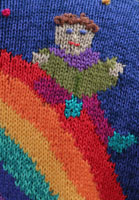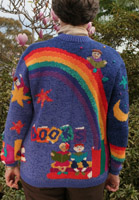 Commissioned designs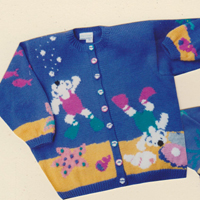 Above. The Giraffe was part of Lyndy's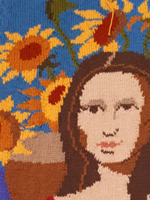 first commission for her book launch about Sydney's Taronga Zoo. Her next commission was for her rainbow reading club, the little figures even have hair. There's a little lurex sparkle in there too!

Left from the 2000 Sydney Olympics: Koala's on the reef of course!

Getting a little eyebrow in the 2020s with Mona Lisa, my current project on the needles, yet to be completed.
Craft Shows and Markets
Australian designers (in fact designers everywhere around the world) who sell direct at markets need your support. The Sydney Studio is still open by appointment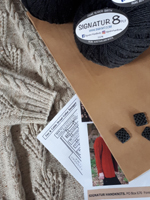 Sydney Turramurra In Style Market
Sat 8th & Sun 9th August
corner of Pacific Hwy & Turramurra Ave 10am to 3pm

August and October at the Coal Loader Centre
Meet the Makers is purely Australian-designed and made goods
from shoes to knitwear, felting, ceramics and artwork.

Sydney Coal Loaders Artisan Market
Balls Head Rd, Waverton Sun 30th August, 10am to 3pm

Designers On Show at The Coal Loaders Centre Waverton
Sat 10th & Sun 11th October
Facebook.com/designersonshow
Get Knitting with three classes: lessons within a lesson so plenty to learn for every skill level
Knitting classes - buy 1 class get all three!
1. Texture Class 2. Penny Jacket class. 3. Split Texture class.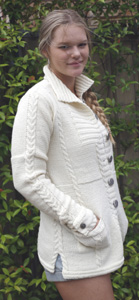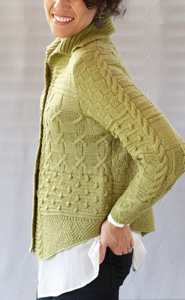 Left: Penny Jacket has cables as well as the pocket detail in the class (below).
Right: Split Texture Jacket knit class includes short row shaping of the hemline, knitted on the button b

and, bobb

les, cables and Celtic Cross. A great way to upskill before knitting this design.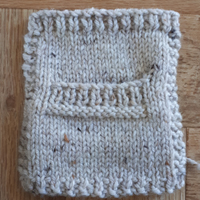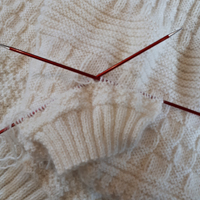 Texture Class 1:
The objective of this class is two-fold: firstly, to introduce new knitters to simple texture stitches, and secondly to let these stitches demonstrate how a stitch pattern changes row and stitch tension.

Both images below show the small swatch with 8ply wool on 4mm needles. The left image shows the chunky scarf from the same instructions. The class swatch and the scarf are both just 20sts wide, with 18 rows of each stitch pattern.

The chunky yarn really shows how the garter stitch condenses these 18 rows and how the same 18 rows when ribbed elongate the knitting.
From little things, big things grow!
The image below right shows the front of the
Textured Sweater: still on the needles and growing!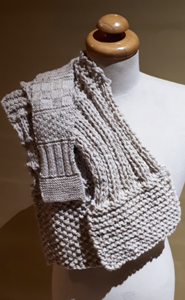 Even I don't know what comes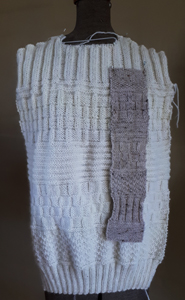 next: this knit class has developed into a project still on the needles. I am still applying the 18 rows per stitch pattern & 5 stitch patterns from the 7 stitch patterns in the class.

The third lesson for this class is that all these stitch patterns are reversible & can be used for knitted on button bands.

Knitted on bands means knitting the band with the front of the garment and using the same needle size, so the row tension needs to match the body of the knitting.

This eliminates both garter stitch & single moss as they condense the rows.
Rib doesn't work as it elongates the knitting. One stitch isn't reversible: the Woven Basket Stitch. However, it is interesting on both sides of the knitting! You can clearly see this stitch as the pattern block before the rib on the image above right.
LOCKDOWN has created challenges for all of us
I feel so fortunate: When I'm not sure which way to turn I can always knit and feel productive!
I truly believe craft kept pioneering women sane for centuries: cooking meals that are eaten and create washing up, washing clothes then a day later wash and iron them again.

Quilting, knitting & crochet engage the mind and keep your fingers agile. You also get a great sense of satisfaction, especially if the process has been a challenge. The eldest knitter on my team Joyce has just turned 96. Joyce is brilliant, she tried to retire last year, but only lasted 3 weeks " I don't know what I was thinking!". Let's hope we can all keep our minds and hands as busy as Joyce, deriving the same sense of satisfaction for many years.
Studio Open Days

Simply call 0427 064 834 and make a time, one customer at a time, 2 people maximum.
jane@sigknit.com Signatur Studio Ballyshannon Rd, Killarney Heights NSW 2087.
Pattern releases: 2018 designs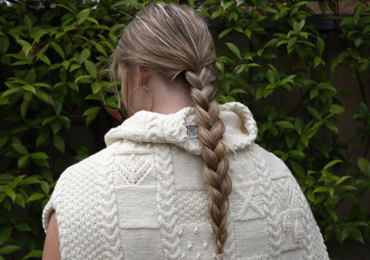 You can still purchase knitting kits for these three pieces: Signatur knitting kits include the knitting pattern and graphs, all the yarn plus hand-made, colour-matched buttons.
Above & left below: Dublin Sweater, in six chest sizes and two length options.
Centre: Penny Jacket with six chest sizes, and three neck style options.
Right: Zig Zag Tunic, knitted sideways side seam to side seam.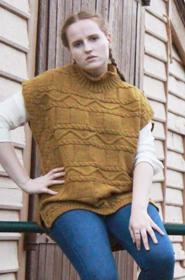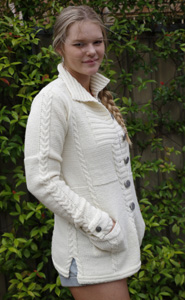 Finding a pattern on sigknit.com:
go to A - Z Design Index
Purchasing Patterns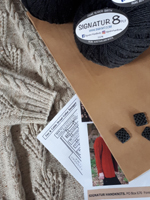 To purchase JUST the PATTERN you need to pick a colour or colourway! I know this doesn't make sense, but it's a website rule it seems!
Pattern = knitting instructions, supporting diagrams & graphs, colour image with notes. For single colour designs
click on the rainbow and pick a colour.
For multi-colour designs pick a colourway to order the pattern.

Knitting kits include the pattern, plus Signatur 8ply Australian Pure New Wool yarn & hand-made buttons with a spare.
Email me if you would like a free shade card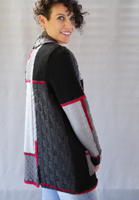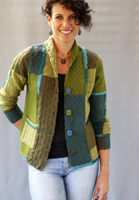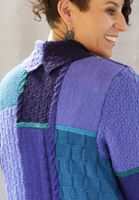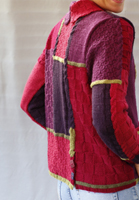 Stitched Up Jacket Pattern $35: Instructions include

7 chest sizes from 32" to 51" chest and two

length options: long and short. Colours are worked from written instructions and a diagram with measurement to colour changes. Colourways are knitted in six colours, four main colours and two highlights.
Ready-made A$525 - Knitting kit A$215 - Pattern A$35.
In US dollars that's around US$375 for an amazing, customised ready-to-wear garment, US$155 for everything you need to knit the kit and US$25 for the detailed pattern offering length and collar options.
Handmade buttons, included in a knitting kit, can also be ordered medium square size $5.50 each/ triangles $3 each.
Swing, Swagger, Drape: it's now a USB stick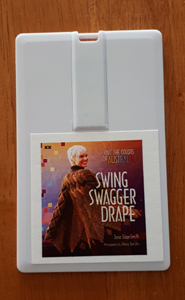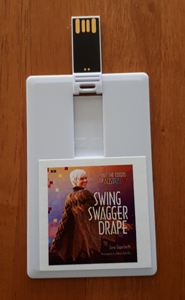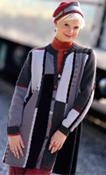 After 50,000 print copies sold, we're out of print as a book and
NOW My designs are on a USB stick! Simply slide into your computer, see every page of the book, print out just the pattern you need!
Perfectly packaged A$25

It's all about colour!
Buy to knit yourself or gift your sister,
mum or BF a kit!
NEW WICKED HAT purchase from www.ozeyarn.com
inspired by the stage play 'Wicked', wonderful asymmetrical, playful design.
New Wicked Hat above can be knitted in Azteca original - thicker than Azteca Fine - 100g Azteca original will knit ONLY the small size Wicked hat which equals a medium size when completed. AZTECA original 12ply 180m/197 yds to 100g 53% Wool/ 47% Acrylic
www.ozeyarn.com
15% off all knitting kits and yarn
sigknit.com 15% will not show on your order but will be discounted when goods are dispatched.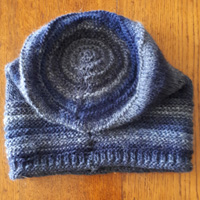 Wicked Hat Two versions on the same pattern.
Both start with 4 rows rib then Corrugated garter - which is simply purl 2 rounds, knit 2 rounds. Now you choose between working st-st = stocking stitch (blue) or as the neutral sample in R.st-st = Reverse stocking stitch.

The blue (st-st) folds in, the neutral (R.st-st) folds out.

With the blue (st-st) the top of the hat, shown left, is slip stitched to the side of the hat. The neutral (R.st-st) create two folds seamed just on one side of the hat.
All hat instructions include circular and straight needle options. I don't really like knitting circular, the plaited trim hides the seam nicely.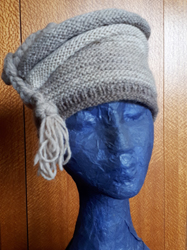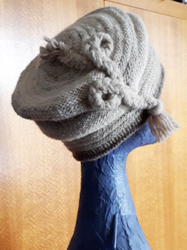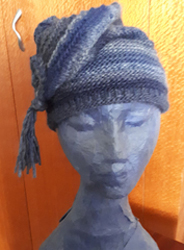 Two new colours in Azteca. Left in Azteca Fine Khaki Plum, it actually runs into rust and khaki too, check out the NEW Design Basket Stitch Fringed Wrap. Below right Azteca 12ply new colour Plum Smoke.
accessories at www.ozeyarn.com - follow links on these images

Below left to right: Wave Wrap in Joker, Extra long Circular Cowl and
NEW DESIGN in Azteca Fine 200g, fringing takes quite a lot of yarn but is also 38cm wide and 130cm long. In Azteca 12ply you'll require 300g to achieve 35cm wide by 140cm long.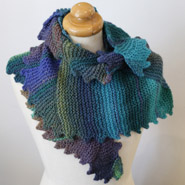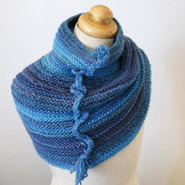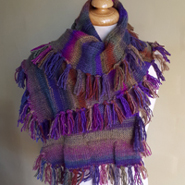 Hope to see you soon!
If you'd like to discuss anything in this newsletter - or anything at all, please
email Jane
.
Thanks for your support - Laura, Petra, Philippa, Cathryn, Helen, Margaret, Annette and I look forward to seeing you in the knitting circle!