Thank you for all your emails during
the Australian bushfires
A few days ago my girlfriend Rose shared the image
(centre below) of her Banksia bush sprouting back into life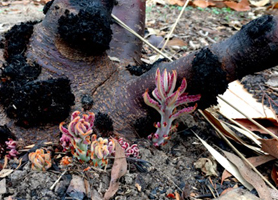 Rose's house was spared but she lost her beautiful Australian native garden in the Australian bushfires that continue to decimate bushland larger than the total area of New York State, Vermont and New Hampshire. 34 lives are lost, 5,900 homes destroyed and countless animals lost. But life is tenaciously returning to every state and island, helped along by welcome rain this week.
The centre shot shows the regrowth at the base of her Banksia bush. The colours are just stunning, and it looks more like a succulent than the bush.
The flowers left and right above show you the variations of the flower shape up to 8" tall. I am originally from the UK and still find these "flowers" quite extraordinary: they have beads of nectar which attract native birds. The flowers of course become seed heads, which require fire to pop open the seed pods followed by rain to germinate. Left is a hollowed seed pod that's been turned into a tea light - not sure about the safety - hope it's an LED light!
More photo's of bush regeneration
I'd love a Facebook favour...please follow Signatur Handknits on FB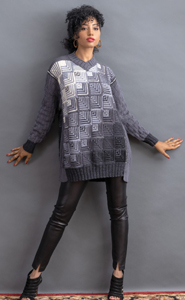 Many craft shows & events I exhibit at rely on social media to promote their events. It does mean stallholders like me are assessed by their social media activity/followers as well as their product. It's a win/win as it means free entry to events. So if you're active on Social Media please follow me on Facebook...
www.Facebook.com/signaturhandknits

...and please 'like' my posts. The more activity the better my stall location and the larger space I can give you to try before you knit, and to get good feedback on designs and ideas. It doesn't matter where you are in the world you still count in the final kit or garment!
Drifters Sweater (left)

was snapped up by Vogue Knitting in New York. You'll find it in the

2019 Fall issue.
Drifters is of course Mitre Knitting. I've included close-up shots below. See my Mitre knitting Youtube video
Handmade Market Canberra kicks off in March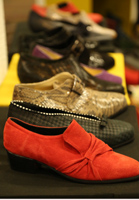 Australia shows kick off in March with Handmade Market Canberra. This is all about Australian-designed and made product, food & wine. This show just keeps getting better and better. The March market will include Carole Tiling with Page shoes (left); Blue Mountains designers Christina Mija with her stunning jewelry, Eastbourne Art interior furnishing and desirable machine knits by Alice and Nullabour Nights.
Handmade Market Canberra
March Sat 21st - Sun 22nd
EPIC on Northbourne Ave 10am to 4pm
Free parking and free entry
Sydney Studio by appointment from 7th March: call Jane 0427 064 034
talk techniques, style & colour one-on-one with jane
See full listing of Shows & Classes for 2020
Below Coco Shawl Panel Coat, as the Drifters Sweater above, is knitted as panels. Stitches are then picked up along the edge of the panels and knitted first to the armhole, cast off, then continued to the side seams - A-Line can also be added.
Ready made A$615/ knitting kit A$200/ pattern A$50
(knitting kit = pattern, yarn and buttons)
(Approx conversion: US$410 / US$130 / US$33)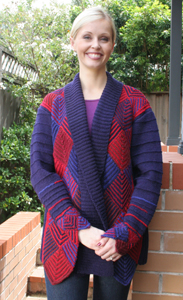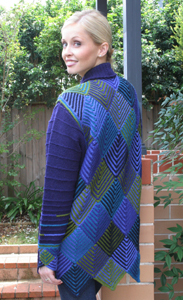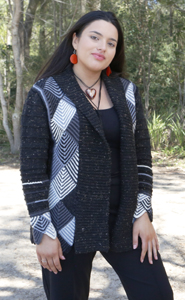 Negative ease in knitting:
simply knit a smaller size?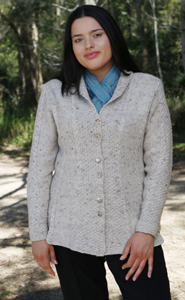 Negative ease in a garment is only possible with a stretch fabric, the most extreme example is sportswear where the garment measures less than the physical body.
Often, like the Drifters Sweater above, hand knits are over-sized. Generally with a minimum ease of 2"/5cm, for a blazer style jacket easily up to 4"/10cm.
So negative ease is both without ease or less than the body/ chest size, and hand-knitting is perfect for this.

Model Natalia left models the Windsor Jacket knitted in the 3rd size of pattern which has 7 chest sizes.
The chest of the garment measures 41"/104cm - negative ease of 1"/2.5cm on Natalia.

Ready made $515/ knitting kit $215/ pattern $45
(knitting kit = pattern, yarn and buttons)
The Windsor Jacket: negative ease in action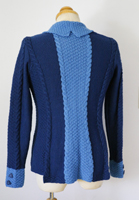 Image right shows the stepped hemline styling of the
Windsor Jacket, inspired by the classic fitted English riding/ hacking jacket.
Panels of st-st & Double Moss are divided by cables, the two-tone version right really shows the shaping in the centre panel into the waist and the increases to the chest. From the A-Line hip, stitches are decreased in all five panels to the waist, then all panels are increased to shape the chest and shoulder.
The Windsor Jacket is designed to be fitted, therefore there is a small amount of negative ease in the fit, because it is to be worn like a jacket.
Fitted style achieved by knitting a smaller size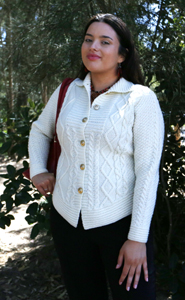 Right and below centre: Cable Chaffey Jacket this is size 2 of the pattern and chest measures 40"/102cm - this has a negative ease of 2"/5cm as does the Shaker Jacket below right. Natalia's is really the 3rd chest size in the pattern.

WHY this works with Shaker & Cable Chaffey Jacket styles.

To create a Jacket I have taken away hemline rib bands, I have also placed the

buttons above the hemline. T

he slanted hemline that short row shaping creates combined with button placement above the hemline allows the hemline to open over the hips.
The fit is snug without the buttons pulling over the chest. This will not work on a garment with a ribbed hem and buttons into the hemline.
Below left: Side shot of the hemline detail of the Windsor Jacket.
Centre: Back button detail of the Cable Chaffey Jacket side seams have buttons too.
Right: Shaker Jacket with short row shaping on the front hemline and the split shawl collar. Shaker Jacket is knitted in double moss, the pattern includes 3 neckline options, the split as shown, shawl as below left in cream and round collar as above Cable Chaffey Jacket.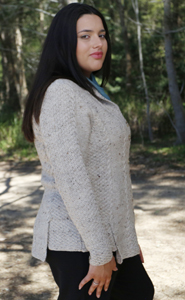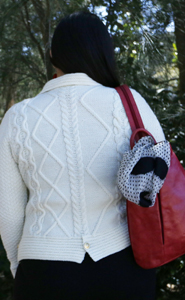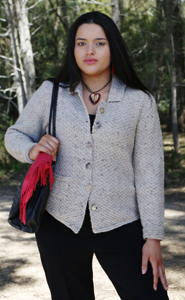 Collar options in three designs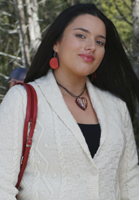 Shaker Jacket (above right/ close up right) introduced the Split Shawl Collar option.

The Cable Chaffey (above centre/ top right) shows the unshaped round neck with collar.

The Manhatten Jacket (left) shows a standard shawl collar, without the split.
Swaggering with negative ease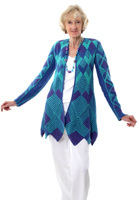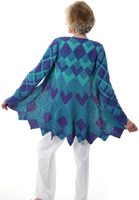 Harlequin Swagger - negative ease
This coat has negative ease over the back between the armholes. Image right you can see there are 3 Mitres in dark blue between the armholes. Left, you can see 2 dark blue Mitres each front, allowing the fronts to sit edge-to-edge. The skirt of the coat creates a semi circle: really generous. This negative ease over the back shoulders supports & accentuates the drape in the lower skirt.
Harlequin Swagger pattern is in USB book
Check out the home page for the YouTube video for Mitre Knitting
Neck shaping with Mitres can be tricky. The decrease of the Mitre creating the Vee, then the shoulder shaping, adds depth to the neck.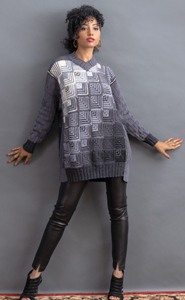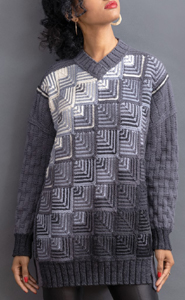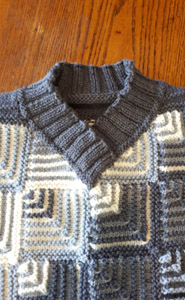 Knitting Classes: Canberra Machine Knitters Guild
Tuesday 28th April - full day
contact me directly for this jane@sigknit.com
This is open to both handknitters and machine knitters and a key workshop about styling, design and colour - 10 seats available.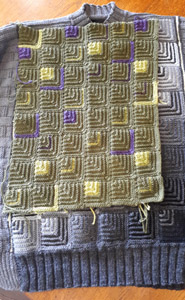 Newcastle Machine Knitters Guild hosted one of my classes "Fit and Style" last August, with an open invitation to both hand and machine knitters. A wonderful attendance of 37 knitters came from Newcastle, Canberra and Sydney.
I've christened myself a "Sinker Tinker" as I bring the kitchen sink whenever I travel. I had about 70 garments supporting the 70 slide powerpoint images: a journey from my design training through 30 years of custom making hand-knit garments. Thank you for a great day.
Of course the day included Mitres, the interesting challenges of a designer & how garter stitch can be so rewarding! The image left is the perfect example of how Mitres down size. The sample in the khaki on top of the grey has 4 stitches less per Mitre, resulting in both a narrower and a shorter piece.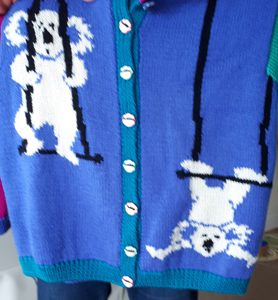 Picture knits from the 1990's

This was a fun time when Australia's main tourist were Japanese and American and just before the 2000 Sydney Olympics, which explains to performing Koala's! My girlfriend in Tasmania brought this out of her cupboard to show me!

I hunted through some old files and found photographs - there are lots of Australiana. I will pop new images into each newsletter over the year.

Of course the handmade buttons had koala's on them too. Would make great kids sweaters.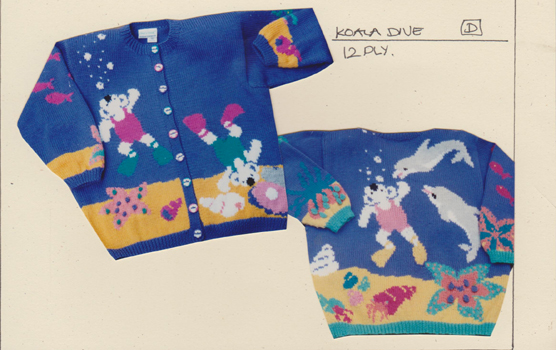 Signatur handknits and ozeyarn's range of Fancy yarns are all about colour.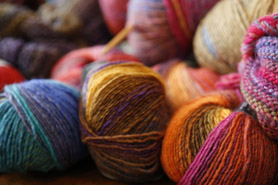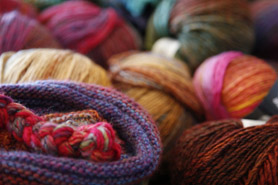 Fancy defines multi coloured and usually blended fibre yarns. The yarn is a joy to knit as colours changes create the pattern, from a simple garter stitch scarf to designs using short row wedges as below.
Below left is a cotton/ merino blend Teale/black, the Teale is Cotton the black merino creates a shadow effect very clever tubular construction. Cotton merino is available in solid pastels through to darker tones as teale and Copper.

Joker is the varigated yarn from Italy and combines a blend of 53% wool and 47% manmade fibre, shown in 3 colours below. These long stranded colour varigations are stunning, created by dying the carded fibre before the yarn is spun allowing long blocks of colour to drift from shade to shade over several rows of knitting, then a half row injection with a shot of contrasr colour - great fun!
Below: Cowls and scarves as knitting kits.
www.ozeyarn.com for yarn and pattern orders
Below left to right:
Cotton Merino colour teale/black 70% Cotton & 30% Wool $12.50 per 50g.
Joker 53% Wool 47% manmade $15 per 50g in Colour Midnight Wine
knitted in the Wave Wrap pattern kit with pattern and 5 balls $80.
Joker in Colour Caribbean Muffin Top Hat requires 2 balls pattern + yarn kit $35.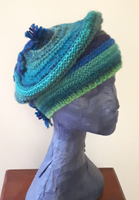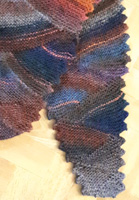 If you'd like to discuss anything in this newsletter - or anything at all, please
email Jane
.
Thanks for your support - Laura, Petra, Philippa, Helen, Cathryn, Stephanie, Dodie, Anne and I look forward to seeing you in the knitting circle!