Stunning colours shine through for winter 2020

Swingcoats: all about draping from the shoulders
Below shows how the Tudor Swingcoat fullness falls from the shoulders, yet the shoulders fit. The original swingcoat styling has deep almost Dolman sleeves. The Tudor garment has a slim sleeve, new option a couple of years ago, it does reduce the chest size - but then the swingcoat styling has ample chest ease!
If you are Canberra and are interested in Fit & Style there is a workshop on 28th April details below and contact for booking below.
Cancelled

Handmade Market Canberra
March 21st & 22nd Sat & Sun 10am to 4pm

April Tues 7th & Weds 8th Orange, NSW


Postponed

Duntryleague Golf Club
Tues noon to 6.30pm / Wed 9am to 6.30pm



Postponed

Australasian Quilt Convention
Melbourne 16th - 20th April
Exhibition Building Carlton Gdns.
Thurs to Sun 9.30am to 4.30pm

Canberra knitting class April 28th Tues
Fit & Style - book with Guild class.


Postponed



Craft Alive Canberra April 30th to May 3rd


Postponed


(entry redeemable on any purchase over $150 from signatur handknits)
Follow Signatur Handknits on Facebook - show updates and reminders!
Note: all pricing is in Australian dollars: at its lowest for years!
Bringing a little fun & colour to your knitting life with the Digit Tabard for winter 2020.
Garment A$495/ knitting kit A$185/ Pattern A$35.
Above Tudor Swingcoat Garment A$735/ Knitting Kit A$295/ Pattern A$75
As well as seeing colour and fun in Winter 2020 we're also seeing a desire for classic stitches and styles like the Fan, Bell and Cable Cardigan and Vest below.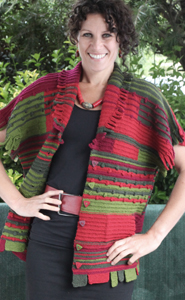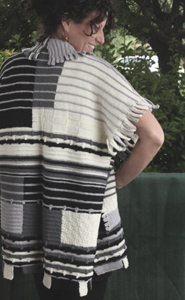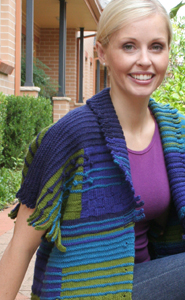 Add a modern twist to inherited stitches
with new styling and finishes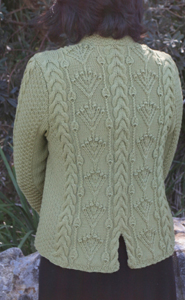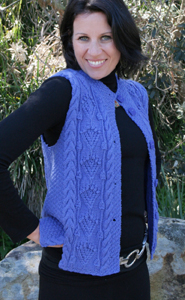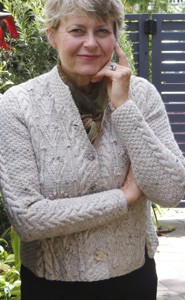 I love to add unexpected details with cable edged splits front & back
This Fan and Bobble pattern is a Signatur classic stitch that's also used in Swagger & Swingcoat designs.
Fan, Bell Cable Jacket: Garment A$505/ Knitting Kit A$195/ Pattern A$35.
Fan, Bell Cable Vest: Garment A$315/ Knitting Kit A$170/ Pattern A$35.
Knitting kits include pattern, yarn and buttons. Below Left and centre:
Fan & Cable swingcoat - the cream and brown shots show how the fullness of the swing falls from the shoulder.
Right (in Brick) the Fan & Cable Swagger, same stitch pattern but this is high-waisted and fitted over the shoulder, less fullness over the hip and shorter than the Swingcoat.
Fan & Cable Swing: Garment A$695/ Knitting Kit A$260/ Pattern A$75
Fan & Cable Swagger: Garment A$595/ Knitting Kit A$230 / pattern A$45
Traditional style: stitch pattern between cables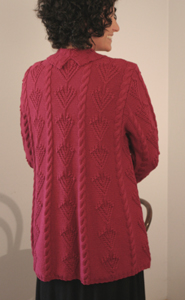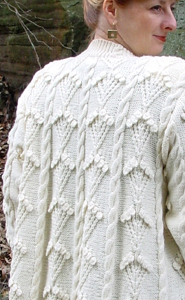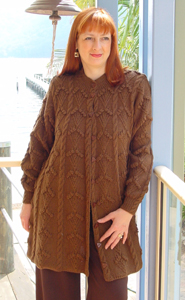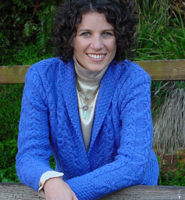 The Shona Jacket in Jacaranda (right) and below is more tradition with stitch pattern between cables.

Cables create such fantastic textures.
In the Shona the cables are worked as both crab claw cables and what I call OXO cables. The split open edge is worked on the front of the jacket: there's no back spilt.

All these shots show the shawl collar option but the design also has a round neck option, and a shorter length.
Shona Jacket: Garment A$545/ Kit A$215/ Pattern A$45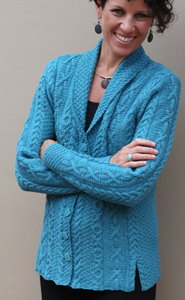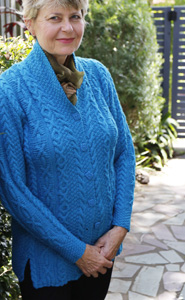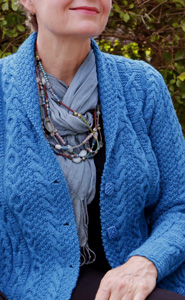 Hemline details in Chaffey Jackets
With the Cable Chaffey, in cream below, I have combined two traditional stitch patterns

asymmetrically. Right back with the Diamond pattern and left back with the

Zig Zag, the front carries the same two patterns.
Cable Chaffey: Garment A$495/ Knitting Kit A$205/ Pattern A$45
Ya gotta love short row shaping - creating striking hem variations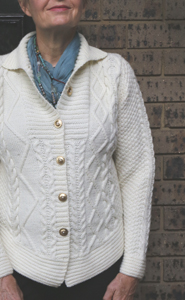 I am very fond of short row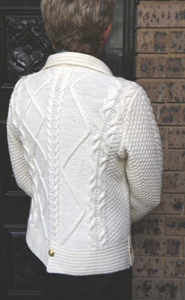 shaping, adding length to the centre front hemline.

With the Cable Chaffey I have worked the band before the short rows, emphasized by the centre back split. The front bands overlap the back at the side seam and is trimmed with a button.

Shown with round neck collar, pattern also has the shawl collar option (as Shona above)
Boutique Show in Orange NSW April 7th & 8th (weekdays)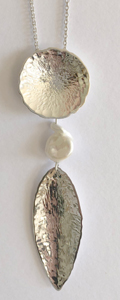 Knits In The Vines at
Duntryleague Golf Club
Tues 7th from Noon till 6.30pm
Wed 8th from 9.30am to 3.3pm

Fellow crafters have invited Signatur Handknits to join them at their annual event in Orange, NSW. It's been a few years since I visited Orange: what a stunning time of year to visit the region!
Left, Silver and freshwater pearls from Blue Mountain jewellery maker Christina Mija, with a couple more of her pieces below.

What a stunning choice Carole Tilling of Page Shoes brings in suede and leather & in so many colours. This is really 'design-your-own' shoes! Also Suzie Hope Designs & Fiona Beggs with Possum & merino knits (right).



Join my Fit & Style workshop in Canberra

The Signatur Handknits Fit & Style Workshop will be hosted by Canberra machine knitters - hand knitters are of course welcome.
Tuesday 28th April 9.30am to 4pm at Downer Community Centre
Please contact Liz email act.region.mkg@gmail.com
Cost $35 BYO lunch - tea/coffee provided bring a cup.
This is a lecture presentation with plenty of photos supported by a spectacularly varied rack of complementary garments! I've been designing handknits for over 30 years as a working designer selling direct to market customers (rather than wholesale).
Selling direct means I learn so much about creating garments to complement different body shapes. I've devised methods to achieve fit and style with simple options, from narrow shoulders to body shaping, A-line options and different sleeve stylings.
Garments are there to demonstrate shaping and styling plus give you the opportunity to try on all the garments so you know you've got a knitting kit that's customised to your fit.
Below: Cowls and scarves as knitting kits.




If you'd like to discuss anything in this newsletter - or anything at all, please
email Jane
.
Thanks for your support - Laura, Petra, Philippa, Cathryn, Helen and I look forward to seeing you in the knitting circle!