Merry Christmas & Happy Holiday
Wishing you good health for 2021

End of year sale with

10% off knitting kits across the range.
www.sigknit.com
www.ozeyarn.com
Ozeyarn offers Paypal
as well as credit card
Furiously Spinning A Yarn
check out signaturhandknits on Instagram and Facebook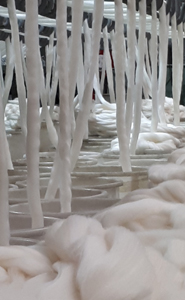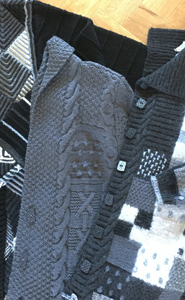 Thank you for all your support in 2020


Handknitting hit crazy new heights in Australia. The Mill had to ramp up yarn-spinning to seven days a week - and the dye house was in a frenzy!

I thought it would be fun to share images from the Mill from wool bales above to these pictures showing where natural & black yarn are blended to create classic Charcoal.

Meantime, I swapped my life from meeting you face-to-face at craft shows to ZOOMING into each others' lives screen-to-screen.
So what now for 2021: Shows and Knit Classes
January Zoom Class
Fit & Flatter 3 x 2 hours sessions
Show dates confirmed Sydney and Melbourne
POP UP Bowral & Canberra
Fit & Flatter 3 x 2 hours sessions
Fit & Flatter the Signatur Handknit Way
This is an online ZOOM, lecture-style class with just 20 participants where you can fully interact with questions and comments!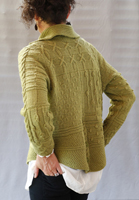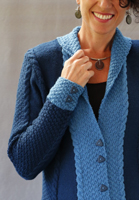 We'll look at simple adjustments allowing you to achieve a professional fit, for yourself or family and friends, without major maths.



Sydney date/time: 3 x 2 hour sessions:
Sun 10th/ Mon 11th/ Sun 17th Jan
Sydney AEST: 10 am to Noon: that's pm the day before in the Americas.

USA CT date/time: 3 x 2 hour sessions:
Sat 9th/ Sun 10th/ Sat 16th Jan
USA Central Time (CT) 5pm to 7pm
Above left: Split Texture Jacket - free knitting class email jane@sigknit.com to receive class.
Above right: Windsor Jacket can be knitted in a single colour or two-tone as shown.
Below left: Buckingham Jacket, the fronts are knitted from the front edge to the side seam.
Think like a Dressmaker and design for every knitter:
that's what your Fit and Flatter class is all about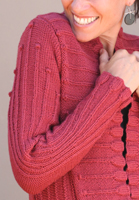 My UK training is in fashion textiles, working with both woven and knit fabric. So I think like a dressmaker, creating my fabric as I knit, adjusting the fabric with larger needles to create swing and drape, or choosing smaller needles to support the garment and fit the shoulder.



I also think about the knit-ability of a design, having

sold ready-made and made-to-measure handknits for many years, running a team of up to 100 hand knitters.

Fit & Flatter Class: Sat/Sun PM in the USA = AM the following day in Sydney Sun/Mon jane@sigknit.com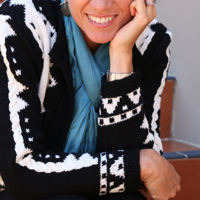 With three cameras sharing my complete studio and letting me zoom in on knit techniques and tweaks, and tips & tricks, my Fit & Flatters class is visual and practical, keeping the maths to an absolute minimum.

You'll learn how to pop a little extra ease into the hip, or narrow the shoulders, alter the sleeve length and adjust a sleeve width.
The result of this fabulously enjoyable class is that you'll you'll approach your next garment project with more confidence, rewarding your knitting skills and time with great results.
...all this plus styling tips too!
The class will also look at garment styling letting you step a design from a casual cardigan to a Jacket. I'll also show you how to knit the button band with the fronts of the garment to save finishing challenges and UFO's.




2021 SHOWS & CLASSES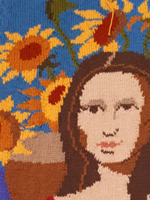 Australasian Quilt Convention at the beautiful Carlton Gardens in Melbourne city


Thursday 15th to Sunday 18th April 10 am to 4.30 pm

Designers On Show at The Coal Loader Centre Waverton Sydney
Saturday 27th & Sunday 28th March 9.30 am to 3 pm

Sydney Quilt Fair NEW VENUE
Thursday 30th June to Sunday 4th July
Sydney Showgrounds at Homebush
Show hours may be extended standard hours 10 am to 4.30 pm
Zoom Knitting Classes January and February 2021
Dates to be confirmed for 2021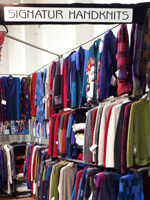 Handmade Market Canberra


March - awaiting confirmation of live event & dates

Pop Up Show Bowral NSW



Old Bus Depot Market Canberra


Wool Week (two days) May Sat & Sun

Bendigo Sheep & Wool Show July
Tech Tips - a change is as good as a Collar-day
Collar options can change your garment: and make your day!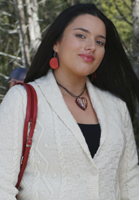 Shaker Jacket (right & below) introduced the Split Shawl Collar option, enhanced by button back detail and back collar split (below left)

The Manhatten Jacket (left) shows a standard shawl collar without the split.

The Cable Chaffey (below right) shows the unshaped round neck with collar.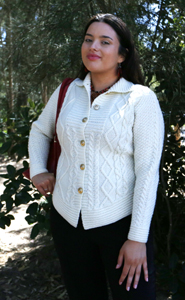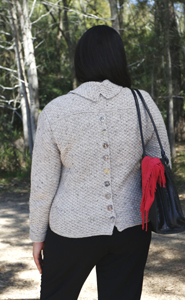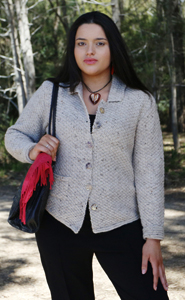 Negative ease accentuates and supports swing coats
You'll find the pattern for the Harlequin Swagger in my book -
now on a USB stick for A$25.00 (about US$18.00)
Harlequin Swagger - negative ease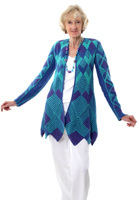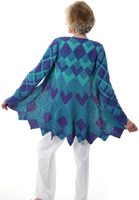 This coat has negative ease over the back between the armholes. On the image right you can see there are 3 Mitres in dark blue between the armholes. Left you can see 2 dark blue Mitres each front, allowing the fronts to sit edge to edge.

The skirt of the coat creates a semi-circle, making it really generous. The negative ease over the back shoulders supports & accentuates the drape in the lower skirt.
Three free patterns when you order from www.ozeyarn.com
3 x 100g ball of Azteca or Azteca Fine
www.ozeyarn.com for yarn and pattern orders
If you'd like to discuss anything in this newsletter - or anything at all, please
email Jane
.
Thanks for your support - Laura, Petra, Philippa, Helen, Cathryn, Stephanie, Dodie, Anne and I look forward to seeing you in the knitting circle!