15% off kits till 18th October
Note: www.sigknit orders will not show discount on order. Charge is made manually when kit despatched & discount will be deducted.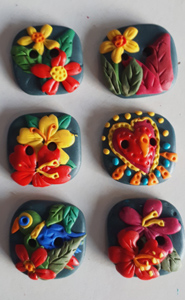 Frida Kahlo Jacket. At the end of last year's Australian show season I decided to indulge myself with a little Intarsia, or picture knitting. I back-packed through Mexico many years ago and know Diego and Frida's story. So when the Frida Kahlo exhibition came to the Art Gallery of NSW in Sydney the die was cast.

In addition to last week's Frida photo shoot I made 10 sets of 'Frida' buttons - and that's them on the right...

The Frida Jacket is a limited edition, made-to-measure or
as a knitting kit that includes 25 colours in Signatur 8ply, a pattern with a graph per garment piece and of course hand made buttons to complete the kit. The base colour is Peacock - please ask for a shade card. jane@sigknit.com
Tasmanian Craft Fair - Deloraine
Fri 1st to Mon 4th November
Australian Craft takes over Deloraine! This event celebrates 39 years of bringing designers & makers together from all over Australia. Held throughout the township from community centre to galleries with free mini buses between venues, the Tasmanian Craft Fair runs Friday to Sunday from 9am to 5pm &
Monday from 9am to 4pm.
Find more images and exhibitor details below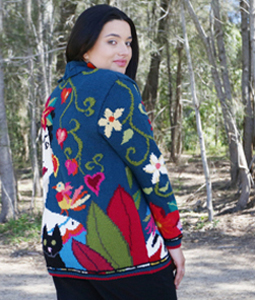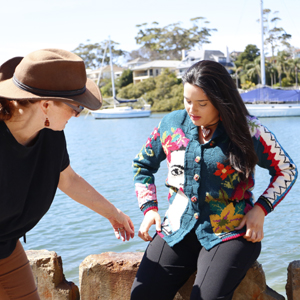 Frida Jacket: Made to measure A$1525 knitting kit A$345 less 15% = A$293.25
We had a bright sunny day for photography with model Natalia
Coco A-line below: Ready made A$625 knitting kit A$245 less 15% = A$183.75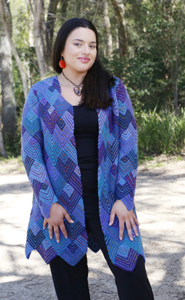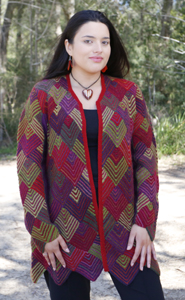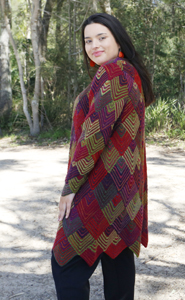 To achieve the soft drape with 7 colours of Signatur 8ply wool I have striped the Coco A-Line design with a lightweight variegated yarn.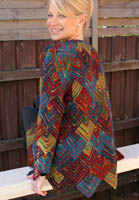 Coco A line Coat: Above left to right on Natalia:
Blue combination is in Size 3 of instructions & long length.
Centre: Size 4 of instructions and shorter length (by 1 Mitre).
Right: Size 4 and long length.
Left on Rebecca: Size 2 of instructions and short lengthInstructions have 5 chest sizes and 2 length options.

Above: Natalia 5'7"/ 170cm tall in short length 4th size.
Left: Rebecca 5'2"/157cm tall in short length 2nd size.
Smokin' Byron A-Line Coat & Shaker Jacket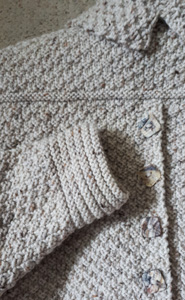 Below left: Byron A-line Coat in Smoke colour: chest measures 114cm/45" size 3 of 5 sizes to fit chest 34"to 54", length of this coat 90cm, shorter length option 82cm.
Byron Below: Ready made $625 knitting kit $245 less 15%
= $183.75

Shaker Jacket in Stone Fleck (close up of back right)
Modeled chest measures 104cm/41" size 2 of 6 sizes.
Chest to fit 34"to 51", short length, centre front from shoulder 68cm (long length + 10cm/4"). The fronts have short row shaping making centre front 7cm to 9cm longer than side seam of garment. Kit always includes colour-matched buttons fronts round/square & back triangles
(except Stone Fleck shown has shell buttons).
Shaker Jacket: Ready made $495 knitting kit $215 less 15% = $182.75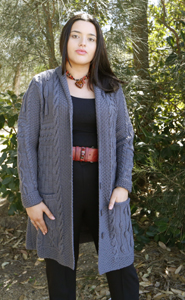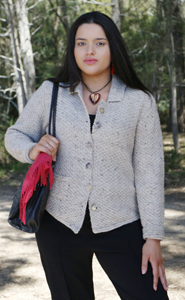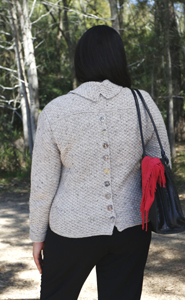 15% off knitting kits
This applies online at ozeyarn.com & sigknit.com
and at shows and classes until 18th October
Tasmanian Craft Fair - Deloraine
The Tasmanian Craft Fair is the largest Craft Fair in Australia
running from 4 days Friday 1st to Monday 4th of November
Awards for exhibitors include $10,000 premiere's award for excellence: there's also working exhibit (demonstrating on stand)
and emerging artist awards.
Tasmanian Craft Fair Bridget Farmer artist and printmaker won the Best Working exhibit in 2018. Bridget shares her love for ornithology with her art work techniques: from drypoint etching, lino prints & hand-painted bird mobiles to childrens books that Bridget writes and illustrates.
Featured exhibitors Andy and Margaret Causon
Protrait Artist Andy is recycling to create one off Retro Industrial lights. Staying with recycling Margaret is using leather from clothing and even furmiture to create one off hand bags.
Mo-Resin exhibits in Gay's Shed venue this year
International Visual Artist Yim Maline from Cambodia
Maline's solo exhibition comes from her Singapore show to Deloraine, after exhibitions in France and New York
Geoko Strands Eco Dyed garments in merino, cashmere and wool, cashmere silk blends
Emerging local Artist Hong Ma joined the Delorain community Shed finding passion in wood and resin.
Young Emerging Artists. Left: Year 7 student Phoenix Lorback's work "Cycles". Right: Year 11 student Ellie Newland looks like a pencil sketch.
Why Dogs
'Why Dogs' is a 'tongue-in-cheek' collection of children's books which through delightfully crafted, rhyming verse and beautiful, original watercolour illustrations, explores the whimsical characteristics and unique eccentricities of dogs. They are books for dog lovers of all ages

www.ozeyarn.com for yarn and pattern orders
If you'd like to discuss anything in this newsletter - or anything at all, please
email Jane
.
Thanks so much for your support - Laura, Petra, Philippa, Helen, Cathryn, Stephanie, Dodie, Anne, all our most wonderful and crazily talented finished garment knitters, and I, look forward to seeing you in the circle!