Dreaming of beautiful yarns: almost as good as touching and seeing them this winter!
Speaking of, I got a few things wrong in my July Newsletter so please check out the

brownish/red

corrections.

Whoops! Canberra Quilt Fair August 15-18

Whoops - Full Day Newcastle workshop
10am to 3pm!!!
July Shows & Studio Days
In Style Turramurra - Sale day!
10am to 3pm Tues 30th & Weds 31st July

Studio Sale Day, Killarney Heights
Friday 2nd & Sat 3rd August 10am - 3pm
99 Ballyshannon Rd, Killarney Heights
jane@sigknit.com
August Shows & Markets
Bowral Public School
Saturday 10th August

Canberra Craft & Quilt Fair


Thurs 15th to Sunday 18th August 10am to 4pm


EPIC Northbourne Ave (showground)
Entry $16 - redemable on any purchase over $150


Jane will have sale rail at the show stand D24



Coal Loaders Artisan Market
Waverton, North Sydney Sunday 25th August

Newcastle Workshop - Full Day 10am to 3pm ONLY $30
Tuesday 27th August - details below
Booking with leoniemills999@gmail.com
New Joker yarn shows off it's colours www.ozeyarn.com
Fantastic new colourways and some new hat shapes are now online
Left and right below 'Two the Point"wrap and centre, the Wave Wrap.
This technique is featured below in this newsletter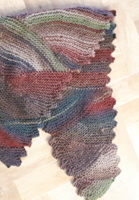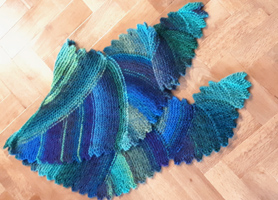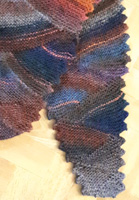 Knitting class at Newcastle Guild
The machine knitters guild with hand knitters welcome.
Tuesday 27th August 10 - 3pm in Newcastle
The machine knitter's guild have I asked me to give a talk/lecture about styling & design. This was one of my favourite classes to teach in the USA, and the least understood as a class description "Fit $ Style". Maybe it should be "Tips and tricks to getting a great fit". Either way, you won't need a knitting machine or a pair of needles for the class.
I will have a rail of about 60 garments with me, so I can show how styling achieves fit, all the lessons I have learnt over 30 years of designing and making-to-measure handknitted garments. The sample garments I bring will be for sale and knitting kits can also be ordered from these designs. There will also be some wool and patterns for accessories.
Avoiding that "Why doesn't it look like the pattern?" moment. Everybody knits from instructions, puts the pieces together, and after all that time and effort the garment doesn't fit! This class solves that problem by giving you the steps to judge both selecting a design for your body type and the keys to judging a garment while still on the needles. In addition you'll learn how to make adjustments to a pattern without it all getting too scary!! Bookings can be made with Leonie Mills and the guild by Email: leoniemills999@gmail.com

Sale days in Sydney
Sale days at instyle or in my studio include sample garments, fashion parade garments, discontinued designs & discontinued yarns. It's a great chance to enjoy a colour or style of Signatur garment you mightn't normally choose.
In Style Turramurra - Tue 30th & Wed 31st July 10am to 3pm
Turramurra Masonic Hall corner of pacific Hwy and turramurra Ave

Sydney Studio Sale Day - Friday 2nd August 1pm to 3pm


Saturday 3rd August 10am to 3pm


99 Ballyshannon Rd, Killarney Heights, NSW 2087
This will include more yarn that Turramurra
Of course you can make an appointment to visit the studio anytime. 0427 064 834 Jane
Swing, Swagger, Drape is now a USB stick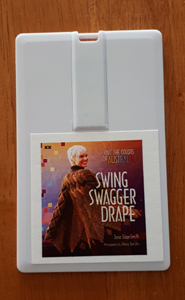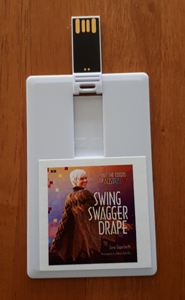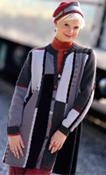 Out of print as a book, but
now on a USB stick!
Simply slide into your computer, see every page of the book, print out just the pattern you need!
Perfectly packaged $25
Short row shaping - a classic favourite
My favorite topic is short row shaping - and below I go through knitting the Wave Wrap and other accessories using short rows.
Below: Swagger A line coat like the Split Texture Jacket has quite a steep centre front edge, short rows are each 3sts, whilst the centre of the Chaffey Jacket takes in 6sts per short row, creating a far less acute wedge.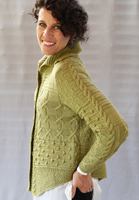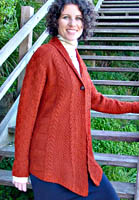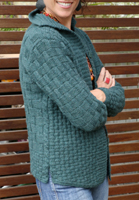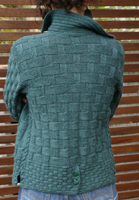 Right: Wave Cowl, this has one seam and really
highlights this same short row technique. Starting with 38sts, colours really show how the wedges work to a narrow point. The sercret of no holes is working a wrap and turn each short row - far easier to show in pictures - see below.
If you're interested in purchasing a hat, scarf or wrap but don't knit just email me and I'll send some images of what stock I have in these pieces that's ready made.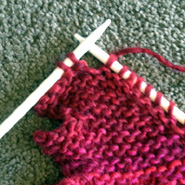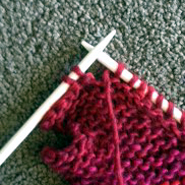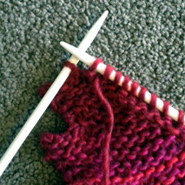 Above left: So with 17sts cast on work only 15sts for your first short row.
The piece is garter st so knit all rows so the yarn is at the back of the work.
Above centre: Bring the yarn between the needles to the front of the knitting.
Above right: Slip next stitch left to right needle without working the stitch.
Below left: Take yarn back between needles (single unworked stitch on left needle).
Below centre: Turn knitting to wrong side - so the single unworked stitch is now on right needle.
Below right: Slip the next stitch left to right needle (same stitch previously slipped).
Take yarn between needles and knit to last stitch.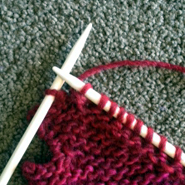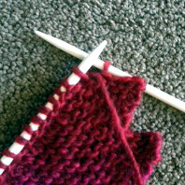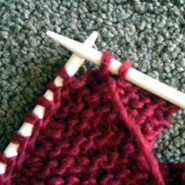 Zig Zag edge of scarf is created by increasing stitches the end of the wrongside row - a full row. When we cast the increase stitch off we create the points of the zig zag.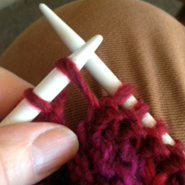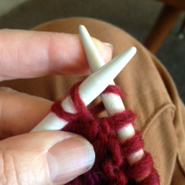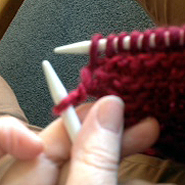 Work wrongside row (full row) until 1 stitch remains unworked.
Above left: Pick up the yarn from between the stitches of the previous row. Can you see how large this loop can be pulled leaving a hole?
Above centre: Knit through the back of the loop for a firm stitch, no hole.
Above right: Increase stitch completed, knit last stitch of row.
Short Row Summary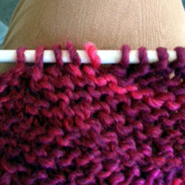 Row 1: K15 left 2sts unworked - we slipped and wrapped the 16th stitch, the 17th stitch was unworked on left needle.
Row 2: Knit to the last stitch, M1 = make 1sts, K1 = 18sts.
Repeat Row 1: K15sts - as we have 18sts this will leave 3sts unworked - wrap and slip the next stitch - so 2sts unworked.
Row 4: As row 2 knit to last stitch M1, K1 = 19sts.
Repeat twice more = 21sts - this means you have worked 4 short rows and 4 increases.
Beginning of next short row cast off 4sts (Below left). K11 (instead of 15sts). (below centre). At this point it's really good to look at the stitches over the row. Can you tell which stitches have been wrapped? You'll learn so much simply by looking at the knitting, make fewer mistakes and when you do make a mistake find fixing it so much easier!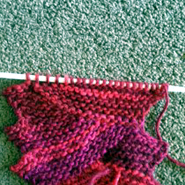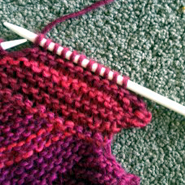 Repeat short rows and increases. After next 4sts cast off K7 to next wrap stitch.
Complete 3rd cast off 4sts (right centre). Continue row after cast off, K4, the next 11sts have wrap at base of each slipped stitch.
The slip stitch and the wrap below need to be knitted as one stitch.
Left below: With point of right needle pick up the wrap at base of stitch, then knit the stitch, shown centre. Lift the wrap (brighter stitch on right needle) over knit stitch.
Below right: This has been knitted without knitting the wrap and the stitch so there are holes / elongated stitches.
Above right: You can see how, when the wrap and the stitch are knitted together, there are no holes along each section of the wedge.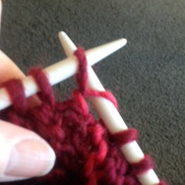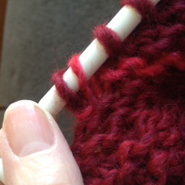 It's all about colour!
Buy to knit yourself or gift your sister,
mum or BF a kit!
www.ozeyarn.com
The Dressmaker - Fantastic exhibition at Canberra's Film and Sound Archive, the fabulous fashion from the movie "The Dressmaker" made me wish I had been a costume designer - what wonderful accessories!
Hope to see you soon!
If you'd like to discuss anything in this newsletter - or anything at all, please
email Jane
.
Thanks for your support - Laura, Petra, Philippa, Cathryn, Helen, Margaret and I look forward to seeing you in the knitting circle!