Winter 2019 - What's New and
Leafing through Seasonal Designs


Australia had the hottest January on record,

so we're hanging out for cooler weather: time to limber up the needles with a simple project - check out my new Shaker Jacket below.

In the northern hemisphere, you've hit some record colds: the perfect, you'll be getting started on a project for next winter!
Designs, Shows & Knit classes
Sydney
'Camb
ridge Market EQ
Fox Studios 8am to 2pm
Weds 6th/13th March
Saturday' 16th March
Bowral Public School Market 9th March (Not April market)
Saturday 8am to 1pm
Canberra Handmade Market 23rd - 24th March
Saturday and Sunday
10am to 4pm
Melbourne, April 11-14 - Royal Exhibition Building

AQC - Australasian Quilt Convention
Thursday 11th to Sunday 14th of April at Carlton Gardens Melbourne
I am back in Melbourne City at the beautiful Royal Exhibition Building 10am to 4.30pm Stand 57. it's my only Melbourne event this year but I'll return to Victoria for The Bendigo Sheep and Wool show July 19-21.
Monthly & Weekly Markets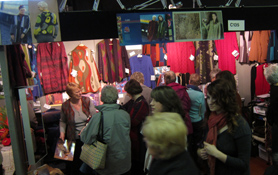 I started Signatur Handknits at Sydney's Paddington Bazaar and I've continued to sell direct to the public ever since, juried markets and shows focused on Australian made.

I love selling direct as like this newsletter I receive instant feedback on new designs, yarns and colours.

Bowral Public School Market 2nd Saturday each month, Southern Highlands.
Cambridge Market EQ @ Fox Studio

every 2nd Wednesday occassional Saturdays!
Quarterly Markets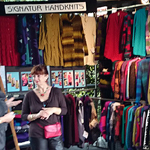 Canberra's Handmade Market, North Sydney's Coal Loaders Market and Woodstock Artisan Market - To be Advised

NEW 2019 Burrawang Easter Market - I will be inside the school house. Easter Saturday 20th April 8am to 3pm.
Indoor & outdoor market takes over Hoddle St, Burrawang.
Annual Markets & Shows

Wool Week at the Old Bus Depot Market
this is so successful and popular its now a 2 day event Sat. 18th, Sun 19th May.

Bendigo Sheep & Wool Show: July 19-21.
This amazing Australian-made show includes fashion parades, sheep shearing & lots more!
Studio Open Days

Simply call 0427 064 834 and make a time. overseas visitors please email jane@sigknit.com Signatur Studio Ballyshannon Rd, Killarney Heights NSW 2087.
New Designs for Winter 2019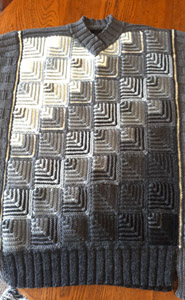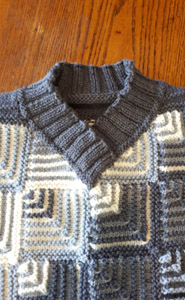 Drifters Mitred Sweater.

Knitted in five colours, diagonal drifts of colour over Mitre panel front and back.

The side panels are picked up from the long sides of the Mitre panel to create the chest size.

This grey shading is the first piece I have created using Mitres as squares, I generally use them as diamonds.
Below shows a three colour option, knitted in the small size with Mitres of 27sts, the grey has 31sts per Mitre. Both panels have 48 Mitres.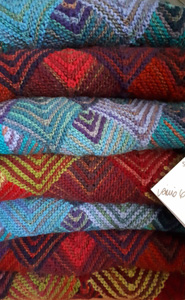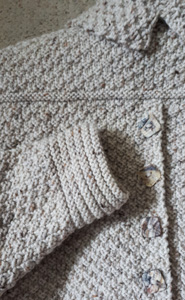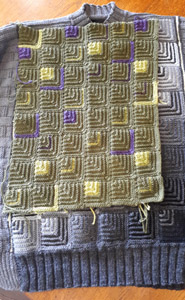 This time of year is new designs with new photos and updates for
sigknit.com and ozeyarn.com - everything gets a shine!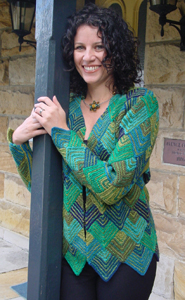 If you can't link to a new design please email jane@sigknit.com for more details of new designs.
Centre above back detail on the Shaker Jacket is very simple double moss. Photos below show the short row shaping on the front hemline as well as the pocket detail.

On the Stone fleck yarn the buttons are 'Mother of Pearl' - large round buttons for the fronts and smaller squares for the back hem to shoulder buttons. On coloured designs buttons are square handmade for the front and triangles on the back.
Above right a stack of Coco Slub A-line Coats.
Back in the design range, with a longer length option than shown above left, plus a few extra tweaks to the pattern. The 6ply variegated yarn, which is worked as every other stripe in each Mitre, really makes these pieces stunning. This will be listed as two separate items on the site - the shorter original Jacket length and the new A-line Coat length.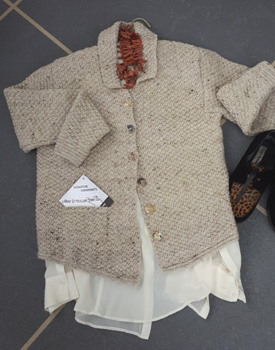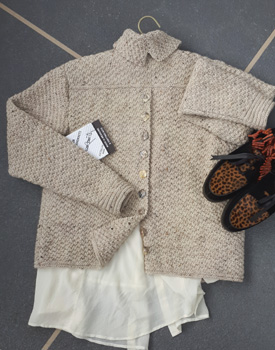 Knitting classes in Sydney postponed!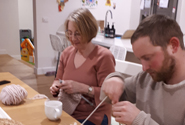 Classes fill really quickly, there is always a waiting list, register your interest now please by emailing your name and which class also weekday or weekend.

Mitre Knitting - 2 spaces left - postponed
Texture Knitting - class full wait list - postponed
Mitre Knitting - always a popular knitting class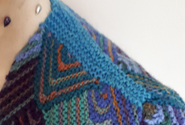 This technique is so simple, simply 2 row stripes with a centre decrease every right side row.

Check out my Youtube video on my home page.
Mitre Knitting Class 9.30am to 12.30pm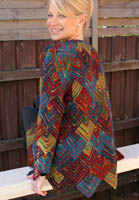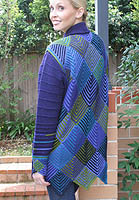 This class is about both the technique of knitting Mitres and garment construction.
First right: Coco Shawl Panel is knitted in panels: a wide panel for the back and a narrow panel for each front. Stitches are then picked up from the long side of the panel and worked into the side seam: the brilliance lies in the fact that any chest size can be achieved. Far Right: Coco Slub, worked with a variegated yarn and then two solid colours per Mitre. I just love this piece: a longer length is also available this year.
Short Row Shaping Knitting Class:
date to be set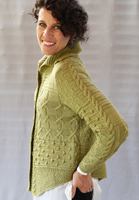 Short row shaping - I am always talking about this as I love to use short rows on my hemlines.

Right Split Texture Jacket has quite exaggerated slope on the fronts. Short rows are also used to shape shawl collars.
Ready made $515 - knit Kit $215 - Pattern $35

Left Byron Aline Coat (in colour Filigree) short rows are used to shape the shawl collar.
Ready made $625 - knitting kit $245
kit = pattern, graphs, yarn & handmade buttons
Finding a pattern on sigknit.com:
go to A - Z Design Index

The easiest way to check what patterns are available is to go to the horizontal navigation bar and select A-Z Design Index BUT to order a pattern you still need to select a colour (this is an old website and pattern option was added later) so one needs to pick a colour for single colour designs by clicking on the rainbow, for mutli colour designs click on an image. If you buy a pattern and decide at a later date you want the knitting kit the cost of the pattern is deducted from the price of the knitting kit.
Patterns now available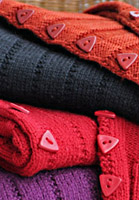 Remember for single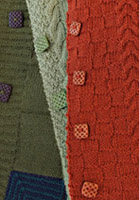 colour designs click on the rainbow and pick a colour - to order the pattern; so for multi-colour designs pick a colourway to order the pattern.

Pattern = knitting instructions, supporting diagrams and graphs required and colour image with notes.
Knitting kits include the pattern, plus Signatur 8ply Australia Pure New Wool & hand made buttons, including a spare.
Colour-matched buttons for
Signatur 8ply shade card
Email if you would like a free shade card. If you are knitting with a different yarn buttons can be made to match when you supply a yarn sample. Square buttons are all handmade as batches therefore it's wise to order a spare (Kits always include spare buttons).

Three sizes in square handmade buttons.
Small = 2 stitch buttonhole/ Medium = 3 stitch buttonhole for Jackets, cardigans and blazers/ Large square 3 stitch buttoholes for long coats.
Triangle buttons are no longer handmade, I created a mould from a handmade button, so triangles are now moulded & dyed $3 each.
To make triangles to match a non-stock colour there is an additional charge.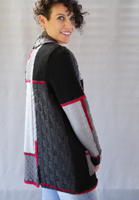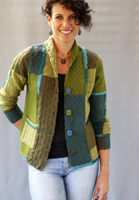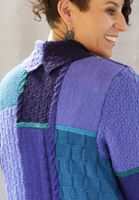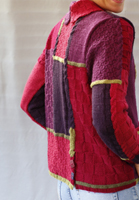 Stitched Up Jacket Pattern $35: Instructions include

7 chest sizes from 32" to 51"chest and two

length options long and short. Colours are worked from written instruction and a diagram with measurement to colour changes. Colourways are knitted in six colours, four main colours and two highlights.
Ready made $525 - Knitting kit $215 - Pattern $35.
Handmade buttons, included in a knitting kit, can also be ordered medium square size $5.50 each/ triangles $3 each.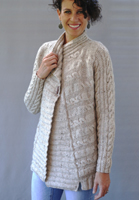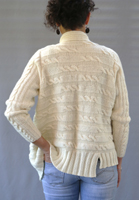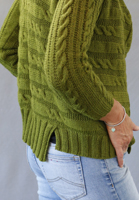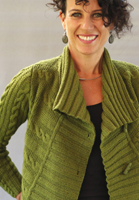 Billy Drape Pattern $35. Instructions have

4 chest sizes to fit 34" to 44" and

two length options. Knitted sideways front band to front band, short rows are worked into the front rib band/ collar and as part of the armhole shaping to create the A line shaping. Hemline ribs are picked up and worked from body down.
Ready made $515 - Knitting kit $215 - Pattern $35
Buttons are Toggles, knitting kit includes 3 toggles $5.00 each, these can be made to order and colour matched.
Windsor Jacket Pattern $35.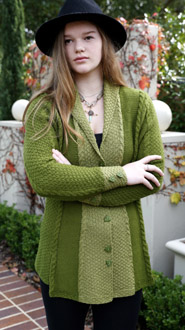 Instructions in 7 chest sizes 32"to 51" chest, supported by diagrams. Simple stitch patterns between cables, body has side seam shaping as well as shaping within body panels and front bands. The two colour combinations enchance the body shaping, which is fuller over the hip than the chest, fitted into the waist and onto the shoulder. Of course this can also be knitted in a single colour.
The back commences as 3 sections, so the centre back panel edged with cables overlaps the double moss side panels, best shown in the green combination below, fronts are commenced in 2 sections. Sections are then joined and worked as one to armhole and shoulder shaping. Front bands are knitted with the front and join centre back for the shawl collar. Front paired button detail added to cuffs.

Ready made $515 - Knitting Kit $215 - Pattern $35
Finished with 10 dyed triangle buttons $3 each.
Handmade colour matched triangles $5 each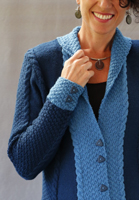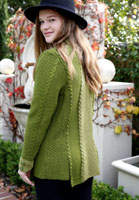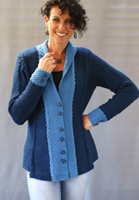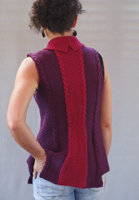 In December I had a lovely day at Bowral Public School Market and reconnected with many customers now living the tree change in the Southern Highlands below sydney.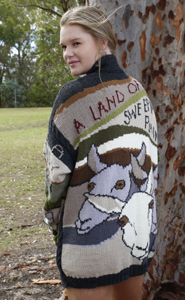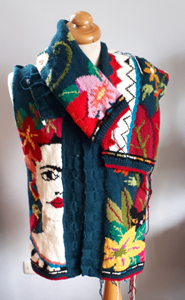 It's always funny working out a familar face when we meet again at a show - we may go back to well - the 1990's and Paddington Bazaar in Sydney:
or perhaps the early 2000's at the Sydney Easter Show or the Australian Craft show?

Then, of course, we catch up with what's changed in our lives, which design they bought and the fact, if everything has changed in our worlds, that their constant is still loving and wearing my (their!) garment.
Swing, Swagger, Drape: it's now a USB stick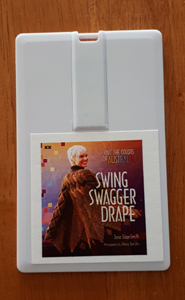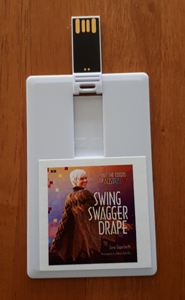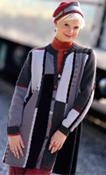 Out of print as a book!
NOW on a UBS stick!
Simply slide into your computer, see every page of the book, print out just the pattern you need!
Perfectly packaged $25
It's all about colour!
Buy to knit yourself or gift your sister,
mum or BF a kit!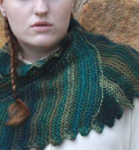 GOMILOTO 8ply in 50g balls back in stock, Italian spun Wool, dyed as fluff before spinning, so when spun long lengths of colour drift through the knitted piece.
Left Green colour 7 & Peach/ Lime colour 4
waiting for New Blue colour 9 and Greys colour 11 to arrive!!!
NEW WICKED HAT purchase from www.ozeyarn.com


inspired by the stage play 'Wicked', wonderful A-symetric playful design.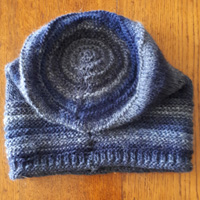 Wicked Hat Two versions on the same pattern.
Both start with 4 rows rib then Corrugated garter - which is simply purl 2 rounds, knit 2 rounds. Now you choose between working st-st = stocking stitch (blue) or as the neutrel sample in R.st-st = Reverse stocking stitch.
The blue (st-st) folds inwards, the neutrel (R.st-st) folds out. With the blue (st-st) the top of the hat, shown left, is slip stitched to the side of the hat. The neutrel (R.st-st) create two folds secure just one side of the hat.
The plaited trim creates the A-symetric slant, and also hides the seam, if like me you don't like to knit circular!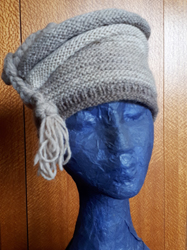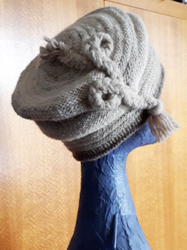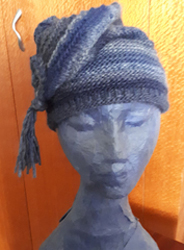 Below Left to right: Wave Scarf in Red Velvet. Yurt hat in Azure and Circular Cowl in Multi Bright combination. NEW COLOUR Azteca Mystery.
All design shown knitted from 1 x 100g ball $20
New Wicked Hat above can be knitted in Azteca original - thicker than Azteca Fine - 100g Azteca will knit ONLY the small size Wicked hat = medium size when completed.
AZTECA original 12ply 180m/197 yds to 100g 53% Wool/ 47% Acrylic



Hope to see you soon!
If you'd like to discuss anything in this newsletter - or anything at all, please
email Jane
.
Thanks for your support - Laura, Petra, Philippa, Cathryn, Helen, Margaret and I look forward to seeing you in the knitting circle!