A chill is in the air as I wait for
the fabulous colours of Autumn
New shows, new markets & new ideas fall into 2018's spell: and Sweaters like you've never, ever, ever seen, knit or known them...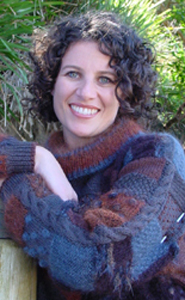 CANBERRA Handmade Market
Sat 17th & Sun 18th March at EPIC 10am to 4pm.
If you love Australian made craft and are planning a trip to Canberra there are now 5 shows every year.
March, May, July, Sept and Dec. Great show.


More detail for shows at bottom of page



SYDNEY Designers on Show Turramurra
23rd to 25th March Fri/Sat 9.30 to 6 pm, Sun to 4pm
I run this so it's a brilliant show! See the Designers on Show newsletter.

I have two small market days at Turramurra so if you can't make Designers on Show I'll have a full range of designs at In Style. At Turramurra Gourmet Market Wed 7th March I'll have limited stock: at In Style Turramurra Sun 11th March I will have a wider range: including new designs of course.
NEW FOR WINTER 2018 - DUBLIN SWEATER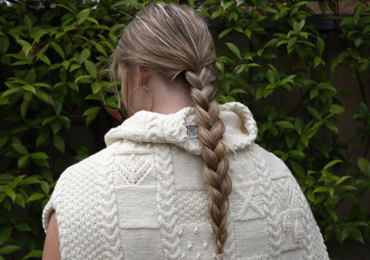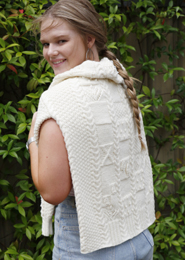 Over the last couple of years I've been asked more and more if I have sweaters as well as jackets and coats. Several designs in my range do have the option to be knitted as sweaters. The Blocks Jumper top above is my take on a holiday and weekend away sweater. However I see it being replaced this year by the Dublin sweater above, new for winter 2018, which I chose to knit in true cream, like a traditional Aran sweater.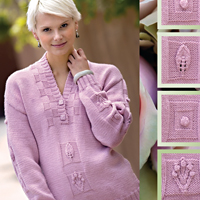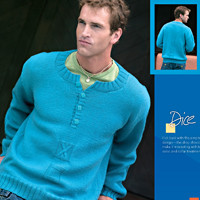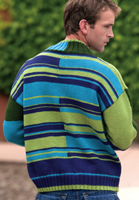 Swing, Swagger, Drape - Knit the Colors of Australia, my book has four
sweater designs. The Dice sweater above, his in blue, hers in pink, each with a different stitch pattern option, as well as collar options which can be applied to either his or hers version.
I still have stock of signed copies of my book, now available in an electronic edition from my publisher www.knittinguniverse.com US $13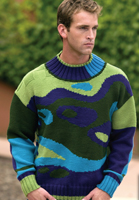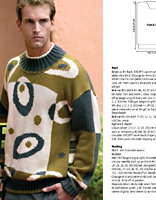 Single colour designs make the stitches the hero of the piece, as well as collar and cuff details. Collars and cuffs present opportunities to play with colour too!



Sweaters create a fabulous canvas for pictures sweaters as the front bands don't split the picture in half! Lava Sweater left and Orbit Sweater right both have the striped back (above left) and sleeves worked into quarters of colours.

So for Winter 2018 I have decided to bring a sweater or two into the Signatur Handknits range.
The Zig Zag Vest and Sweater, centre below and inset left, to show the shoulder & neck buttons detail. This can be with or without sleeves. New colour too which is Mustard fleck.
The Dublin Sweater below left and right, can be made standard size or as shown over-sized, yarn is Stone fleck. Fleck is 100% wool but not machine washable like my solid colours.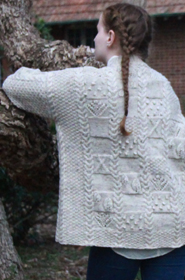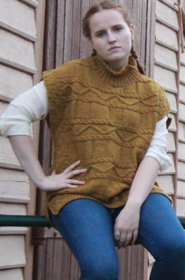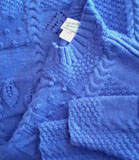 The Dublin Sweater brings a library of stitch patterns together, worked into panels between cables. The cable is called Crab claw and is created by putting two 4 stitch cables next to each other, one twist right and the other left so the cables create this lovely chevron pattern.
The Dublin has several length options, the hemline and cuffs can be worked in Double Moss or rib between the cables, which carries through into the collar.
Penny Jacket, KISS - keep it simple stupid - this is as near as I get to easy knitting, once you master cables you'll just love knitting them!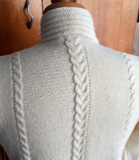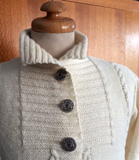 Panels of stocking Stitch and Reverse st-st and yes, of course, cables. The front bands are knitted with the fronts in Corrugated Garter and extend into the round collar, which falls open to create a Vee Shawl collar, but can still be buttoned up high.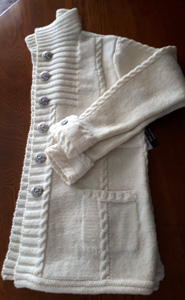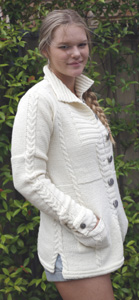 I choose to put K2, P2 rib on the pocket tops of the Penny Jacket, as this mimics the corrugated garter front bands really well.

The centre back cables worked in opposite directions creating the crab claw.
Cuffs are trimmed with a cabled cuff which are knitted separately and then sewn on, button trim optional.

Side seams have a touch of A line and side seam in left opens at the hip for added ease.
Wraps and accessories - fashion statements between seasons
Coco Drape in Azteca
Azteca Fine was introduced last year, dyed and spun to create this long variation in colour which drifts through the garment.

I have used two colours, Denim Blue and Mixed Berry, working mitres with 2 row stripes. The variations in both colours give each Mitre a different colour toning.

Wear as a wrap as the capelets below, except the back hem is sqaure not pointed.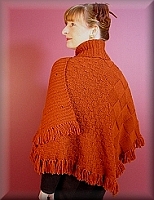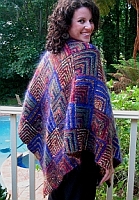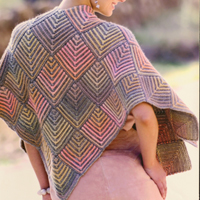 Following from Capelet range, which started with a really simple basket stitch piece called Boxes Step Capelet - left in colour Fox. Centre in Coco Wool & Mohair Capelet and in two yarns the Mitre Capelet which featured in my book Swing, Swagger, Drape.
SHOWS AND MARKETS FOR 2018
Shows and classes on the navigation bar give full details of events for 2018 including the venue, dates and times plus website links. What classes I hear you say - no dates set yet.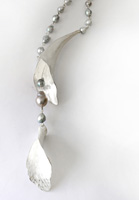 Designers on Show 2018 an All Australian line up of designers and makers.

DESIGNERS ON SHOW

Designers On Show at Turramurra - what a fantastic show!
23rd to 25th March Fri/Sat 9.30am to 6pm and Sun till 4pm.
My next newsletter is for Designers On Show

An All Australian made line-up from ceramics, diamonds, fine art, felting, glass lamp work and clothing from cocktail to day wear.

Turramurra Masonic Hall cnr Pacific Hwy and Turramurra Ave.
There is free street parking and it's a 2 min walk from the station, CanToo Cafe within the show serving morning coffee and lunch.

Prior to Designers On Show I will have two market days.



Gourmet Market at Turramurra Wednesday 7th March
Karuah Park, cnr Karuah & Eastern Rds. 8am to 1pm
I will have limited stock as this is outdoors.

In Style market Turramurra at Turramurra Masonic Centre.
Sun 11th March 9am to 4pm.
I will have a good range and new designs, as well as new yarns.
Carole Tilling with Page Shoes will also be at the market.

Sydney Studio at Killarney Heights. I will be at the studio between shows, but ring first 0427 064 834 as it's not a shop front with store hours.

Coal Loaders Market at Waverton 27th May.
Sydney Craft & Quilt Fair Weds to Sun 20th to 24th June.
CANBERRA has a fabulous line-up of
shows and markets for 2018
Handmade Market Canberra brings together more than 200 all-Australian designers and makers, brilliant ranges and selections of clothing, ceramics, art and gourmet foods.
A huge number of designers apply for each event and I have been accepted for March; I am also listing May dates.

Sat 17th & Sun 18th March -
Sat 5th & Sun 6th May
www.handmadecanberra.com.au

Old Bus Depot Markets at Kingston - another award winning market in Canberra - and Australian made goods. This a weekly market, but I only take a stall twice a year at their Wool Weekend and Fibre Day special events.



Wool Weekend Sat 19th & Sun 20th May - last year they extended this to a two day instead of a one day event - as a stall holder this is brilliant!

Fibre Day Sun 8th July - so fibre includes basket making, in fact anything that can be made out of stranded materials!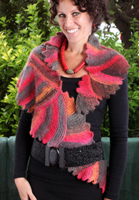 MELBOURNE... well BENDIGO actually!

Bendigo Sheep and Wool Show
Fri 20th to Sun 22nd July

I dropped into the show a couple of years ago and saw several of my garments being worn and bumped into several customers too!
So I have finally worked this into my calendar.
I will be in the Noble Pavilion where the fashion parades are held, I will find out the times for the fashion parades.
Below: Cowls and scarves as knitting kits.

SPECIAL OFFER on www.ozeyarn.com order 3 x 100g balls of Azteca and receive 3 free patterns.

Three Patterns are: Circular Cowl, Wave Scarf and Yurt Hat/ Beret
I have scattered pictures of the hats and wraps above alongside the shows dates.




If you'd like to discuss anything in this newsletter - or anything at all, please
email Jane
.
Thanks for your support - Laura, Petra, Philippa, Helen and I look forward to seeing you in the knitting circle!