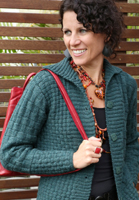 - Special offer: Order 3 fancy Balls and get 3 free patterns - NEW COLOURS TOO!!

- Last market for 2017

That Great Market - New indoor market
19th November
Wellington St, East Lindfield Sydney
Summer is on the way and already the shops are full of colour. My Winter downunder was of course a colourful affair at Signatur Handknits. My wonderfully spectacular team of knitter's still have orders on the needles. Of course the Northern hemisphere is now bracing for winter, with layers of Pure New Wool: I hope! One of my new designs celebrates Wool, which of course means Sheep, it's still a work in progress, as you'll see below. I'll post the progression on the Signatur Handknits Facebook page too.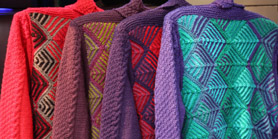 Above and below are 2016/2017 designs plus the re-styled Blocks, one of my classic pieces.
The Cable Chaffey Jacket below is a follow-on from the Chaffey Jacket at the top of the page, both of which are a classic Chanel length.
So my desire is always to bring a little something extra to my designs, which of course is the importance of detail.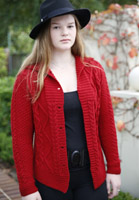 The Mitre Tally Ho Jacket (above) continues to be popular - the fronts are plain and the only giveaway to the detail in the back are the contrasting coloured buttons.

Comparing sales of garments to sales of knitting kits is always interesting. I don't create designs for first time knitters, but I do hope I design with a logic that unfolds as you knit.

I am adding Sweaters to my range in 2018 after making a couple of special orders this year. Some were new designs and others involved translating existing designs.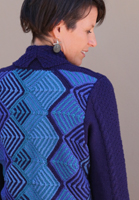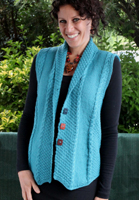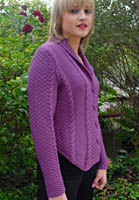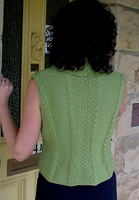 So many, many years ago I knitted an 8ply wool sign for my stand, which I occassionally use. It's 90cm wide and 2.5m high knitted in 12ply with my story knitted into it. Yes i will take a photograph next time I use it! I'll take it with me to Lindfield's "That Great Market" on 19th November!
That Great Market Lindfeild - I will have some very special sale garments with me!
Anyway I decided I should do something as an eye catcher for a sweater. So, ideas have been about sunshine + rain + grass + sheep = wool. Thinking images and of course the whole Australian thing with the wool! Lots of scribbles in my notebooks which is now on my needles.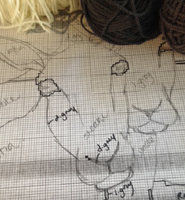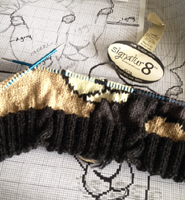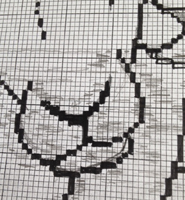 What the flock! I dived in with 3 sheep to start, decided to work in a neutral colour pallette, though I will knit this in two colours as well! I first drew it on graph paper, then I knit the rib before getting to the fun bit of following the graph. Above right you can see how I mark out the image with a Texta following my pencil line, each square equals a stitch. As I work across the row I mark my progress in pencil, which you can see right above.
Even though I know what it's going to look like I still love the process, and of course seeing how adding colour brings the picture to life. It's still a work in progress - and more progress pictures are to come! If you want to follow the progress go to www.facebook.com/signaturhandknits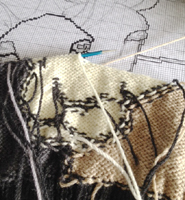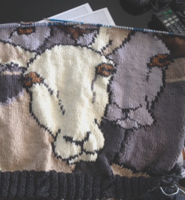 Below: Cowls and scarves as knitting kits.

This range of accessory kits keeps getting more popular so I just keep adding new colours to the range. With Christmas just around the corner these make great gifts for knitters so we'll continue with 15% discount in the lead-up to Christmas.

My Azteca yarn range comes as the original, thicker weight 10ply knitted on 7.5mm needles, last year I introduced the 8ply Azteca Fine knitted on 5.5mm needles. Of course these are larger needles for scarves and wraps, loose and soft.
Left to right in the original weight Azteca: in shades of grey colour Drifters, Azteca is in 100g balls.
Wave length scarf in new colour Red Velvet. Yurt Beret in Azure and Circular Cowl in Multi Bright.
These 3 designs all take just 1 x 100g ball of Azteca and are the 3 free patterns I offer when you purchase 3 x 100g balls of Azteca or Azteca Fine (15% off at present).
www.ozeyarn.com for yarn and pattern orders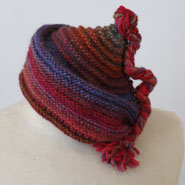 Below Left to right: Circular Cowl in Washed denim, Yurt Beret in Mixed Berries (variation of the Yurt hat in Azure above and Sunset Sky left). Circular Cowl in Lichen and a new design "Two the Point" knitted in new colour Peachy Pink.
All of these again require just 1 x 100g ball of Azteca Fine.

The Yurt hat pattern includes both styles, upright hat left and beret style below. The Hat is knitted straight-sided, while the Beret (below) commences with increases, then decreased back to the original stitch count. Before working the top of the hat I have added Reverse st-st 5 rows which lets the knitting turn nicely before working the decreases into the top of the hat.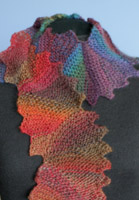 SPECIAL OFFER on www.ozeyarn.com order 3 x 100g balls of Azteca and receive 3 free patterns.

Three Patterns are: Circular Cowl, Wave Scarf and Yurt Hat/ Beret

Left shows how the short row shaping creates wedges, working 2 wedges right and 1 wedge left to create a horse-shoe shape scarf.

Below: Yurt hat in Sunset Sky, Wave Scarf in Fall Patina and the Circular Cowl, this time knitted with 2 x 100g balls to create the extra length color Blue Lagoon 7851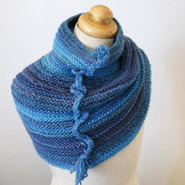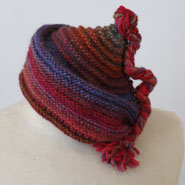 If you'd like to discuss anything in this newsletter - or anything at all, please
email Jane
.
Thanks for your support - Laura, Petra, Philippa, Helen and I look forward to seeing you in the knitting circle!