Subscribe now to be added to our mailing list. You will receive our newsletter, containing the latest news and offers from Signatur Handknits.
Sydney Pop-UP store plus a NEW Canberra show!
Signatur Handknits and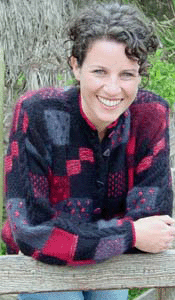 P
age Shoes
are Popping up together in Lane Cove.
I have been thinking about a pop-up show for some time; so when Carole from Pages Shoes asked me to join her for 3 days in Lane Cove (Sydney) I jumped at the chance. Carole usually brings her designs to the Turramurra show, but missed out this year, so not wanting her northern suburbs clientelle to miss out came up with this idea!

It's on for just 3 days from 10am to 4pm (Saturday till 2pm)
Thursday 23th to Saturday 25th May.
S
hop 12 in Lane Cove Plaza next to Gloria Jeans coffee.
Plenty of parking in Lane Cove.
We have a lovely shop window, so come and say hello!
Page Shoes & Signatur in Lane Cove
3 days only 23rd to 25th May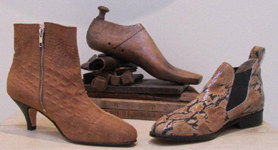 Page Shoes are a family-owned business, like
Signatur Handknits they offer a bespoke service.

Pick your shoe, boot or sandal style, pick the heel, choose the toe, then the leather or suede. Why not add a buckle or bow? Then you have your unique shoe made for you!
Wool Week 19th May Canberra
The award-winning Old Bus Depot Market annual Wool event brings Australian made goodies from across the country - on at Kingston Bus Depot Sunday May 19.
Handmade Market Canberra
Weekend of June 8th & 9th
I joined
Handmade Market
, Canberra's Fashion and Food day in early May. It was great to see many of you there, and the show also brought lots of new customers! An excellent show.
I am now joining their 2 day weekend market for the first time at the Canberra convention center which is a great venue. It is also knit in public day - funny name but the penny dropped when I saw it shown as KIP - pack your 8mm needles - see you in Canberra!
KIP - Knit in Public Day! @ handmade market
Wave Wrap
and
Wave Scarf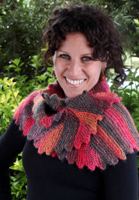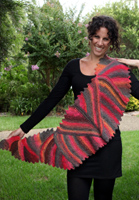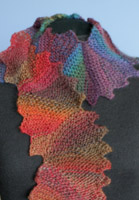 Short row styling. This
Wave Wrap
(larger) and
Wave Scarf
(two colour) both in Tonalita have been great fun pieces. Check out the colour choices at
www.ozeyarn.com
Youtube
Mitre knitting
over 1,000 viewings!
My Next Youtube is in the making - if you 'Subscribe'you'll get a notification when the next 'Intarsia' and 'Style' Youtubes are loaded.
You can also join the
Signatur Handknit group on Ravelry
to receive updates!
Sydney Quilt & Craft Fair at Darling Harbour
Always a great show, something to inspire all crafty fingers!
I am on Stand B42 again at the back of Hall 1 - so you can sit and have a coffee and contemplate your next knitting kit - watching from afar you will see lots a garments been tried on and often see something worn that didn't appeal on the hanger!
Melbourne Quilt & Craft Fair July 26th to 29th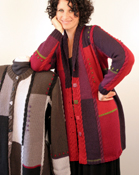 July 26th to 29th see's my only visit to Melbourne this year. The show was fabulous last year, with lots of you popping by to twirl in the designs you have knitted from Swing Swagger, Drape - thank you.
Coming to UK in October 2013

I have 2-day workshops planned
across the South of England.
Full details soon.
Fun with Mitres
More and more knitters are discovering how simple this coplourful technique is - these are also quick fun projects for winter:
Mitre Socks
on the left and
Mitre Gloves
on the right!
USA classes - Early October 2013 - more details soon

If you'd like to ask a question about anything in this newsletter - or anything all, please email Jane. Thanks for your support - Laura, Petra, Meg, Sue, and I look forward to seeing you in the knitting circle!