Signatur Handknits
2021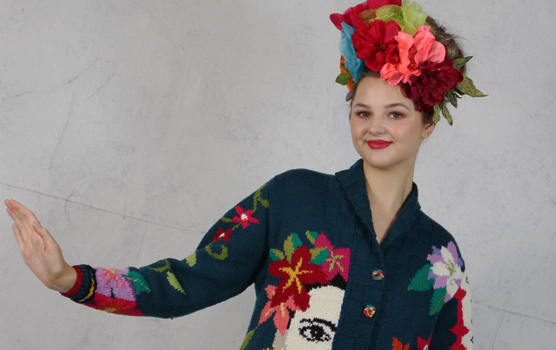 Thank you for supporting
Signatur Handknits - live and online
https://signatur-handknits.myshopify.com
I am regularly adding designs to my new website, check it out!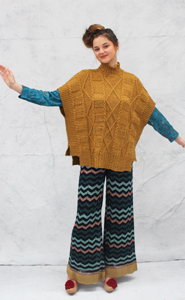 I had a fabulous day at The Coal Loader Artisan Market. My first customer of the day Suzanna brought her 21-year old daughter along as wardrobe consultant.

Suzanna purchased her first Signatur Handknit at Paddington Market in 1992. She has added more than a couple of garments over the last 29 years!

The Santa Fe Jacket (below in Blue) joined her collection and her daughter purchased her first Signatur Handknit, the Diamond Tunic (left).
SHOWS FOR JULY POSTPONED!
Woodstock Artisan Market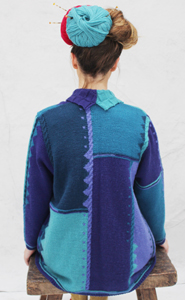 Postponed
Burwood community Centre
Eden Gardens Artisan Market
Sun 8th Aug 10am - 3pm
Eden Gardens Centre Ryde - cafe

Sydney Craft & Quilt Fair
Postponed Wed 1st to Sun 5th Sept
The Dome at Homebush 9am to 4pm

please check if they're still going ahead before heading to the show
I'm still here on the phone or online!
what's happening with shows & markets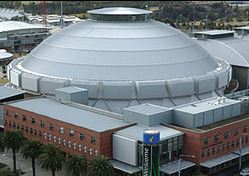 Sydney Art, Craft and Quilt Fair
NEW DATE SEPT 1 to 5
This show gives you a chance to get hands on classes, from 1 hour to 3 hour duration, or simply enjoy watching a demonstration.

Weds - Sun 9am to 4pm - book and pay for tickets and classes in advance to take advantage of discount offers.
From this week NSW residents will be able to use their $25 Discover NSW vouchers to buy tickets to the Sydney Craft & Quilt Fair in advance before the August 31 expiry date.
Bendigo Sheep & Wool Show - meet the sheep, watch sheep dog trials or watch the fashion parade in the Nobel Pavilion.
Melbourne Australasian Quilt Convention - postponed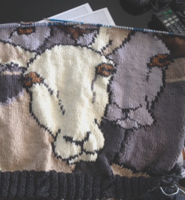 Melbourne Australasian Quilt Convention


postponed to Feb 25 - 27 2022
I will look at the Melbourne Quilt Fair
11 - 14 November
Woodstock Artisans Market
10am to 3pm

Burwood Community Centre
22 Church St Burwood Sydney Postponed
Signatur Handknits will be in the Fitzroy Hall

The Artisans Market showcases Australian designers and makers of unique art, ceramics, jewellery, homewares, fashion, accessories & children's wear.
Located within the grounds of the heritage-listed Woodstock Community Centre and gardens and just 10 minutes from Burwood train station.
Eden Gardens Artisan Market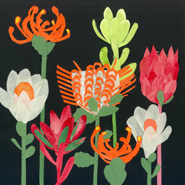 This is a new market for Signatur handknits
Sun 8th August Postponed
Brings together Australian designers and makers of unique art, ceramics, jewellery, homewares, fashion, accessories.

Located in the grounds & rooms of Eden Garden Centre
105 Lane Cove Rd, Macquarie Park, Sydney.
Make a day and book for lunch
Signatur Handknits appeal to two very different clients
I have many hand knitters looking for an inspiring new kit project but I also have plenty of non-knitters who look intimidated when I ask if they knit - when all they want is to appreciate the skills of a knitter by loving to wear handknits! It's a perfect match!
What is important for both clients is buying Australian wool, direct from the designer/maker, handknitted in Australia.
At shows it's really easy to spot the handknitters, as they approach a garment in quite a different manner than a non knitter! For a knitter the wrong side of the knitting tells just as much of the story as the right side of the knitting.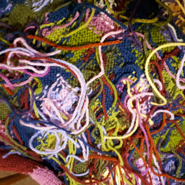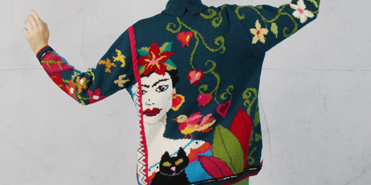 Above is the wrongside of a picture sweater, this is like painting by numbers for hand knitting, using the most challenging techniques: the picture unfolds as you knit like pieces of a jigsaw puzzle. Intarsia is worked from a graph with a square of the graph as one stitch of the picture.
Below left, Blocks design, knitted from a graph again, but much less complex, as it's squares of pattern. Centre below the Bee Bee Jacket is knitted from a diagram with measurements to colour changes: it's still the Intarisa techniques with a ball of wool per area of colour.
Right the Coco Shawl Panel, knitted in garter stitch Mitre squares in two row stripes, sounds and looks complicated but isn't! This is the easiest technique to bring a colour story to your knitting needles! Youtube video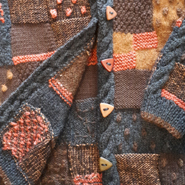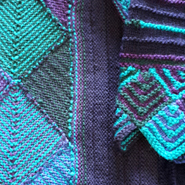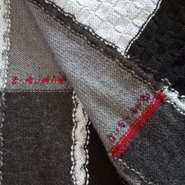 Left to right: Blocks Cardigan, Bee Bee Jacket and Coco Shawl Panel Cardigan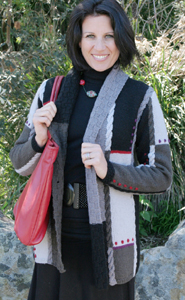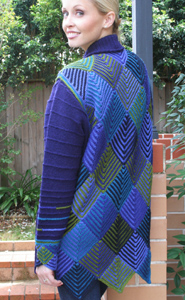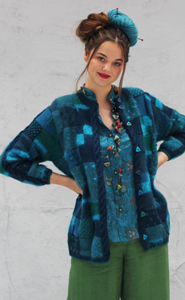 Opportunities to learn abound
during lockdown, from baking bread and cakes to gardening and hand crafts: embrace it all. For my part, I've had a huge uptake of my free Textured pattern scarf, finally beautifully photographed.
Email jane@sigknit.com and a pdf of this pattern will be emailed to you.
TEXTURED SCARF FREE CLASS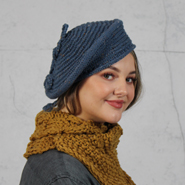 Apart from being a great scarf the class objective is to teach some basic stitch patterns, starting with knit garter stitch.
When we combine Knit and Purl stitches we create rib.

Each stitch pattern is worked for 18 rows - if you can rib you can basket stitch, moss stitch and woven basket pattern. I hope this helps you to learn to recognise the knit and purl stitches, count stitches and count rows. It's a great foundation to knitting basics which allows you to step up to your next project.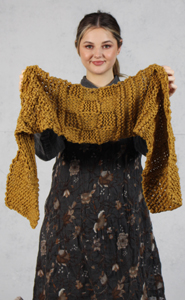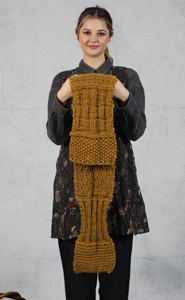 Please join Jane's daily visual feast on Social Media
Facebook.com/signaturhandknits
Instagram.com/signaturhandknits
Studio Open Days
Jane's Sydney Studio is open by appointment - maximum of 2 people, please.
jane@sigknit.com 0427 064 834

Simply call 0427 064 834 and make a time, one customer at a time, 2 people maximum (let the other be a wonderfully lovely BF, mum, sister, daughter, aunt or brother: husbands of course welcome but under strict terms and conditions) Please email
jane@sigknit.com Signatur Studio Ballyshannon Rd, Killarney Heights NSW 2087.
Looking for a Pattern?
Finding a pattern on sigknit.com:
go to A - Z Design Index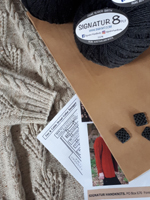 To purchase JUST the PATTERN you still need to pick a colour or colourway! Sorry, but it's a website rule. (until some smart IT person trades their suggestions for a kit for their BFF)

Pattern = knitting instructions, supporting diagrams & graphs, colour image with notes. For single colour designs
click on the rainbow and pick a colour.
For multi-colour designs pick a colourway to order the pattern.

Knitting kits include the pattern, plus Signatur 8ply Australian Pure New Wool yarn & hand-made buttons: plus a spare.
It's all about

.....

Colour!
Buy to knit yourself or gift your sister, mum, daughter, Nana or BF a kit they will love for the challenge!
NEW YARNS COLOURS Wave Wrap
Wave Wrap kit or finished design can be purchased from www.ozeyarn.com A playful piece worked with short rows in two sections with centre back seam.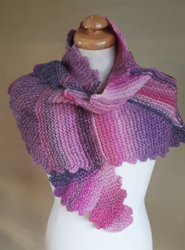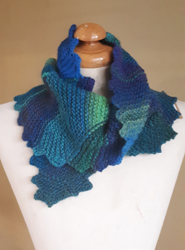 Above: Azteca in Pink/ Smoke. Centre Joker in Caribbean. Azteca Fine in Purple/Khaki.
The Wave Wrap comes with the pattern and the yarn. The price varies as thicker yarn requires more yardage. Azteca Fine $45 Azteca $65
NEW DESIGN: Basket Stitch Wrap, again varies with yarn selection.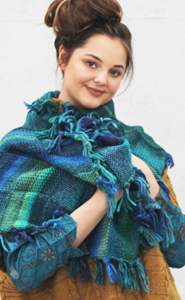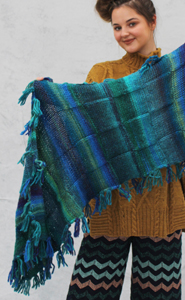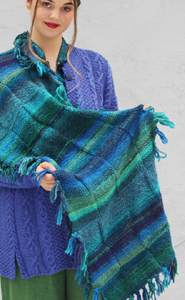 Below Muffin Top Hat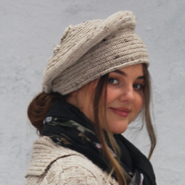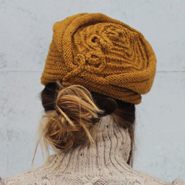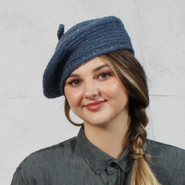 Hope to see you soon!
If you'd like to discuss anything in this newsletter - or anything at all, please
email Jane
.
Thanks for your support - Laura, Petra, Philippa, Cathryn, Helen, Margaret, Annette and I look forward to seeing you in the knitting circle!