Downunder we're sizzling while
up north you're shivering!

So I thought the hot pink Polar Bear reflected both hempispheres!
He'd be fun to knit but he isn't knitted.

My new designs for 2019 are almost complete, so I've snuck in some not-quite-finished garments below! I shared a few of my Frida Jacket in my last Newsletter #92, including the handmade buttons.
Very knittable is the Shaker Jacket, with a pocket detail $ a little short row shaping, as well as new notched lapel collar design.
Mitres also feature with a sweater using them in colour drifts.
Woodstock Artistan Market brings Australian designers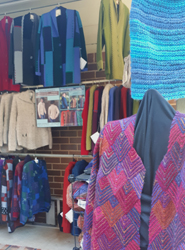 and makers together in an 1871 mansion setting at Woodstock Community Centre, Burwood. it's on soon: Sunday 10th February.
This will be a quarterly market and you'll find me indoors though the market extends into the family-friendly grounds. Woodstock 22 Church St, Burwood 10am-3pm.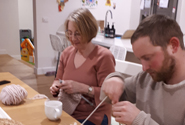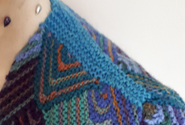 April Knitting Classes for 2019
Email Jane at jane@sigknit.com
Above: Shoulder detail on the new version of the Coco Slub in Blue is also shown below, above right is my stand at Bowral market last month. It shows the red version in the Coco Slub, also shown below on the mannequin. Yes, it's a remastered version of the pattern: it's longer, there's new shoulder detail, a buttonband option and notes on adjusting armhole depth: and oh, so much more.
Below shows mitres again - drifting Mitres from light to dark, while the sleeves are in basket stitch. It's only waiting for a collar: it has a high Vee neck.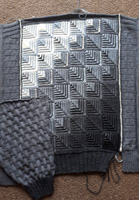 Bowral Public School Market 9th February
Saturday 8am to 1pm
Sydney- Woodstock Artisan Market
10th
Feb
22, Church St, Burwood Sunday 10am - 3pm

Sydney 'That Great Market" Lindfield 17th March
Sunday 9am to 3pm Wellington St
Canberra Handmade Market 23rd - 24th March
Saturday and Sunday 10am to 4pm EPIC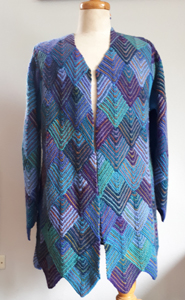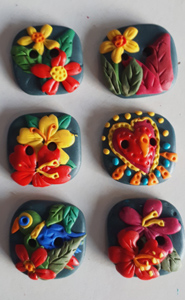 Knitting classes in Sydney April 5th & 6th.
Classes fill really quickly, there is always a waiting list, register your interest now please by emailing your name and which class and whether you'd like a weekday or weekend.

Friday 5th April 9.30am to 12.30pm Mitre Knitting
Saturday 6th April 9.30am to 12.30pm Texture Knitting

Open Studio Friday April 5th from 1pm but of course you can come to the studio anytime, simply call and make a day and time please 0427 064 834

Below: Mitre knitting with my fan club in the USA, mine has Mitres on the back too!
Below Right: In Sequoia coloured yarn is a close-up of the Byron A-line Coat.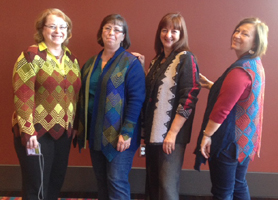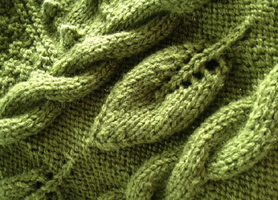 Mitre Knitting class - this is always a popular knitting class.
This technique is so simple, simply 2 row stripes with a centre decrease every right side row.
Check out my Youtube video on the www.sigknit.com home page.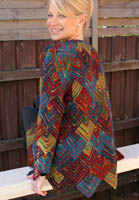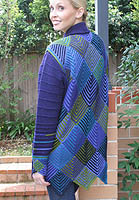 Mitre Knitting Class 9.30am to 12.30pm
Friday 5th April

This class is about both the technique of knitting Mitres and garment construction.
First right: Coco Shawl Panel is knitted in panels: a wide panel for the back and a narrow panel for each front. Stitches are then picked up from the long side of the panel and worked into the side seam: the brilliance lies in the fact that any chest size can be knitted.
Far Right: Coco Slub, worked with a variegted yarn and then 2 solid colours per Mitre. I just love this piece: a longer length is also available this year.
Texture Knitting Class: Saturday 6th April 9.30am to 12.30pm.
The Byron Aline Coat in Filigree Blue is a perfect example of the use of textures, the class will look at cables, lace leaf and bell stitches which are the foundation to many stitch patterns.
With knitting classes at the studio I can demonstrate many stitch patterns from my range.
Far right in Brick Red is the Cable Chaffey Jacket.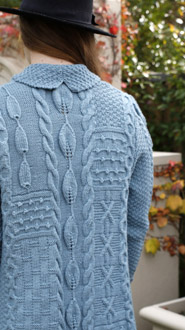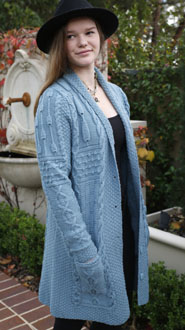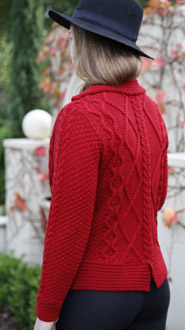 I have two more classes planned, but have yet to set dates, you can still email me and register your interest and let me know if weekday or weekend works best for you.
Short row Shaping Knitting Class. Date to be set - please email jane@sigknit.com - weekday or weekend

Short rows have so many and varied applications. Short row is an incomplete row, where you turn the knitting without completing the row. I've included step-by-step instructions for short rows below too.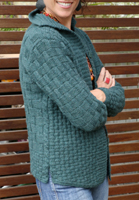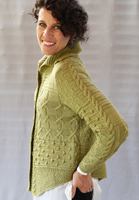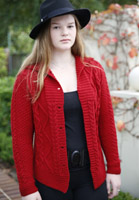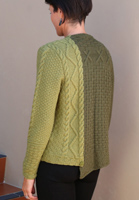 Short row shaping - I am always talking about this as I love to use short rows on my hemlines.
Left to right: Chaffey Jacket left in mid green. Cable Chaffey I used short row shaping after the rib.
Amelia Jacket in two greens (above) has short rows only on the right back, creating an uneven hemline. Far right Split Texture Jacket has the most exaggerated slope on the fronts and has
short row shaping at the back neck. The back shot of the Byron (in Filigree blue above left) shows the centre back of the collar, which has short row shaping incorporated into the back neck.
Intarsia knitting or picture knitting. Date to be set - please email jane@sigknit.com - weekday or weekend?
This class will start with simple Intarsia: from a diagram we'll work blocks of colour and understand how to link the colours to avoid holes. we'll also learn how to introduce a new colour to the needles. How to end off a colour is also really important and will be covered. We'll also venture into looking at graphs for some real Intarsia work. Below left to right: Stitched Up Jacket short length. Dora Jacket. Metro Swagger from my book Swing, Swagger, Drape - Knit the Colors of Australia. And finally below right, my niece Gabrielle looks stunning in the Windsor Jacket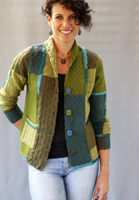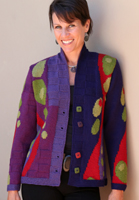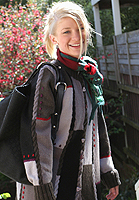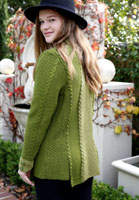 How do I find Signatur patterns on the web site?
The easiest way to find which patterns are available is to go to the horizontal navigation bar at the top of signknit.com and select Designs A-Z After you've found what you're looking for and want to order a pattern you must select a colour (the pattern option was added later on the site). Yyou needs to pick a colour for single colour designs by clicking on the rainbow. For multi colour designs simply click on an image. If you buy a pattern and decide at a later date you want the knitting kit the cost of the pattern is deducted from the price of the knitting kit.
Swing, Swagger, Drape: it's now a USB stick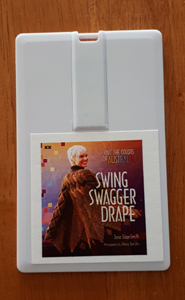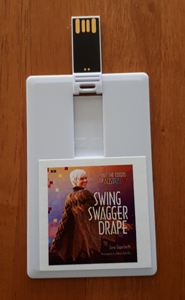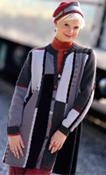 Out of print as a book!
NOW on a USB stick!
Simply slide into your computer, see every page of the book, print out just the pattern you need!
Perfectly packaged $25
Right: Wave Cowl has one seam and really
highlights this same short row technique. Starting with 35sts, colours really show how the wedges work to a narrow point. The sercret of no holes is working a wrap and turn each short row - far easier to show in pictures - see below. One wrapped stitch end of each short row, stitch and wrap are held (out of action) until short rows are completed. When a full row is worked the wrap and the stitch are knitted together as one.
All these pieces are sold as knitting kits and of course as ready-made at shows.
If you're interested in purchasing a hat, scarf or wrap but you're not a knitter, just email me and I'll send some images of what stock I have in these pieces ready made.
The wave scarf (below right) is knitted with short rows. Short rows create wedges, I have knitted one left facing wedge, then 2 right facing wedges to create a horse-shoe shaped curve to the scarf
.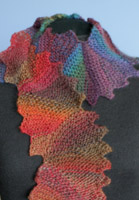 Short rows are simply incomplete rows. They have so many uses, and there are so many methods that looking at Youtube can be overwhelming.

I took some shots today whilst working on a sample in a new colour of Azteca: Ruby Nights. If you want to pick up your needles and have a try, you can use any yarn and any needles. It's garter stitch knit all rows.

Cast on 17sts. Obviously the image below shows I am part-way through the scarf, having already worked 6 wedges.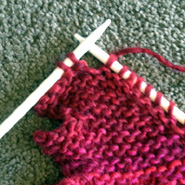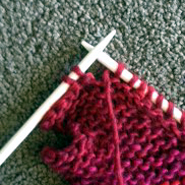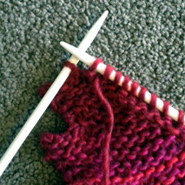 Above left: So with 17sts cast on work only 15sts for your first short row.
The piece is garter st so knit all rows so the yarn is at the back of the work.
Above centre: Bring the yarn between the needles to the front of the knitting.
Above right: Slip next stitch left to right needle without working the stitch.
Below left: Take yarn back between needles (single unworked stitch on left needle).
Below centre: Turn knitting to wrong side - so the single unworked stitch is now on right needle.
Below right: Slip the next stitch left to right needle (same stitch previously slipped).
Take yarn between needles and knit to last stitch.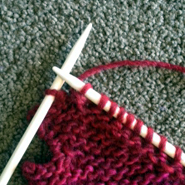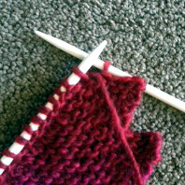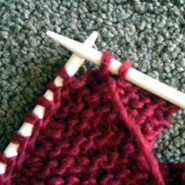 Zig Zag edge of scarf is created by increasing stitches the end of the wrongside row - a full row. When we cast the increase stitch off we create the points of the zig zag.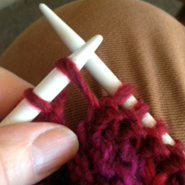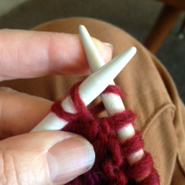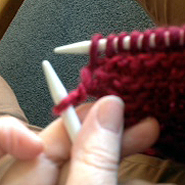 Work wrongside row (full row) until 1 stitch remains unworked.
Above left: Pick up the yarn from between the stitches of the previous row. Can you see how large this loop can be pulled leaving a hole?
Above centre: Knit through the back of the loop for a firm stitch, no hole.
Above right: Increase stitch completed, knit last stitch of row.
Short Row Summary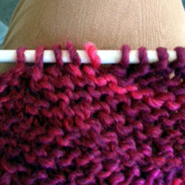 Row 1: K15 left 2sts unworked - we slipped and wrapped the 16th stitch, the 17th stitch was unworked on left needle.
Row 2: Knit to the last stitch, M1 = make 1sts, K1 = 18sts.
Repeat Row 1: K15sts - as we have 18sts this will leave 3sts unworked - wrap and slip the next stitch - so 2sts unworked.
Row 4: As row 2 knit to last stitch M1, K1 = 19sts.
Repeat twice more = 21sts - this means you have worked 4 short rows and 4 increases.
Beginning of next short row cast off 4sts (Below left). K11 (instead of 15sts). (below centre). At this point it's really good to look at the stitches over the row. Can you tell which stitches have been wrapped? You'll learn so much simply by looking at the knitting, make fewer mistakes and when you do make a mistake find fixing it so much easier!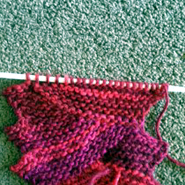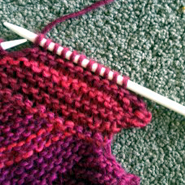 Repeat short rows and increases. After next 4sts cast off K7 to next wrap stitch.
Complete 3rd cast off 4sts (right centre). Continue row after cast off, K4, the next 11sts have wrap at base of each slipped stitch.
The slip stitch and the wrap below need to be Knitted as one stitch.
Left below: With point of right needle pick up the wrap at base of stitch, then knit the stitch, shown centre. Lift the wrap (brighter stitch on right needle) over knit stitch.
Below right: This has been knitted without knitting the wrap and the stitch so there are holes/ elongated stitches.
Above right: You can see how, when the wrap and the stitch are knitted together, there are no holes along each section of the wedge.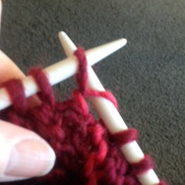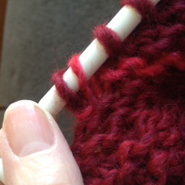 It's all about colour!
Buy to knit yourself or gift a kit to your sister,
mum or BF!
NEW
GOMILOTO 8ply in 50g balls, finally a Pure New Wool in this style of yarn, dyed as fluff before spinning, so when spun long lengths of colour drift through the knitting.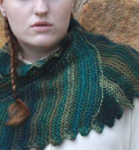 Azteca Fine 8ply 100g ball


with 270 metres 53% Wool/ 47% Acrylic
Each design below requires 1 ball $20 + pattern.
Azteca Fine C

ircular Cowl in

Washed denim & Beret in colour Mixed Berry. The Beret and the Yurt hat below are both from the one pattern.
Azteca 12ply in 4 NEW COLOURS
Below Left to right: Wave Scarf in Red Velvet. 100g balls Light grey to black new colour Drifting. Yurt hat in Azure and Circular Cowl in Multi Bright combination.
All design shown knitted from 1 x 100g ball $20



Hope to see you soon!
If you'd like to discuss anything in this newsletter - or anything at all, please
email Jane
.
Thanks for your support - Laura, Petra, Philippa, Cathryn, Helen, Margaret, Emily and I look forward to seeing you in the knitting circle!