Ruth
Have images of UK knitter - pro photos and her story to use
Rest and Relaxation
Having just worked 14 days and 11 hour days at the show I have booked myself a few days up the coast horse riding, of course my knitting will be going with me. The cost includes meals - they also have a spa - so I may need to find some yarn that will float!
Wool Week 20th May Canberra
The award winning Old Bus Depot Market annual Wool event brings Australian made goodies from across the country.
Wool week maybe my last visit to Canberra this year, as 2011 saw the final Creators and Designers in Canberra at the beautiful Old Parliament house. However as a group we hope to bring Designers on Show to the Timber Show in Canberra.
Sydney Quilt Fair Darling Harbour
Always a great show, something to inspire all crafty fingers!
This year I have relocated to the back of the Hall, so you can sit and have a coffee and contemplate your next knitting kit - watching from afar you will see lots a garments been tried on and often see something worn that didn't appeal on the hanger!

SYDNEY knitting Classes June
The 3 days of classes at the Uralla Wool Room was great fun. I am now putting classes together for June 22nd, 23rd, 24th.
Classes will include "Fit & Style", "Mitres by Design", 'Intarsia" and "Texture". To register your intereste please email me jane@sigknit.com
July 26th to 29th see's my only visit to Melbourne this year. The show was fabulous last year, with lots of you popping by to twirl in the designs you have knitted from Swing Swagger, Drape - thank you.
Melbourne July 26th to 29th
URALLA WOOL ROOM - Knitting Classes
USA Stitches East 2012

I didn't travel last October to the USA and the UK, as I needed to put my energies into new designs. 2012 I will be back at Stitches East 10th to 14th October. There will be other events added to the claendar, which I have yet to confirm.

Stitches show bring fashion parades from both the show retailers, plus a studen fashion parade, where knitters can show off their work and share their passion too. As adesigner this gives me a chance to see what every body is knitting out there!
UK 2012 to be confirmed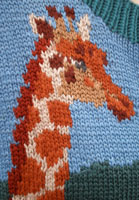 It is providing pretty hard to schedule a show into this 2012 winter for the UK. I am discussing my attendance wit one show in Manchester. I would love to hold some knitting classes too. I have some loyal customers in the UK and classes give me chance to spend more time with them.

I had a lady into the last show, who said she thought she was a good knitter until she went to a class. As she said you don't know what you don't know until you take a class!!!

Fit & Style is a class I have been tercahing for sometime - how to adjust a pattern to fit you - for most of us this is about the shoulders of the garment sitting onto the shoulder, for some it is adding a little Aline for a little more room i the hip.

Merrin - picking up the drops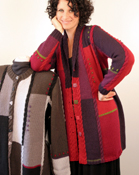 Picking up the drops - be they dropped stitches or pattern errors and my terrible spelling! Merrin Marks joined the Signatur team last year, firstly working on established patterns with alterations, options and additions.

Now with a fuller understanding of my designs Merrin is working on new designs, as well as formating knitting classes for the USA shows.

Let Merrin tell you a little about joining the team.

Texture - cables, traveling stitches, bobbles and bells!

Intarsia - one of my favourites. Within 15 minutes you will be knitting vertical stripes - or 'simply' intarsia - this class is about taking the tangle out of Intarsia.

NEW Designing with Mitres - I have had great fun with Mitres.
Garment construction is so different with Mitres, so to understand the design process explains the garment construction. Called modular knitting, as you knit each square, the next mitre is picked up from the edge of the first mitre. This creates garments with no side seams just shoulder seams. I show garments and demonsrate how I worked with Mitres to create A line and swing styles. The class gives the student an understanding of how to check tension when knitting a design on the diagonal, plus hints and tips on joining yarns and ends.
Mitres by Design - this class is about getting hands-on with the knitting of Mitres, which are pretty simple. Hints and tips within the class will almost elimate sewing in ends, tricks for picking up stitches for increase and decreasing of stitches and much more.
STORIES TO SHARE
This needs to be about the district exhibit and include the photo's I took at the show.

To say people marvel and something can be hand knitted, whilst i marvel at the jars of pickled Vegies!

Easter show brings the country to the city - camp drafting, rodeo and barrel racing were part of the evening main show ring entertainment (how many peope does the main arena seat?
If you'd like to ask a question about anything in this newsletter - or anything all, please email Jane. Thanks for your support - Laura, Petra, Meg, Sue, and I look forward to seeing you in the knitting circle!