'Silly Season'
In England Christmas and New Year are often called the 'Silly Season' - certainly in Australia it is the silly season for knitting being a little warm, guess that makes me a little crazy! In the colder climes I guess it's the season for cabin Fever - which is easily avoided by having sufficient projects to knit!

Like many of you to me knitting is an indulgence! Multi tasking, as we all do,
I am watching a slide show from the last two years of teaching and traveling. I have managed to work a couple of these into this years infrequent newsletters, but I have been saving a couple to share with you now.

Jan Lee's wonderful story of discoevring her first real yarn store - I know many of you who live in more remote area's you will relate to who much of a treat a yarn store is.


I met Jan Lee at a Stitches Event, now a couple of years ago. I hope I get her story correct, please forgive me Jan if it's a little wrong Jan. I have to tell you she is one of the best knitters I have come across - she is passionate, not just about knitting but hungry for knowledge too. Jan joined two of my classes, at the first class Jan was wearing an angora blend knit, to which she had added beads to create a lovely shoulder detail, so her eye for detail is good.
So before discovering yarn stores Jan bought red heart acrylic yarn from chain stores.
Then on a family holiday Jan discovered her first real yarn store. Her husband saw she was transfixed by the store window and offered to take the kids off for a hour. Jan stayed until closing time, spell bound by the colours, touching and experiencing the handle of different fibres - never mind the patterns!
There is nothing like the real thing!
IMAGES _ yarn store - New York


Last November I had two days off in New York, it had been a couple of years since I had been there, so I caught up with Vogue Knitting's editor Trisha Malcolm a fellow Aussie. It was 11th November and we were meeting at noon. I love to walk in New York and headed from 31st street towards 6th Ave. The side streets became crowded with the marching bands, preparing to join the remembrance day march. I arrived to see the Vetian Vetrons on Harley's heading up the parade.


Ribbons and Bows - still in New York - the following day I set off to do 'Arty' stuff and had my plan ending at a yarn store. A shop window caught my eye. My mother loves tassels, soft furnishings. This place was huge -
walls and walls of colour - trim's with beads, sequins, crystals, braiding with twists turns and spirals! They very generously allowed me to take some shots, so here we are. I bought samples of three ribbons as gifts, of course one for my Mum which matched a fabric she purchased in New York when she was 21 - now sixty years ago! My own piece of ribbon is hanging on my bedroom wall as my starting point for a bedroom make over!

Work again - I have had three months without shows or classes - time to design! I love all the teaching and traveling, but I was starting to have sleepless nights, as all my design ideas were fighting to get out of my head. From idea to swatching, rough pattern draught can take anything from a couple of days to a couple of weeks. Occassionally I loose all discplie and simply scrible and knit - pretty unprofessional - but sometimes you just don't want to play by the rules anymore!
I don't like show and tell until the goods are ready to go - is that's another rule I should break for the silly season?
I have again been playing with Mitres, the end of last season I introduced the Miami Drape design, with the back panel with the Mitres knitted sideways creating a vertial Zig Zag pattern. This is in nutrels I am now playing with colour drifts.
PIC scan patt

So let's talk Fit and Style
Presently we are seeing lots of no fit styles/ over sized pieces. This over sized styling can suit all bo
OFF SPRING - xrx vest + sleeves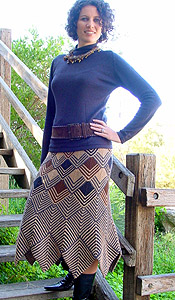 We all see super models looking fantastic with legs up to their arm pits - guess what - when you are over 6 foot tall you have trouble buying 'off the rack' sizes too.
How discouraging it is when something doesn't fit - you either give up knitting or become a scarf addict!

I know I have talked about this before and we all have busy lives - could I make this work. When hubby is watching sport on TV can you have your time with your knitting? My ideal day is knitting whilst watching a couple fo movies (the phone not ringing!). I use to knit in the lecture theatre at univercity, I did get complaints about the clicking!!
Styles
Classis channel - Jackie Kennedy - short jacket to the hip, straight skirt - neat shilouette
Fitted Jackets - Australia's prime minister Julia Gillard is a classic pear shape, we see here wearing fitted jackets the tie high waisted detail on the lapel, a shoulder pad bringing the eye up again, this also says she means business.
Shoulder pads and sleevehead treatments are back in fashion, but the humble small shoulder pad can change a cardigan into a jacket. They may not always be the fashion, but when structure is required in men's tailoring or womens winter jackets - there is the shoulder pad!
Unstructured - dropped shoulder, square, dropping at the side seam - this comes down to body shape and accessories to make this work.
What is common to these stylings - back neck to cuff!

I need to diagram this.
A line, Swing and Swagger styling compliments most figure styles. This works by the combination of the tstrcuture in the upper body supporting the fullness in the lower body of the garment.
The Harlequin Swagger, which is the front cover of Swing, Swagger, Drape is quite an exaggerated example of this. The fit is high waisted, there is little if any ease in the chest - knitting is stretchy and when work the knitting armhole to armhole will stretch - this along with the fitted shoulder both supports and accentuates the fullness in the skirt.
Collars - change the look of a design. In the last 2 years I have added Shawl collar shaping to the Diamond cable and Hamlet Swingcoat, these were originally round neck only. The original Fan and cable swingcoat was designed over 20 years ago, a classic best seller still - can we call this vinatge yet? In Australia this is a winter coat, therefore the style was created with a deep armhole to allow layering. With the more fitted shilouette we have ebing seeing I have added a slim sleeve variation to these 3 swing coats. The Fan and Cable, has being available as a dresscoat for sometime - same design different shape.
Dresscoat - Swingcoat - this original swing coat shaping was full from the shoulder down, a dress coat - like the Metro Swagger is more fitted over the upper back - so again high waisted. With this in mind I have added the Shawl collar to this design.

Short row shaping - I use this is my styling, short row shapign is incomplete rows and I have used it to create a uneven hemline, mostly longer in the front. This Vee, like a Vee neck is slimming, along a hip length garment is does not place a horizontal across the hip, so again slimming.
I hope to do 2 things with Signatur in 2011.
Custom sizing - this has always being a service I have offered at shows. Adjusting length, armhole depth and body length for you to achieve a made to measure garment.
On line classes - these are to build skills. Small easy projects, which you may never use, but you can learn so much from.
Preview - we had another photo session and here are the first couple fo designs hot off the needles for 2011.
It will be 2011 so soon!
For January I will give myelf 1 day a week to knit and watch a movie (or two movies)!
Design wise the two extremes.
I want to create a couple of challenging pieces, combining different techniques into one garment.
Two new pieces that are simple and will tempt the less experienced knitter try them out!
Do I have images of the students work?

Students work
Here we go I tought I was going to simply wish you a Happy New Year and keep this short - but I am now on a roll!
There are two elements that make the UK Knitting and Stitching show unque for me.
The Textile Gallery brings established Textile artists into a free exhibtion space, from my teaching at Tafta in Australia I have had the pleasure of teaching along side several of these talented artists. I am indeed in awe of their creations, with Stitches, threads creating totally unexpected artworks.

The second element is the work from students, recent graduates from textile and knitwear design courses across the country, displaying their freshly explored ideas into the media of wearable arts and interior fabrics. Both these elements combine to present inspiration to any visitor to the show, on hand the show has every thread, tool and project to both build and challenge ones skills.

www.twistedthreads.com also offer residental classes in Spain.
www.tafta.com.au offers residental classes within Australia
How did I get to the subject of Spain? Was the word Gaudy redrived from the amazing work of Spanish architech Athony Gaudi?
I don't need to tell anybody that it's a long way from London to Sydney; this year I decided it was about time I took time after the show to indulge in a visit to one of Europes great cities. Brett joined me, we debated between Rome and Barcelona, or a few days in both? I dn't count the number fo times I pack and unpack bags as I travel, so the idea of unpacking and staying in one city for 5 nights, and see for myself Gaudi's work, Barcelona won over.
From a child I have loved colour and building and creating things, uncluding lego houses. Had I being exposed to Gaudi's talents in my youth life may have taken a different turn. What I also love about his work is that most people are quite out spoken about their view of loving or strongly disliking his work, after all Gaudi's designs are very out there too.
I don't think there is a straight line to the found in Gaudi's Batllio Apartment building. The ground floor is now open to the public, along with the amazing repitilan like roof top with his Signature chinmey's; though highly embellished these roof top fixtures are also functional.
The history of Barcelona and the catolan culture is also interested and like all modern cities it's history is the making of the modern city. From a no doubt grand Roman walled city centuries later it was under the rule of Madrid, with Madrid and it's walls confining the city. The modern city from the mid 18th century was designed and structured, creating an environment to indulge architechs at the time.
History in the building. La Segerde Familar, is Gaudi's Catherdal. Reflecting back the words to the song Blcck Betty 'everything gone wild'! The external of the building tells the story, in almost classic style at the North entrance to a modern stylization at the South enterance. It's many spires are crowned with bowls of reasonal abundance. It is growing daily still, with an expected completion adtes of 2025, work has commenced on the central spire. Started in 1854? it has 3 cranes lifting materials and placing recast structures - I am rather taken by the thought of returning to see it's completion, but then rather sad, as seeing it incomplete brings another element to the threate of Gaudi.
I recently watched a documentary on the restoration of an Isalmic pulpit, the firstt challenge was to find skilled crafts men. Cities vie to have the largest mall, the tallest building, the Opera House is agreat example, but to see history still being built at La Segerde Familiar, with the many generations of artistans working on it's contruction brings many passions together.

If you'd like to ask a question about anything in this newsletter - or anything all, please email Jane. Thanks for your support - Laura, Petra, Meg, Sue, and I look forward to seeing you in the knitting circle!
If you'd like to ask a question about anything in this newsletter - or anything all, please email Jane. Thanks for your support and I look forward to seeing you in the knitting circle!